Trees are magnificent creatures that are beautiful and keep the environment clean. But they have dense limbs and broken branches that need regular pruning. A pole saw is the ultimate tool for pruning tree branches from the safety of the ground. Coming with a long pole to reach heights that wouldn't be possible with a chainsaw, pole saws make the tree trimming process faster, efficient, and safer. However, many people can't make the right choice when they need to buy the best pole saw. And that is why our pole saw reviews provide all the details to help you make an informed purchasing choice.
Whether you are an orchardist, arborist or homeowner with a wooded lot, this piece offers a review of the top pole saw brands on the market and a comprehensive buying guide. At the end of this review, you will be confident to choose the perfect pole saw for all your tree cutting needs.
Best Pole Saws
1. Greenworks PRO 10' PS80L210 Cordless Pole Saw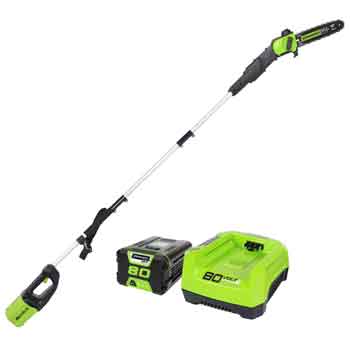 Greenworks is known for its eco-friendly and innovative power tools, and its PRO 10' 80V battery-powered pole saw is not an exception. Featuring a 10″ bar and chain, PRO10' pole saw comes with high-performance and longer-lasting brushless motors at par with gas-powered models. It has an 8 ft. extension to allow you to reach higher branches from solid ground. The PRO 10' has an automatic oiler which keeps the bar and chain constantly lubricated for optimal performance while a translucent oil tank makes it easy to monitor the oil level while you work.
The Greenworks Pro 10' is powered by a fast-charging 2AH 80V battery which comes with the charger right out of the box. The pole saw can make 80 cuts per charge and delivers a smooth, low-vibration and less noisy operation. With the fast-charging battery that delivers exceptional performance on a single charge, you can get more done in less time with the Greenworks PRO 10' pole saw. The tool weighs 12.8 pounds.
Read more: Greenworks PRO PS80L21
2. Remington RM25PS Maverick Pole Saw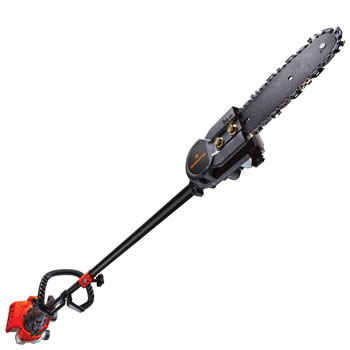 The RM25PS Maverick is a gas-powered pole saw that delivers exceptional results in any work condition. A 7 ft. extension pole and 8″ bar and chain give this machine unprecedented reach. It can reach tree limbs as high as 12 feet above the ground without a ladder.
The RM25PS Maverick comes with a powerful 25cc 2-cycle gas engine for maximum cutting power and longer run time. It features Remington's proprietary QuickStart technology for easier and faster startups. An automatic bar and chain oiler provides consistent lubrication for a smooth and efficient operation. The RM25PS Maverick is compatible with a variety of attachments to transform it into an edger, hedge trimmer, and blower among others.
With a powerful engine to handle any job, a comfortable and compact design and extended pole for hard-to-reach heights, the RM25PS Maverick is a versatile power tool for yard cutting tasks. The tool weighs 13.9 pounds and comes with a 2-year limited warranty.
Read more: Remington RM25PS Maverick
3. BLACK+DECKER LPP120 Pole Saw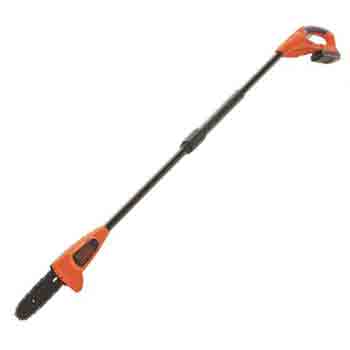 The LPP120 is an exceptional pole saw with ergonomic characteristics. The battery-powered saw comes with a usable length of 10 feet and can reach up to 14 feet above the ground. The machine uses a 20V MAX lithium-ion battery with a longer lifespan and higher charge retention compared to the nickel-cadmium batteries.
The LPP120 can make 100 cuts of 1-1/2-inch pine branches on a single charge with its 8″ bar and chain which allows it to cut limbs of 6″ diameter. The longer lasting Lithium-ion battery will not only serve you for many years, but it is compatible with the company's 20V MAX line of gardening and power tools.
Whether you are pruning overgrown flowers on your balcony or trimming unruly tree branches on your garage or shed, the LPP120 provides the control, ease-of-handling, and maneuverability to complete overhead cutting tasks with finesse. It also features a blade guard for enhanced safety and is simple to assemble and disassemble. The tool comes with the battery and Energy Star-certified charger and is backed by a 2-year limited warranty.
Read more: BLACK+DECKER LPP120
4. Remington RM1025P Ranger I Pole Saw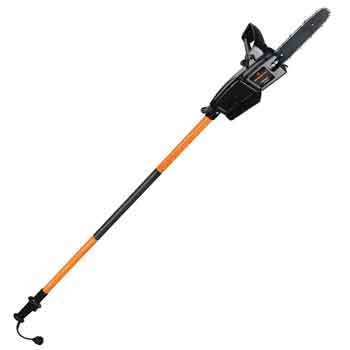 This 2-in-1 pole saw and chainsaw combo provides unprecedented flexibility and performance regardless of the job complexity. This corded unit features an 8-amp electric motor that delivers exceptional cutting power to the low-kickback 10-inch bar and chain. The tool is equipped with a pole you can extend up to 10 ft. for high branches and can reach up to 15 ft. overhead with the operator height. An adjustable telescoping construction allows for easy length adjustments so you can handle tree limbs of varying heights in less time.
Whether you are pruning hard-to-reach branches, cutting overgrown flowers on the roof or making firewood out of logs, the RM1025P will always come in handy. A tool-less mechanism allows you to convert the pole saw into a chainsaw with less fuss. The chainsaw comes with a comfortable non-slip grip while an anti-rotation pole ensures stable and safe use of the saw. The machine is easy to use, sturdy and provides an improved reach. It weighs 12.4 pounds and comes with a 2-year limited warranty.
Read more: Remington RM1025P Ranger
5. Worx WG309 Electric Pole Saw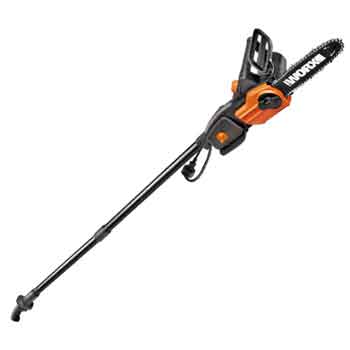 With a 10″ bar and chain for maximum cutting efficiency and a powerful 8-amp electric motor for reliable performance, the WG09 can handle tree pruning, edging and other cutting tasks at a height with improved safety, ease, and operator comfort. The machine features a patented auto-tension chain system that delivers a longer-lasting bar and chain life. It comes with an 8 ft. extension pole that requires no tool for assembling or disassembling and a rotatable working handle for enhanced maneuverability.
What's more, you can convert the WG309 into a chainsaw by detaching the pole, making light work of branches on the ground. An automatic lubrication system allows the saw to work smoothly for longer while reducing wear and tear on the bar and chain. The lightweight design, ergonomic and comfortable grip lower operator fatigue, allowing you to deliver exceptional performance. This powerful tool is ideal for yard, home, and farm cutting tasks as a pole saw or chainsaw. It weighs only 10 pounds.
Read more: Worx WG309
6. Maxtra Gas Pole Saw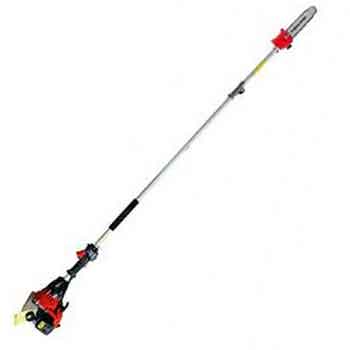 Ideal for trimming, cutting, and pruning trees in your lot, garden, yard and other wooded areas on your property. Powered by a gas engine, this pole saw has an adjustable length which can extend up to 11.4 ft., enough to reach branches 16.5 ft. above the ground without risking your stability by climbing the tree or using a ladder. It comes with a powerful 42.7cc 1100w, 2-stroke engine which delivers astonishing cutting power continuously. An air filter helps to protect the motor from debris and sawdust while the throttle lockout on the rear handle provides increased safety of operation.
Maxtra pole saw delivers a silent and smooth operation thanks to the muffler shield. The machine comes in a lightweight design and an ergonomic construction with shoulder straps, chain covers, and tool kit. Starting this powerful machine is easy and it is backed by a one year warranty. If you want a pole saw with the tenacity of a chainsaw, this machine is all you need to handle any overhead cutting job at home or on the farm.
7. Greenworks Cordless Pole Hedge Trimmer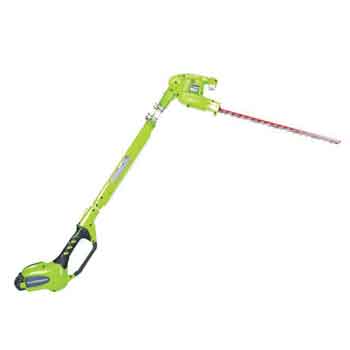 Greenworks 20″ 40V cordless pole hedge trimmer is a dynamic trimming and pruning tool with improved mobility. The tool comes with the G-MAX 40V Li-ion Battery System that is compatible with a wide range of power tools from Greenworks. A 20-inch steel dual action blade offers enhanced performance and longevity.
This cordless pole hedge trimmer features a 3-position pivoting head that allows easy blade adjustments with the 6.5 ft. extended reach handle to trim brushes at different angles. Whether you are trimming bushes or pruning hedges, this versatile tool is handy, efficient, and provides professional results.
At 9.6 pounds, this lightweight tool is easy to control and even easier to maneuver. One charge provides up to 30 minutes runtime along with a smooth and less noisy operation. If you are looking for a versatility power pruner, this tool from Greenworks is an excellent choice.
8. TrimmerPlus PS720 Pole Saw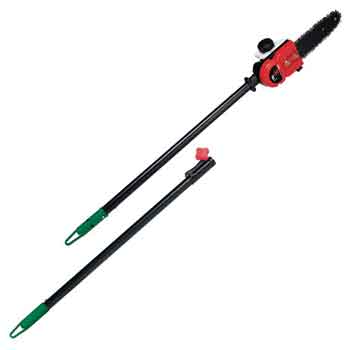 The TrimmerPlus PS720 is a simple and yet effective pole saw. The tool comes with an 8″ bar and chain capable of cutting up to 4-inch diameter tree branches. It features an adjustable extension which can increase the reach to 12 feet. The pole saw has an automatic oiler for constant lubrication of the bar and chain, delivering a smooth and effortless cut.
The PS720 comes with attachments which allow you to use it with string trimmers, powerheads, and other tools from major brands such as Craftsman, Remington, Snapper, Greenworks, among others.
The tool comes with a pole which can be assembled to get 7 ft. allowing you to reach up to 12 feet above the ground. It is ideal for cutting, pruning, and trimming trees without using a ladder or climbing the tree. At 7.15 pounds, this tool is light, easy to control, and comfortable to operate for longer. The TrimmerPlus PS720 is versatile, efficient, and provides a bundle of value.
9. Sun Joe SWJ806E Pole Saw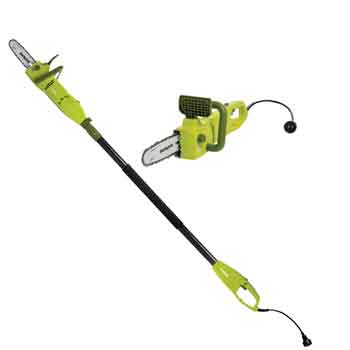 The Sun Joe saw is a combination of a pole and chain saw, double value for one tool. Ideal for cutting thin logs, cluttered overhangs and overgrown bushes. It comes with a telescoping pole that extends up to 8.6 feet, providing enough reach to cut tree limbs without a ladder or climbing the tree. The machine runs on a powerful 8-amp motor that delivers enough cutting force to slice through 7.5 inch thick logs. Cutting is easy thanks to the 8″ Oregon cutting bar and chain. An automatic oiler provides consistent lubrication to the bar and chain for hitch-free cutting tasks.
The electrically-powered pole chain saw delivers exceptional cutting performance and comes with an easy push-button start. With this tool, you don't have to worry about complicated oil-gas ratios, frequent maintenance works, and noxious fumes. This power tool offers unprecedented flexibility and comfort of use. It comes with a full two-year warranty.
10. BLACK+DECKER PP610 Pole Saw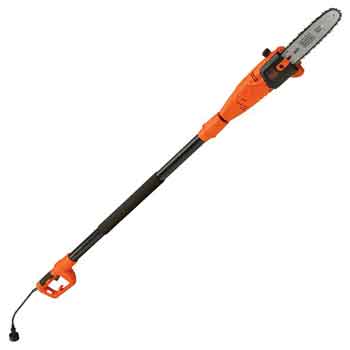 The 6.5-Amp motor delivers exceptional cutting performance even in highly demanding tasks. It features a high quality 10″ bar and chain that can handle any type of tree pruning or cutting from a height. The tool comes with a solid 9.5″ extended pole that makes it easy to reach branches high up in the tree canopy.
An automatic oiling system provides constant lubrication for the bar and chain, allowing you to work more efficiently and safely. The PP610 is equipped with an inline motor that provides a clear line of sight while cutting and more accurate direct pruning. It is easy to operate; control and maneuver thanks to the lightweight, durable design that lowers fatigue and boosts performance.
Weighing only 7.9 pounds, the PP610 is an excellent tool for cutting any type of branch from the ground without a ladder or climbing the tree and risking injuries. Whether you are dealing with a bushy lot, overgrown trees, or dead branches, the PP610 is a ruthlessly efficient and easy-to-use power tool.
11. Poulan Pro 952711924 8-Inch 12-Foot Gas Telescoping Pole Saw
Poulan Pro is a popular brand in the garden and yard equipment market. The 952711924 is a simple but efficient pole saw that is ideal for light wood cutting work such as pruning, cutting small-sized branches and others. The machine features a powerful 25cc engine and a SureFire Starting System that eliminates the trouble of pulling the starter cord multiple times. It comes with an 8-inch bar and chain and has an operating height of 12-feet.
The saw is capable of cutting up to 6-inch diameter limbs, making it perfect as a power pruning tool for cutting low hanging tree branches at a fraction of the cost. It also has an automatic gear-driven oil pump and weighs 21.7 pounds. This machine is gas-powered and comes with immense cutting power. If your lot has plenty of low hanging tree limbs that are just beyond your reach, the Poulan Pro 952711924 will make an excellent pruning aid.
Read the full review → Poulan Pro 952711924
What Is a Pole Saw?
A pole saw is simply a saw mounted on the end of a pole for trimming trees without a ladder or climbing. A pole saw is a simple but clever invention that combines a chainsaw with a pole to make tree trimming faster, easier, and safer. There are different types of pole saws. It can be manual or powered which can be electric, gas, or battery-fired while the non-powered models comprise of a pole with a pruning saw attached.

What Is a Pole Saw Used for?
The pole saw is an excellent tool for pruning small trees, and the machine is straightforward to use. Also, due to its smaller size, the pole saw is safer compared to climbing a tree with a chainsaw. Whether you are short or tall, a pole saw increases your reach, sometimes as much as 16 ft. above the ground, making light work of almost everything overhead. With the pole saw, you don't need a ladder to reach tree branches and overgrown bushes.
Some brands combine a chainsaw and pole saw in one product. Thus, you can detach the chainsaw from the pole to cut logs on the ground.
You can choose from a wide range of pole saws on the market. There are professional and homeowner type pole saws; you only need to pick the model that best serves your purposes. Before buying a pole saw, there are many factors you need to consider.
A pole saw is used for pruning tree branches and large shrubs from a distance. It allows you to reach higher branches without leaving the stability of the firm ground. The pole saw can also be used to trim hedges. In variants that can be converted to chainsaws, the pole saw can be used to cut logs into smaller pieces after pruning off the tree.
Pole Saw Buying Guide
If using a chainsaw high in the tree canopy sounds like a bad idea, you are not alone. The pole saw was created to reduce the risk of jostling up and down a ladder or tree branches with a beastly tool like a chainsaw. This ingenious tool combines efficiency with safety, allowing you to cut tree branches from the safety of the ground.
However, you need to know what to have in a pole saw. While the saw on a pole looks and works effectively, you will have wasted money if you bought a model with the wrong power rating or weight. In this buying guide, we look at the essentials to look out for when buying a pole saw.

The Top 8 Things to Consider When Buying a Pole Saw
Pole saws are great, but not for everybody or situation. And that is why you need to be clear about your expectations of the tool before buying one. Here are important factors to consider before buying a pole saw.
Working Height

Perhaps, the most vital factor to consider when shopping for a pole saw is the working height. A pole saw that can't give you the height leverage you need is a glorified mini-chainsaw with an extended handle. For clarity, the working height of a pole saw is the length of the pole plus the length of the operator's arms.
Most brands have the working height specification printed on the packaging, but sometimes, it may be missing. Typically, pole saws have a working height of about 10-12 feet because it becomes difficult to safely control the sawing end of the tool at higher heights. Manufacturers often use telescopic poles which you can adjust based on the height on the tree you are cutting. If you want to get an accurate picture of a pole saw's reach, calculate the length of its pole when fully extended then add your height. That is how far you can reach with that particular pole. Read more about "advantages of using a telescopic tree pruner"

Power

Pole saws come in a wide range of power configurations. There are powered and non-powered varieties but most people would rather buy a powered model. Powered pole saws can be corded-electric, battery, and gas-powered.
Gas-powered models, like other power tools, also offer the highest level of performance and run time although they can also be maintenance-intensive. Electric pole saws require an outdoor power outlet compatible with the rating of the model you buy. This makes it important to check the power ratings to be sure it will fit your electric outlet. The issue with electric corded pole saws is that they limit your mobility since you need to connect them to a power outlet to work. Battery-powered models offer both portability and mobility, but work stops when the battery runs down.
If you are a homeowner with a small wooded lot, a battery-powered or corded-electric pole saw might be ideal for you. However, a professional whose work requires trimming overgrown trees all day needs the reliability and superior performance of a gas-powered pole saw.

Weight

The weight of the pole saw is also essential, particularly for ease-of-handling, safety, control, and maneuverability. Remember that you will be working overhead with your neck at an angle while both hands bear the pole saw's bulk.
There are pole saws that weigh only 8 pounds and some can exceed 20 pounds. Gas-powered models tend to be heavier because of their bigger engines and gas tank. Consider the type of work you intend to do with the pole saw and your physical ability. It's best to buy a model which you can safely control for the duration of your cutting tasks after considering your physical abilities.

Cutting Bar Length

Most pole saws have bar lengths of 8 inches, but many can range from 6-12 inches. The higher the cutting bar length, the bigger the maximum diameter of the branches the saw can cut effectively. Ideally, the cutting bar length should be two inches longer than the diameter of the branch you intend to cut. So, you need a 10″ bar to cut a branch with a diameter of 8 inches.

Pole Saw Chainsaw Combo

If you intend to make firewood with the tree branches you cut with a pole saw, you can make your work easier by buying a model that is convertible to a chainsaw. This type of pole saw is essentially a small chainsaw mounted on a pole. All you have to do is detach the chainsaw from the pole and start cutting the branches into smaller logs for firewood and other uses. However, these types tend to be pricier than regular models, so you might want to go for the regular pole saw if there is no need for cutting the branches into smaller pieces.

The Type of Trees

You need to consider the type of tree you will be pruning before buying a pole saw. A powerful, bigger, and heavier pole saw such as a gas-powered model may be what you need to prune harder and thicker branches. Smaller, moderate-sized branches will be perfect for an electric pole saw and so on. Don't buy a pole saw for the fun of it. Know the type of trees on your lot and factor their characteristics into your pole saw purchasing decision.

Frequency of Use

A homeowner who trims his trees twice a year does not need a hefty pole saw. A small, light but efficient model will do fine. However, a professional tree surgeon or orchardist will require the tenacity and higher cutting power that only a gas-powered pole saw can provide. This decision can save you a few hundred dollars on your pole saw purchase, so give it a thought.

Safety

You also need to look out for safety features in a pole saw. While the pole saw is considerably safer than the chainsaw, features such as blade guide, anti-vibration, and ergonomic design will enhance operator safety.
Types of Pole Saw

Pole saws can be powered or non-powered. Here, we consider the powered variety. There are three types of powered pole saw including:
Electric-corded pole saw
Battery pole saw
Gas pole saw
Corded Electric Pole Saw

A corded electric pole saw derives its power from the mains. It comes with an electric cord usually rated 8-Amp which you connect to the outdoor electrical outlet of your home or a generator. They are smaller and lighter than gas-powered pole saws and less powerful. Corded electric pole saws are ideal for homeowners and mid-level users operating a limited range of area as the cord length makes mobility difficult. Here you will also find the electric chainsaw reviews!

Pros

Lighter
Less expensive
Ideal for continuous use
Requires less maintenance

Cons

Cord length restricts mobility
Requires electricity to work
May not be able to handle heavy-duty tasks

Battery-Powered Pole Saw

The battery-powered pole saw uses a battery to run the motor that drives the chain. It is ideal for use in places where there is no electricity. This pole saw is heavier than corded electric types.
Also, the machine has a limited run time. It is best to buy models with Lithium-ion batteries as these can last for several years, hold charge for longer, and deliver consistent power until it runs down. Lithium-ion batteries are more expensive compared to Ni-Cad types. For more choices, check out our updated list of the best cordless chainsaws.

Pros

Provides unlimited mobility and portability
Ideal for light work
Light maintenance

Cons

Heavier than corded models
More expensive
Has low runtime, but can work for longer with extra batteries

Gas-powered Pole Saw

Gas-powered pole saws deliver the highest level of power and performance. These machines come with heavy engines, large and stronger bars, and chains and can run for as long as fuel is available.
Additionally, they are the preferred choice of professionals and can handle tougher, harder, and bigger trees. However, they can be cumbersome for the beginner and noisier compared to other powered pole saw types.
If you need further guidance, be sure to check out the pros & cons of using a gas chainsaw to learn which product will work best for you!

Pros

Ideal for professional and heavy-duty tasks
Offer unprecedented mobility and portability
Continues working as long as you have gas

Cons

Can be more expensive
Heavier than other types
Needs gas to work
Requires regular maintenance
Advantages and Disadvantages of Pole Saws
Pole saws offer a variety of advantages for the professional and homeowner. It is safe, flexible, and makes tree trimming easy.
But are pole saws ideal for everyone? You might think you need a pole saw, but it may not be the best landscaping tool for you. Below, we look at the advantages and disadvantages of pole saws.
Pole Saw Advantages
Safety

The biggest benefit of a pole saw is that it allows you to reach tree branches while your feet are firmly planted on the ground. There are horrific stories of accidents from people using chainsaws on trees, but a pole saw eliminates the need to climb or use a ladder to trim a tree.

Flexibility

The pole saw makes the task of tree trimming and pruning easy and flexible. With this tool, you don't need to move about on the tree, endangering yourself and people below. You can reach any tree branch within the working height of the saw with less stress.

Lower Risk of Accidents

Apart from the peril of cutting tree branches from a ladder or the tree itself, you risk being pricked, scratched and poked by the tree branches. Worse, you can even fall if you lose your balance. All of these are avoidable when you use a pole saw.

Reduces Operator Fatigue

It is far easier to use a pole saw than other cutting tools when trimming tree branches. Not only will this reduce fatigue, but you will also be able to work for longer in relative safety.

Improves Tree Health

Tree trimming contributes to the health of trees. With a pole saw, you can cut off dry, diseased, and stunted parts of your trees, making them healthier, and more beautiful.
Disadvantages of Pole Saw
While the pole saw offers several benefits, it has a few downsides including:
Maybe Hard to Control

The pole saw may be difficult to control, particularly in inclement weather and when the height is too high.  The design can also make prolonged use difficult because the machine end is heavier.

May Lack the Power to Cut Larger Branches

A pole saw cannot replace a chainsaw

If you need to cut larger tree branches, you need more leverage and cutting power which a pole saw lacks. Choosing the right chainsaw for your needs can be tricky so don't forget to check with our home page for more information!

Maybe Expensive

Some pole saws, especially the battery-powered and gas-powered types can be pricy.
How to Safely and Efficiently Use a Pole Saw
A pole saw offers an extended reach, making tree trimming tasks more flexible, faster, and safer. However, a pole saw is a miniature chainsaw on a pole, so it is important to take necessary precautions before, during and after using the tool.
Safety Precautions Before Operation
The level of control you have over a pole saw depends on the working height, power, and weight. It will be difficult to work with a heavy pole saw for a long stretch of time. The vibration of the engine, the weight, and the height will wear you down quickly. If you don't need a gas-powered model, don't buy it. And if a pole saw with an 8 ft. working height will do the job, don't go for 14 ft. model even if both cost the same price.
Personal Protection Equipment
Next, you need to dress the part. When operating any power tool, it is important to use all the safety apparel as recommended by the manufacturer or regulators. The following are safety gear you need when using a pole saw.
Hearing protection
Eye protection
Helmet
Long, thick pants, preferably chainsaw chaps
Nonslip work gloves
Nonslip, steel-toed work boots
Further, ensure you don't have jewelry, loose hair, or loose-fitting clothing on you while operating a pole saw.
Also, you need to inspect the pole saw for any defect. Ensure that the bar and chain oiler is filled and use the right oil-gas mixture if you have a gas-powered model. Check that the safety features are working and no leaks or damage is on the pole saw compartment.
Pole Saw Safe Operation Tips
Survey the Work Area

Before you start sawing, inspect the work area for anything out of place. If there are fire hazards, fragile plants, animals, cars, or buildings that could be damaged by falling tree branches, take necessary precautions to avoid accidents. Be sure to scan the area for power lines to avoid electrocution. Maintain a safe distance of at least 50 feet between your work area and crewmates, passersby, animals, and electrical sources.

Working Condition

It is not a good idea to operate a pole saw in windy or rainy conditions. Also, take necessary precautions when trimming dead or rotten branches as these can fall without warning and increase the risk of kickbacks and pull-ins. Additionally, use the pole saw during visible hours when you are in total control of the operation.

Establish a Firm Footing and Hand Grip

Never stand on another object while operating a pole saw. Plant yourself firmly on your two feet to prevent tripping or accidental falls. Also, ensure you have a firm, two-handed grip on the pole while working. Don't operate a pole saw if your hands or the machine are wet or slippery?
Pole Saw Proper Usage Technique
Cut one branch or limb at a time.
Start cutting with a low speed before touching the branch and then increase throttle when you have formed a groove.
Always cut at an angle lower than 60-degrees; 45-degree angle is ideal.
Maintain your hand position at waist level. Don't over-extend your reach as this can reduce work quality and lead to accidents.
Watch out for the final cut. Ensure you make the final cut outside the edge of the branch collar.
Look out for kickbacks and jams. If your pole saw kickbacks or jams, stop the engine immediately. Then wait for the engine to stop completely before trying to unjam or restart it.
Cautions About Pole Saw Use
The following are important points to consider about using a pole saw.
Never use a pole saw to cut a branch with a diameter of 8 inches or more. You will have less control over the cut and the fall, and tire out quickly.
Unless you are a professional, it is never advisable to try cutting branches overhead with a pole saw.
Make sure to use the right working height. Excessively tall pole saws are a recipe for accidents. Avoid at all cost.
Pole saws and power lines are arch-enemies. To avoid electrocution, never attempt using a pole saw near a power line or naked source of electricity.
General Technique for Using a Pole Saw
Start by clearing the work area of anything that a falling branch can damage.
Plan your cuts meticulously as you need to remove smaller branches and twigs to get to the main branch.
Start your cut from the top side, except where impossible.
Hold the saw firmly in both hands and take a two-footed firm stand.
Make a groove with a slow throttle before going full power.
Always concentrate on your cut, especially as the branch is about to fall.
Clear your work area of debris after work.
FAQ
Can I resharpen pole saw blades?
It is possible to resharpen pole saw blades. But the performance may not be like that of the original.
How long does a pole saw last?
A pole saw can last for several years with proper use and regular maintenance.
Do you need a certification to use a pole saw?
Not everybody needs a certificate to use a pole saw. However, professional landscapers, arborists, and tree surgeons may require certifications to use certain types of machine.
Wrap Up
Pole saws make tree trimming easier and safer, particularly when you buy the best pole saw for your pruning needs. Our pole saw reviews cover everything you need to know about buying, operating, safety precautions and more about this powerful tool. Whether you are a professional landscaper, hobbyist homeowner, and everything in between, you now have the essentials to make an informed decision.
Depending on your needs, you can buy a battery-powered, corded-electric or gas-powered pole saw. This piece makes the process straightforward and easy, giving you a variety of choices for all your tree trimming tasks.