The chainsaw is the ultimate power tool for felling trees and doing heavy-duty yard work. However, a chainsaw with a blunt chain is a disaster waiting to happen. Therefore, only use the best chainsaw chain that will allow you to maximize the full potential of your chainsaw. You will learn how to choose a quality chainsaw chain in our chainsaw chain review.
Whether you are a career lumberjack who goes into the wilderness with a chainsaw every day or a hobbyist homeowner, you need a top-quality chain to go with your chainsaw. Using a blunt chain will not only reduce the efficiency of the machine and make your work slower, but it can cause dangerous kickbacks which can lead to severe injuries. You can avoid this by using sharp, long-lasting chains.
In this review, we provide in-depth coverage of the top chainsaw chain brands on the market. This review also includes a comprehensive buying guide, chainsaw chain maintenance tips and more. Whether you use a chainsaw occasionally to cut tree branches on your property or depend on the formidable tool for your livelihood, this review will help you choose a high-quality chainsaw chain to derive excellent performance from your machine.
PRODUCT
DETAILS

Oregon 39272 18-Inch Bar & Chainsaw Chain Combination

Price:

$

Bar Length:

18″

Pitch / Gauge:

3/8″

Dimensions:

29 x 8 x 2 in

Weight:

2.3 lbs

View On Amazon

Still 18″ Chainsaw Chain Loop

Price:

$

Bar Length:

18″

Pitch / Gauge:

0.325″

Dimensions:

29 x 8 x 2 in

Weight:

11.2 oz

View On Amazon

Husqvarna 531300441 20-Inch H80-72 (72V) Saw Chain

Price:

$

Bar Length:

20″

Pitch / Gauge:

3/8″

Dimensions:

1 x 5 x 6.5 in

Weight:

14.4 oz

View On Amazon

Oregon H72 ControlCut 18-Inch Chainsaw Chain

Price:

$

Bar Length:

18″

Pitch / Gauge:

0.325″

Dimensions:

6 x 8 x 7 in

Weight:

1 lbs

View On Amazon

Oregon L74 ControlCut 18-Inch Chainsaw Chain

Price:

$

Bar Length:

18″

Pitch / Gauge:

0.325″

Dimensions:

6 x 8 x 6 in

Weight:

11.2 oz

View On Amazon

Oregon S56 AdvanceCut 16-Inch Chainsaw Chain Fits

Price:

$

Bar Length:

16″

Pitch / Gauge:

3/8″

Dimensions:

5 x 10 x 1 in

Weight:

6.4 oz

View On Amazon
Best Chainsaw Chain Reviews – Editors' Picks
1. Oregon 39272 18-Inch Bar & Chainsaw Chain Combination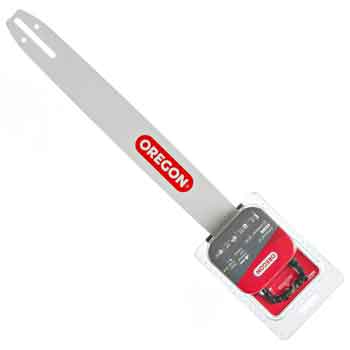 Oregon is the leading provider of premium-grade chainsaw chain and guide bars. For decades, the company has been providing durable chains for a wide range of chainsaw brands all over the world. The Oregon 39272 delivers top-quality performance and exceptional durability. The chain is an excellent choice for hobbyist homeowners who want a chainsaw that won't fail them during occasional yard work such as cutting overgrown tree branches. While this chain offers professional-grade results, it is easy to handle and even easier to maintain.
The Oregon 39272 features a low-kickback design, increasing safety and enhancing performance.
Whether you are a homeowner with a wooded lot, firewood cutter, or farmer who needs regular use of a chainsaw, you will find this chain to be a dependable and durable tool regardless of the task's complexity. It is lightweight, durable, and makes light work of cutting tasks in any condition.
This chain is reversible, making it last longer and providing higher returns on investment. It features LubriTec for constant lubrication and reduced friction and there are models with self-tensioning mechanisms. The chain and guide bar are compatible with a wide range of popular chainsaw brands.
2. Still 18″ Chainsaw Chain Loop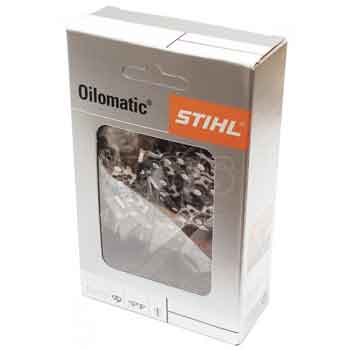 When you mention a chainsaw, the first brand that comes to mind is Stihl. The company produces many other power tools but has carved its name in gold as the foremost chainsaw manufacturer on the planet. It is the preferred brand for many arborists, lumberjacks and tree surgeons the world over.
Weighing only 11.2 ounces, the Stihl 18″ Chainsaw chain loop is a reliable chain designed for high performance and ease of use. Marketed under the trade name Oilomatic, this chainsaw chain is custom-made for Stihl range of chainsaws. The Stihl 18″ chainsaw is a winner in all ramifications. From sharp and lightweight blades, automatic lubrication, to the self-tensioning mechanism, this chain is a powerful performer any day.
The Stihl 18″ Oilomatic chain is perfect for a wide range of cutting tasks. Whether you are felling trees, pruning branches, or making firewood, this superior quality chain will serve diligently for longer. If you need a powerful chainsaw chain that won't fail when it matters most, Stihl 18″ chainsaw chain loop is a worthy candidate.
3. Husqvarna 531300441 20-Inch H80-72 (72V) Saw Chain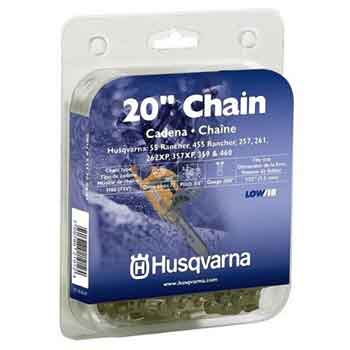 Husqvarna is known for making high-end chainsaws, and their chainsaw chains are no different. The Husqvarna 531300441 20-Inch H80-72 is compatible with the brand's many chainsaws including the Rancher series. This high-performance chain is perfect for professionals who need a reliable and durable chainsaw that can deliver in demanding work situations. The Husqvarna 531300441 20-Inch H80-72 features low-vibration technology to reduce operator fatigue and improve longevity.
Whether you are cutting dry or wet wood, the Husqvarna 531300441 20-Inch H80-72 (72V) Saw Chain is a durable chain that cuts with a smooth and easy movement through the wood. While the chain can handle heavy-duty and occasional tasks, it does not require frequent sharpening like many generic chains on the market.
In fact, this Husqvarna 531300441 20-Inch H80-72 is the same chain that comes with your Husqvarna chainsaw out of the box. So expect the same performance when you install this chain on your chainsaw. It is like getting a new chainsaw altogether. If you want a new lease of life for your Husqvarna chainsaws, the Husqvarna 531300441 20-Inch H80-72 is a sturdy chain that will improve your productivity.
4. Oregon H72 ControlCut 18-Inch Chainsaw Chain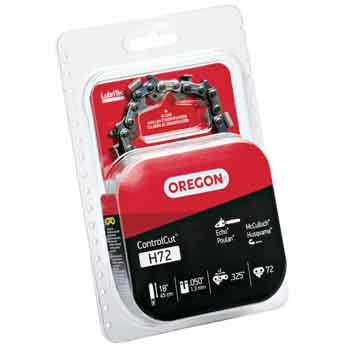 Here is another quality chain from the master bar and chain maker Oregon. The Oregon H72 ControlCut chainsaw chain is compatible with many top chainsaw brands such as Echo, Craftsman, Poulan, and Homelite among others. This chain is US-made in an ISO certified facility. The chain features low-kickback technology for increased safety and easier operation. It comes with tough, sharp cutters perfect for small and heavy-duty cutting tasks in the most demanding conditions.
The ControlCut chainsaw chain features Micro Chisel and semi-chisel cutting styles to allow professionals such as orchardists and landscapers and property owners handle yard tasks such as tree delimbing and pruning. When you need a low-maintenance chainsaw chain that delivers a smooth and easy cut with exceptional reliability, Oregon's ControlCut H72 chainsaw chain is a great option.
The ControlCut H72 chainsaw chain from Oregon comes with many enhanced features. It has Lubritec reservoirs to keep the chain and bar bathed with oil every time while the chrome-plated cutters ensure you can deal with hard surfaces with little effort and time. The chain features hardened rivets which improves the load-bearing abilities of the chain and makes it last longer. The chain weighs a meager 10.4 ounces.
5. Oregon L74 ControlCut 18-Inch Chainsaw Chain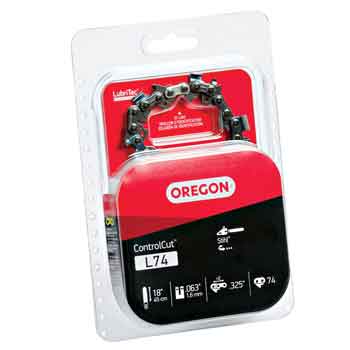 Coming from Oregon is the 18″ Oregon L74 ControlCut chainsaw chain custom-made for Stihl chainsaws. This high-efficiency chain comes with an array of optimized features for exceptional performance. The chain is highly corrosion-resistance thanks to the blued cutters. It also comes with LubriTec for constant lubrication on the guide bar and chain, reducing friction and improving chain life.
The LR4 ControlCut also has top-plate filing indicators which make sharpening faster, easier and more accurate. It is constructed from proprietary OCS-01 steel for reliable durability. The chain has a low-kickback feature complaint with ANSI175.1.
This low-vibration chain ensures you can work for longer without wearing down yourself and the chainsaw motor. It also comes with hardened rivets for easier tension adjustments and enhanced load-bearing. The chrome-plated cutters have a harder surface that is more resistant to wear and cut with ease in less time.
6. Oregon S56 AdvanceCut 16-Inch Chainsaw Chain Fits
The Oregon S56 AdvanceCut 16-Inch chainsaw chain is a semi-chisel chain that fits a wide range of chainsaw brands including Poulan, Echo, Homelite, Echo, and Craftsman. The saw is compatible with saw size up to 42 cubic centimeters. The Oregon S56 is heat-treated and comes with hard-chromed cutters for better wear resistance, precision cutting, and improved longevity. The chain features low-kickback design and smooth and fast cutting in demanding work situations.
The S56 comes with LubriTec automatic oiling system for constant lubrication of the chain and guide bar for smooth and effortless cutting and lower risk of kickbacks. The low-vibration design absorbs the shock of the machine's operation, reducing vibration by up to 25 percent. Hardened rivets offer more load-bearing surface and increased wear resistance. If you need a chain that is durable, reliable, and long-lasting, the Oregon S56 is a high-end tool that delivers impressive performance in any condition.
What Is a Chainsaw Chain?
The chainsaw chain or saw chain is the part of the chainsaw that does the cutting, making it an essential component of the machine. The chain comprises steel links joined by rivets. It looks like the sprocket of a bicycle but has sharp cutting teeth at intervals on the exterior part of the chain loop. The inside chain comprises flat drive links which allow it to move on the bar guide when the motor is operating.
The chainsaw chain has different parts that work together to deliver a powerful cutting edge.

Parts of the chain include:
Drive link
Rivets
Tie-strap
Cutter
There are also some metrics used in the chainsaw chain industry. These include:
Pitch: Half of the distance between any three rivets on the chain.
Chain gauge: This is a measurement of the drive link thickness along the chain's length.
The number of drive links: The drive link is the bottom part of the chain that rests on the guide bar. You need to know the number of drive links on your chainsaw chain before buying a replacement. Otherwise, you might purchase a chain of the wrong length.
It is important to get a chainsaw chain that cuts through the wood smoothly without catching onto the materials. So you need a chain with the correct length and weight that fits perfectly to the bar guide. That way, you will reduce accidents such as kickbacks and pull-ins.
Chainsaw Chain Buying Guide
Which chainsaw chain is right for you? This is an important question to ask when shopping for a chainsaw chain replacement. Before settling for a chain, consider the tasks you do with the chainsaw, weight, and lubrication among others. To ensure your tasks are smooth, fast, and risk-free, it is important to buy a chain of the right length and sharpness to ensure maximum efficiency and productivity.
What to Consider When Buying Chainsaw Chain
When it's time to change your chainsaw chain, the following parameters are important points to consider.

Saw Model

There are many chainsaw models from a variety of brands on the market. Some saw models can use generic chains while others are compatible with custom-made chains from their OEM or other vendors such as Oregon.
Before going to shop, determine whether your chainsaw can use generic chains or you need to buy a particular chain especially for the machine. Most chainsaws can use a wide range of chains but some brands such as Husqvarna and Stihl produce custom-made chains for some of their models.

Chain Pitch

The chain pitch is the distance between three consecutive rivets divided by 2. Chains have different pitches, but the most common are the 0.325″ and 3/8″. The pitch size affects the performance of the chainsaw. A chain with a larger pitch will be bigger and heavier, making it more difficult to control.

Professionals prefer the 3/8″ pitch because it combines the right balance of strength, flexibility and cutting efficiency. The 0.325″ pitch is popular among property owners because of its smaller size. The pitch you choose depends on the work you do and preference. Both offer high speed and exceptional results.

Chain Gauge

The chain gauge is the thickness of the chain's drive links. The drive link fits into the bottom of the bar. It is vital for the chain gauge to match the gauge of the guide bar to ensure safe and efficient performance.

A smaller chain gauge will slip off the bar and face difficulty cutting through the material. An oversized chain gauge will not fit the bar. The most popular chainsaw gauges range from .050″ to .063″ but there are many other sizes on the market. Most chainsaws have the chain gauge specifications printed on the guide bar.

Chain Drive Links

The chain drive links are the part of the chainsaw chain that fit into the chainsaw guide bar. It is important to know the number of drive links on your chain as this gives an accurate measurement of the replacement that fits your machine. Some chainsaws come with the number of drive links printed on the machine, but most do not come with this information. If the measurement is confusing, remove the chain and count the drive links manually.

Bar Length

The bar is the chainsaw component that carries the chain. The bar length determines the chain length, making it important to know the measurement of your chainsaw bar before buying a chain replacement.
Bar lengths can range from 8″ to over 24″. The chain should fit the bar perfectly with a slight space. If the chain is too long, it will fit loosely to the bar and a smaller chain will be too tight. Using the wrong chain length can reduce the efficiency of the tool and increase the risk of accidents. Measuring the bar length is simple. Measure the guide bar from the tip to where it comes out of the chainsaw compartment.

Working Environment

Consider the condition of the work environment when buying a chainsaw chain. Some chains are suitable for work at home. These types of chains do not have corrosion protection. Professionals who work in the demanding and damp conditions of the forest require chrome-plated, corrosion-resistant chains that can withstand the rigors of the outdoors.
What Size Chainsaw Chain Do I Need?
The size of your chainsaw chain depends on the guide bar length of your machine. All you have to do is measure the length of the guide bar from the tip to the chainsaw casing and approximate your answer to the nearest even number. You should also count the number of drive links on the chain and note the pitch as well to get an accurate measurement of the chain you need to buy.
Chainsaw Chain Types
There are different chainsaw chains. Each type offers specific teeth for certain tasks. They include:
Standard Chainsaw Chain

Also called full house chain, the standard chain comes with the most teeth and has a smooth cutting operation. It is the most popular chainsaw chain and the preferred chain for milling timber.

Full Skip Chain

This saw chain has the lowest number of cutters and ideal for chainsaws with bar lengths of 24″ and above. It is easier and faster to file because of the fewer teeth. The full skip is the most efficient chain type as it makes bigger cuts compared to other chains. However, they leave rough patches on the wood, which makes them unsuitable for cutting smooth timber.

Semi Skip Chain

These combine the characteristics of the standard and full skip chains. Professionals use it of specialty jobs. The chain uses only square chisel cutters.

Ripping Saw Chain

It is a special semi-chisel chain that has shallow angle cutters. It is used exclusively to make planks in mills as the cutter angles produce smooth surfaces on planks.
To check out in-depth chainsaw mill reviews of all the latest models head over to our buying guide.

Square Ground Chain

This is also a specialty chain with full chisel cutters. It cuts at a high speed but is difficult to file.
Chain Cutter Types
There are also different chain cutters, i.e., the teeth that do the actual cutting. They include:
Full Chisel Cutters: This chain has square-cornered cutters which allow it to split wood fibers in a fast and efficient way. However, it is prone to kickbacks and doesn't do well in dirt, making it unsuitable for softwood. The full chisel cutter is a high-speed type available for professional and hobbyist use. However, they dull quickly and need highly accurate filing.
Semi-chisel Cutters: This cutter has rounded corners between the top and side plates. It is the preferred cutter for cutting softwood and keeps its sharpness for longer. Semi-chisel chains have a lower risk of kickbacks and are suitable for all classes of chainsaw users.
Chipper Cutters: These look like the semi-chisel but have cutters that look like a question mark.
Low Profile Cutters: These come with low cutters which have safety elements between the teeth. They are mostly used by homeowners because of their enhanced safety measures and ease of sharpening.
Square Chisel Cutters: These are used exclusively by professionals. They feature square radius edges and become blunt quickly. These types of cutters are the fastest cutting but also become dull quickly.
Chainsaw Chain Replacement Tips
If you are at a loss on how to change your chainsaw chain, here are tips to help you replace your old chain with ease.

How to Measure Chainsaw Chain
Measuring your chainsaw chain is simple. You only need to know the pitch and the chain gauge. We already talked about how to calculate the pitch and chain gauge above. Apply the same calculations and you will get the measurement of your chain. Alternatively, you can check to see if the information is on the guide bar.
How to Put a Chain on a Chainsaw
Replacing the chain on the chainsaw is simple. Here is a step-by-step guide.
Make sure the chain is positioned correctly on the bar, i.e., the cutter is facing away from you.
Align the grooves of the chain in the bar so it sits snugly on the sprocket.
Check that the tension stud and the guide hole are in alignment.
Pull and adjust the chain with the tension screw to achieve the right tension.
Check that the holes for the screws align.
Replace the chainsaw casing
Insert the screws and tighten.
Check everything once again and make sure the tension is correct.
How to Tighten Chainsaw Chain
A slack chainsaw chain wastes energy and makes your work unnecessarily dangerous. Here is how to tighten your chainsaw chain.
The first step is to loosen the nuts on the guide bar side panel to provide space for the chain adjustment.
Next, tighten the tensioning screw located to the corner of the guide bar.
Now, tighten the knots you released on the guide bar sides in step 1.
Chainsaw Chain Maintenance
One of the most important components for a smooth operation of the chainsaw is the chain oil. The chain oil provides lubrication and makes the chainsaw work more efficiently. How do you use the chain oil for improved efficiency?
Chainsaws come with a bar and chain oil reservoir. Ideally, you need one tankful of the chain and bar oil for a tankful of gas.
To fill the oil reservoir:
Set the chainsaw on a flat, level surface.
Unscrew the reservoir cover and fill with chain and bar oil, not motor oil. Fill to the calibrated level.
Replace the cover and clean off excess oil.
For more detailed instructions, check the post on How to Replace a Chainsaw Chain.
FAQ
How long does a chainsaw chain last?
It depends on the cutting you do. If you are cutting hardwood, the chain may need a replacement after a few hours of extended use. If you encounter nails, dirt, rock, and other hard surfaces, it can blunt your chain quickly and make sharpening or replacement necessary.
How often should a chainsaw chain be sharpened?
Again, it depends on what you are cutting. You will need more frequent sharpening if you cut hardwood or work extensively. However, occasional chainsaw users such as homeowners can use one chain for longer, particularly if the chain is of quality. Check out the signs of a dull saw chain
Can I Use Motor Oil as Chain oil?
No, the chemical properties of both oils are different. The chain oil contains chemicals that allow it to stay on the chain surface to reduce friction and wear while increasing productivity.
Should I sharpen my chainsaw myself or use a professional?
It depends on your skills and the chain you are using. Some chains, such as the carbide-toothed chains require specialist equipment to sharpen them to the desired accuracy. Check out our roundups of the best chainsaw sharpeners here!
Make sure to also check out our chainsaw chap buying guide.
Check our roundup of the top-rated chainsaw brands here.
Wrap Up
Buying a chainsaw chain is a critical decision as a chainsaw user. While the chain is small, it can make or break your cutting experience. That is why you need to buy the best chainsaw chain that will deliver excellent results while reducing the risk of accidents.
Our chainsaw chain reviews give you a breakdown of the different chainsaw chains, what to look for and how to choose the perfect model for your machine. This is vital as the quality of the chain determines your level of productivity and the safety of your operations. Don't compromise safety and efficiency for anything.