If you want to convert the spare wood lying in your yard into usable lumber, there could be no better way than using a chainsaw mill. For starters, a chainsaw mill is sawmill that lets you cut trees and other wood into the right size of lumber. This is all because it consists of two rails through which you can adjust the lumber and cut wood into pieces of varied sizes – wide or narrow, long or short, thick or thin. However, buying a chainsaw mill is not an easy task. As a smart consumer, you would need nothing but the best of what is available in the market. But this is easier said than done as there are a lot of things to take into consideration.
We understand how difficult and troublesome this whole process of choosing the best chainsaw mills could prove to be. Therefore, we've got your back! Here we have compiled the ultimate chainsaw mill reviews you need to have a look at. Check out.
Best Chainsaw Mills
1. Alaskan Mark IV Chainsaw Mill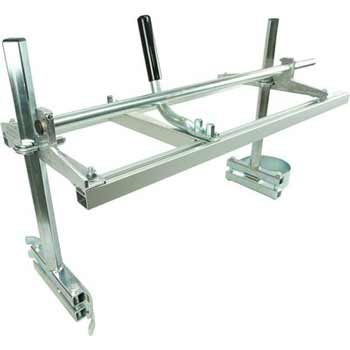 The Alaskan Mark IV Chainsaw Mill is compatible with all the chainsaw models. It works fine with chainsaws with bars of 36 inches or less and a displacement of 60 cc or more. The basic mill with model code G778-36 has a handle measuring 36 inches. The mill's design includes some pretty strong elements such as zinc-plated steel parts and aluminum extrusion.
The Alaskan Mark IV chainsaw mill is a heavy-duty lumber mill. It can easily cut plants and beams that are up to 32 inches in width and range between half an inch and 13 inches in depth.
Using the chainsaw mill is also fairly easy. You don't need to carry out any drilling to attach it to the chainsaw. It will simply clamp on to the chainsaw and be ready for use. The newly designed CNC Machined billet end brackets are also a star feature of this mill. That said, this is the perfect product for homeowners, woodworkers, and professional sawers alike.
2. Popsport Portable Chainsaw Mill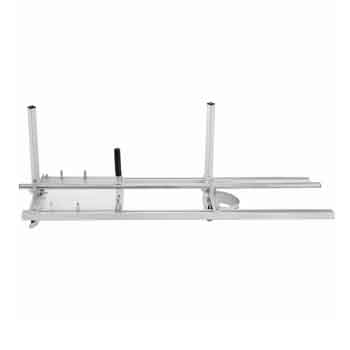 The 20 inches Popsport Chainsaw Mill Planking Milling features a versatile and user-friendly design. It turns a conventional chainsaw mill into a portable milling machine. Constructed from aluminum and stainless steel, this chainsaw mill is one of the most lightweight products. Its portability will prove to be advantageous. You can carry it with you into the woods to saw through remotely-placed logs that would be difficult to transport back home in one piece.
Another feature of the Popsport Chainsaw Mill Planking Milling machine that makes this chainsaw mill quite attractive for users is its excellent adjustability. The height and width are adjustable depending on the kind of lumber planks you want to saw through. It also features high-end brackets. These create less vibration which enables easy calibration.
To add to it all, the chainsaw mill is compatible with all models of chainsaw and can be used for nearly all kinds of timber.
3. Woodchuck Tools – Timberjack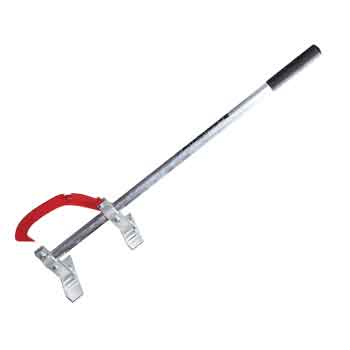 The Woodchuck Timberjack is a one of a kind chainsaw mill with a design that stands out from the other chainsaw mills in the market. Made in the USA, this is a chainsaw mill that is designed and manufactured by experienced woodcutters.
It is no surprise that the chainsaw mill comes along with special features that help in reducing the stress caused to the user while increasing the efficiency and speed. For example, this chainsaw mill features a 48-inch handle. This automatically adds leverage to the chainsaw without bending or breaking it and reduces a lot of pressure on the user's back.
The 20-inch log capacity of the chainsaw easily saws through logs with diameters from 6 inches to 20 inches. The sturdy aluminum dual foot design ensures that the handle does not dig into the ground. An innovative toe lift feature allows the user to reposition the hook. Its lifetime guarantee makes the Timberjack one of the best chainsaw mills.
4. Granberg Chainsaw Mill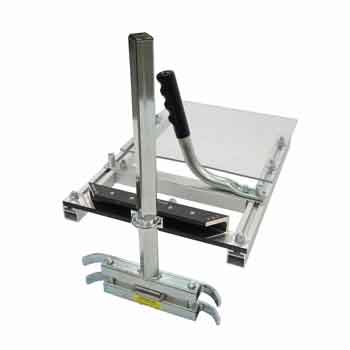 The Granberg Chain Saw Mill got its name after its inventor Elof Granberg. He was a WWII veteran. He is arguably the first person to come up with the innovative idea of a portable and adjustable chainsaw mill. The Small Chain Saw Mill by Granberg come along with chainsaws with a handle measuring 16 to 20 inches and with a displacement of 50 to 70 cc. Moreover, this chainsaw mill will simply clamp on to the chainsaw handle and be ready for use without any need for drilling.
It can make cuts of lumber that are up to 18 inches wide with a depth of ½ inch to 13 inches. The Granberg small chain saw mill is made up of aircraft quality aluminum. It features zinc-coated parts that make it strong and durable along with being extremely lightweight. The CNC-Machined billet end brackets such as those on the Alaskan chainsaw mill are also present in the Granberg chainsaw mill which make it all the more better.
5. TC-Home 14″-36″ Chainsaw Mill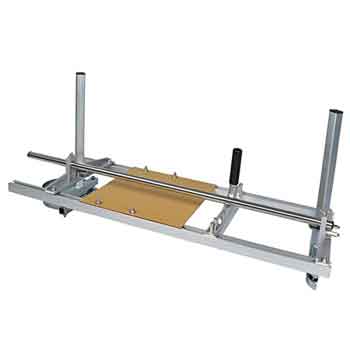 The chainsaw mill by TC-Home is one of the most efficient and versatile chainsaw mills. It is a perfect fit for woodcutters. With a total weight of just slightly more than 13 lbs., the chainsaw mill makes for a really lightweight mill. The mill is compatible with almost all kinds of chainsaws. It can fit a bar length from 14 inches to 36 inches.
It is compatible with mill slabs from 1/2″ to 12″ thick and 48″ wide. The easy portability of the chainsaw is one of the prime features for the TC Home Chainsaw Mill. It is also one of the reasons why we like it. It can be conveniently stored in the back of a truck for taking to where the logs are lying. When not in use, it won't take up a lot of space in your garage or tool shed either.
6. Timber Tuff TMW-56 Lumber Cutting Guide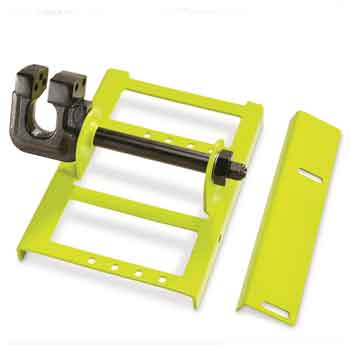 Cutting your own lumber cannot be easier than with the Timber Tuff TMW-56. The chainsaw mill's measurements are 8″ x 2.5″ x 8″. This makes it a pretty compact chainsaw mill and therefore easy to transport and carry around. Moreover, this chainsaw mill is adjustable up to 2" into 6" boards. This means that it is pretty versatile.
You can use it to cut lumber of different sizes and for many different kinds of projects. What is especially great about the Timber Tuff TMW-56 is its amazing durability and strength. The chainsaw mill is constructed with heavy-duty steel. It comes with a powder-coat finish that ensures that the mill stays free from corrosion. Easily assembled with the help of a guide book, this chainsaw mill from Timber Tuff is easily one of the few tools that you cannot go wrong with.
What is a Chainsaw Mill?
A chainsaw mill is a small sawmill that was designed for small scale use to cut mill logs into lumber. The chainsaw mill was initially used for cutting huge logs lying in remote areas such as the Alaskan wilderness.
Over time, the chainsaw mill's design has undergone a lot of changes and new features have been added. This makes it more portable and efficient. Now, it is regularly used by professional woodcutters as well as homeowners who do not want to incur the expense of getting the logs sawed at a sawmill.
There is, however, one drawback to using a chainsaw mill. It is not effective in producing stacks upon stacks of lumber. It is ideal for light use such as producing a few boards at a time.

Chainsaw Mill Buying Guide
When buying a chainsaw mill, it is necessary that it serves its primary purpose pretty well. That is, it should be a portable tool such that you can carry it to the place where the logs are lying and cut them into lumber. It should be lightweight, compact and easy to use. Ensure that it reduces the backbreaking strain that sawing through deep logs of wood often causes.
What to Consider When Buying Chainsaw Mill
The following are the features to consider in a chainsaw mill before you take your pick:
Production Capability

It is important to mention here that the production capacity of a chainsaw mill is limited. This means that it is not a machine which can be used to produce lumber stacks upon stacks.
However, if you need just a few boards and do not want to waste the logs, a chainsaw mill can serve your purpose pretty well. Make sure that you choose a chainsaw mill whose production capabilities are in line with your requirements.

Portability

This is a no-brainer. You definitely would not like to carry a three feet chainsaw mill with you. The best part of chainsaw mills is the fact that they are really handy and can be carried on the go. Take them with you on your road trip, or to the remote woods, and a portable chainsaw mill will fit the purpose perfectly.

Cutting Capacity

The cutting capacity of a chainsaw mill is determined by the length of your chainsaw bar. All you need to ensure is the fact that your bar should reach across the log.
In order to ensure that you buy a chainsaw mill that is suitable for you, you should first consider the diameter of the logs that you are planning to use the chainsaw mill on. Thereafter, you should buy a chainsaw mill which has the required bar capacity for sawing through that log.

Cutting Depth

A chainsaw mill's cutting depth is usually kept adjustable so that you are able to cut boards of different sizes. This feature makes the chainsaw mill a lot more versatile. However, there is a maximum and minimum limit for the cutting depth too which should be considered. Our recommendation would be to go for a chainsaw mill that can cut boards of minimum ½ inch depth and a maximum of 13-inch depth.

Chainsaw Power

The ideal power that a chainsaw must have essentially depends on its use. Speaking generally, you should have a chainsaw mill with at least a 50cc to be able to achieve significant high-quality cuts.
We will recommend you to check your chainsaw mill's specifications to be on a safer side.

Saw Kerf

This is one term that we across too often. Saw Kerf is nothing but the thickness of the cut of a saw. Ideally, you should aim to have a saw kerf of around 3/8th of an inch.

Chainsaw Compatibility

It is important to understand that a chainsaw mill cannot work on its own. But you need to attach it on to a chainsaw. If you already own a chainsaw, make sure that the mill is compatible with it before buying it. You can also go for a clamp-on style chainsaw mill instead of the one which requires drilling of holes. This would help you save some effort.

Durability and Strength

Always make sure that you go for a chainsaw mill which is known for its durability and strength. Aluminum is a popular construction material for chainsaw mills, all thanks to its light-weight. However, only aircraft quality aluminum should be used for chainsaw mills. You can also go for a chainsaw mill made with heavy duty steel which will be much more durable.

How Does a Chainsaw Mill Work?
A chainsaw mill is a perfect handy tool that every DIY lover and professional woodcutter must have in their arsenal. Consider a chainsaw mill as a metal frame that is fitted to a simple chainsaw. The whole arrangement is made in such a way that it can sit on the piece of wood perfectly, thus allowing the mill to saw through the wood.
One of the major advantages of a chainsaw mill is that it keeps the log steady and straight which helps you in cutting a straight board from the wood. What's more, you can adjust the height of the chainsaw to achieve the boards of varied thickness as per your requirements.
Parts of Chainsaw Mill
A chainsaw mill consists of a pair of rails that are attached to the chainsaw bar or handle. The rails help in keeping the log of wood steady and assist the chainsaw and cutting along a straight line. These rails also determine the thickness of the planks that are cut from the log. To know how thick your planks are going to be, all you have to do is measure the distance between the rails and the bar. You can also adjust this distance according to how thick you want the planks to be.
In the case of larger mills, there is usually more than one chainsaw powerheads. A typical design for a large mill consists of a power head on either side of the attachment such that it requires two operators.
You can also include a special chain in the attachment. This will help you make rip cuts rather than the more regular crosscutting that a usual chainsaw chain will achieve. Check out our roundups of the best chainsaw chains here!
How to Use a Chainsaw Mill
Using a chainsaw mill is no rocket science. All you need to do is follow certain steps and you're done. Let's have a look at how you can use a chainsaw mill to make lumber from tree wood.
We will recommend you to go for 2" thick lumber, but you can decide to go with your choice of dimensions as well.
Next, make a cut on each slab so that you can easily saw through with the help of a table saw. You can mark a straight line with the help of chalk for marking purposes.
Make a second cut parallel to the first cut and run the board through.
Remove bark from the lumber using a draw knife for a more finished look.
If you are a starter, it might take a while for you to understand the various nuances of using a chainsaw mill. But with practice, you will be an expert, for sure! Let's have a look at the various tips and tricks to ensure a seamless chainsaw milling experience
Tips and Tricks for Chainsaw Milling
You can use a chainsaw much easily and quickly by following some easy tips. Go through some of the best tips and tricks that we have across for chainsaw milling:
Make sure that you do not start the chainsaw with full throttle. Instead, start slow and gradually increase the pace. This will greatly improve the quality of your finished lumber boards.
Do not try to push the saw just so you can go faster. A better way would be to place the log at a slight gradient. This way chainsaw will automatically get a gravity push.
Chainsaw milling produces a lot of sawdust. Thus, it is important to brush off the dust around the caps before you refuel the chainsaw.
Ensure that there is sufficient fuel in the tank for one round of milling. This way you won't have to refuel in the middle of a slab cut.
Slab rails are absolutely essential for the first cut. However, they also work great for second cuts.
They not only aid accuracy but also make milling a much safer activity.

FAQ
How large should the mill be to fit on my chainsaw bar?
It is important to know the length of your chainsaw bar so that you can buy a mill accordingly. All chainsaw mills come with prescribed measurements that you must refer to. If your chainsaw bar has a 30-inch handle, then you should buy a chainsaw mill that can fit onto bars of 32 to 36 inch. A larger mill can fit on to a shorter bar. But a smaller mill cannot fit on a longer bar handle.
How much power does a chainsaw mill need?
Powerful chainsaw mills are always the more recommended option as they can quickly saw through the log of wood and also overcome any obstructions quite easily. To ensure that your chainsaw is powerful enough, you should go for one requires at least 50 cc to run. This is the recommended figure for a small chainsaw mill. The larger the mill, the more power it will require.
Do I need to wear any protective gear while working a chainsaw mill?
A chainsaw mill produces a lot of sawdust that flies around you as you saw through the logs. Protective gear is not absolutely essential. But we will recommend you to wear a face mask so that you do not breathe in sawdust. You can also wear a pair of handyman gloves to prevent any minor cuts and bruises.
Make sure to also check out our chainsaw sharpener reviews.
Read on to find more details on choosing the right chainsaw chap.
Wrap Up
Using a chainsaw mill is hard work and also consumes a lot of time. However, it is a great tool to have at hand if you want the wood around your property turned into usable lumber without incurring any extra cost.
Having a chainsaw mill will also help you in avoiding arranging for transport of logs of wood over great distances to a sawmill.
The best kind of chainsaw mill is one which is durable, lightweight and easy to use. All you need to ensure is that you get the best chainsaw mill of the right size. This will help you in getting the cutting depth that you want for your planks. With the help of our buying guide and chainsaw mill reviews, we are sure that you will be able to take a much more informed decision while buying a chainsaw mill.