Overview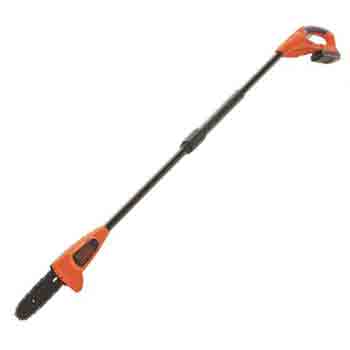 Taking of your compound will require different sets of power tools. These range from blowers to chainsaws that are used in various segments of the compound. For those that want to prune their trees or even shrubs, the pole saw is the most ideal tool. It is convenient and will give you an unmatched degree of flexibility as you perform your tasks. However, with this industry having so many tools from different manufacturers, it becomes a bit hard for the consumer to make a purchasing decision.
With players like Black+Decker around, you don't need to worry as they are in constant innovation of power tools that are aimed at satisfying each consumer. This is the case with their LP120 20-Volt Lithium-Ion Cordless Pole Saw. It is a 14.35-pound tool that is equipped with much power to enable you to tackle your daily tasks. This article will aim at expounding more on the features, pros and cons of this pole saw from Black+Decker.
Features and Pros
Compact Design

This tool measures 8.2 x 8.1 x 44.5 inches and has a weight of 14.35 pounds. This makes it quite light and consequently portable. It is also quiet and easy to operate which makes it ideal for use by all people. Black+Decker knew that a job well done is one that you have the full control of the device. This is why the LPP120 is cordless. You are therefore free to move and reach sharp corners in your yard, leaving it well-manicured.

The manufacturer also ensured that this model has a maximum extension rated at 10 feet. With this, you are able to boast of having the longest reach in the cordless category of pole saws. Besides, the center pole section is removable and adjustable. You are granted the liberty to reduce the length of the pole to 6 ½ ft so as to increase the ease of handling it. However, if you are for the extra length, be sure to reach branches and limbs that are 14 ft high. This is quite impressive.

Good Performance

Many cordless tools are stereotyped with being inferior when it comes to power. However, Black+Decker sought to change this narrative with the LPP 120 20-Volt cordless pole saw. The 20 V lithium-ion battery gives this device enough power to complete your tasks. In this, you are guaranteed to cut the 4' limbs quite easily. The tool is able to handle even the thick ones that range from 6-7 inches.

The battery in this device is able to recharge faster than other models while its power will give you up to 100 cuts of medium-sized branches. This is more than enough power for your normal usage as it translates to almost an hour of constant cutting. The pole saw consists of an 8-inch bar and chain which is sufficient to cut up to 6" of branch diameter.

Durability and Flexibility

The motor and chargers of this device are Energy star rated. This means the device has been streamlined to give you maximum efficiency at all times. The chain of the saw, on the other hand, is made of quality steel which makes it serve you for longer periods. It is flexible from the viewpoint that it is made up of 3 parts. These can be assembled or disassembled easily which make it ideal to carry around or even store.

The manufacturer also included a zip-up bag which helps you store the LPP 120 easily once you are through with your tasks. Adjusting the shaft length of the pole is easy and will give you total control over the tool. The battery and chargers of this tool are also substitutable form other models from the manufacturer.

Safety and Ease of Maintenance

The chain bar of this tool is specially designed to prevent the occurrence of any kickback. This is a unique feature as even beginners are able to use the tool comfortably. A large power switch is also included, and this has the purpose of locking the chain when the user removes their finger on the button. The device is compact which makes it have minimal maintenance practices.
The above indicates that the LPP 120 cordless pole saw is a great choice that will give you good performances. Black+Decker included several features which make it a perfect power tool. A limited two-year warranty has been included which adds to the numerous benefits of this model.
Cons
Lack of an automatic Oiler

A downside of this device is that it does not come with an automatic oiler. However, the manufacturer seems to have done it, and the tool comes with an oil bottle. You are therefore required to oil the chain and bar manually. This is not a lot considering that it gives you unmatched performance.
The Black+Decker LPP 120 20V Lithium-Ion cordless pole is a complete tool that will ensure that you accomplish your tasks on time. It is packed with power, flexibility and durability features which make it stand out in this industry. It is one of the best pole saws to add to your power tool list.