Are you buying a new gas-powered chainsaw? Purchasing a good chainsaw can be a challenge for the hobbyist or new professional. The internet is full of chainsaw reviews, but many do not cover the essential points people need to buy the best gas chainsaw.
A chainsaw is a serious piece of equipment that requires proper handling and safety procedures, so you need to know what you are doing. Whether you fell trees for a living, trim the limbs of the trees on your wooded lot, or work with first responders during the aftermath of natural disasters, a chainsaw helps to save lives and livelihoods. That is why you need all the information to make the best choice when shopping for a new chainsaw.
In our gas powered chainsaw reviews, we look at the top gas chainsaw brands on the market. We also provide comprehensive information about how to use a gas chainsaw, pros & cons, and a detailed buying guide. Everything you need to get maximum value from your investment in a gas-powered chainsaw is in this piece.
Best Gas Chainsaws
1. Husqvarna 460 Rancher 2-Cycle Gas Chainsaw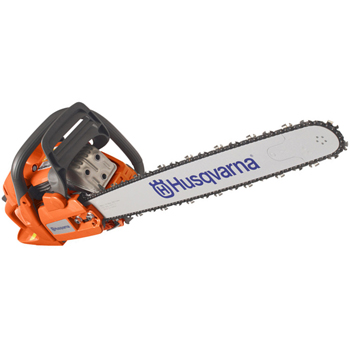 Weighing only 12.8 lbs., the Husqvarna 460 Rancher chainsaw is in a class of its own. Powered by a 60.3cc 2-stroke engine that delivers 3.6 hp of cutting force, the Husqvarna 460 Rancher can handle all wood sizes.
The machine features the innovative X-TORQ technology that delivers improved fuel efficiency, lower exhaust emissions and low noise levels. A Smart Start feature makes starting and stopping the engine easy, fast, and efficient.
The Husqvarna 460 Rancher comes with a centrifugal air cleaning system that prevents dust and debris particles from clogging the air filter, reducing maintenance and prolonging engine life.
The machine comes with an adjustable oil pump that offers seamless control of the oil flow according to weather and task requirements. A quick-release air filter makes maintenance works fast and less messy. If you need a powerful gas-powered chainsaw with an impressive cutting power, the Husqvarna 460 Rancher is an excellent candidate.
Read the full review → Husqvarna 460 Rancher 20 inch, Husqvarna 460 Rancher 24 Inch
2. Tanaka TCS33EDTP/14 Top Handle Chainsaw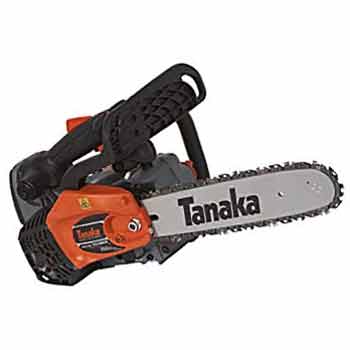 The Tanaka TCS33EDTP is a 14-inch chainsaw that will redefine your wielding experiences. It is backed up by a 32.2 cc commercial-grade engine which in turn provides a powerful performance of 12000 RPM. At the same time, this engine is able to consume less fuel which is economical to the user. There is a sprocket nose bar combined with an Oregon chain which gives ultimate control to the user. An automatic gear oiler is also present, and this facilitates easier cutting. A half throttle choke combined with a primer bulb is also present and ensure that the device starts up easily.
The TCS33EDTP is fitted with numerous safety features such as the chain brakes. These ensure that you operate the device without limiting yourself. This device has a few cons in that it has some maintenance practices and it is noisy. These can be circumnavigated easily, making the Tanaka chainsaw your ideal device.
Read the full review → Tanaka TCS33EDTP
3. Poulan Pro PP5020AV 2 Stroke Gas Powered Chainsaw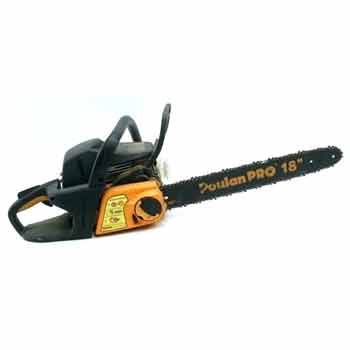 At 23.3 lbs., the Poulan Pro PP5020AV delivers impressive performance for any wood cutting task. The machine comes with a powerful 20″ long bar which makes a light work of any cutting task regardless of the size or intensity. The PP5020AV features the company's innovative DuraLife engine with chromium-plated cylinders for longer life. The machine comes with a powerful motor that produces enormous cutting power. An air filter helps the PP5020AV run cleaner and for longer and an automatic oiling system provides constant lubrication for the bar.
Poulan Pro PP5020AV is light, compact, and easy to use. It features an anti-vibrating system and an efficient pull starting system, which decreases operator fatigue. The machine also comes with a carrying case and on-board locking scrench holder. If you need an affordable and sturdy gas-powered chainsaw that can take on any task, the Poulan Pro PP5020AV foots the bill.
Read the full review → Poulan Pro PP5020AV
4. Remington RM4218 Rebel Gas Chainsaw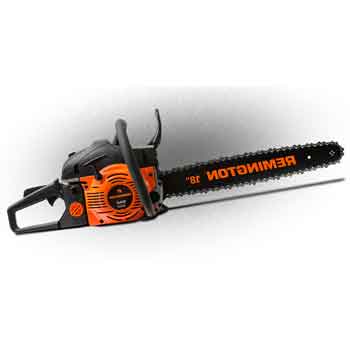 If you need a light but powerful chainsaw to handle small cutting tasks, the Remington RM4218 Rebel is the ideal tool. Featuring a high-performance 42cc 2-cycle gas engine, the RM4218 delivers impressive cutting power to the low-kickback 18″ bar and chain.
The machine has an ergonomic design and a cushion wrap handle for easy handling, increased maneuverability, operator comfort, and balance. It features QuickStart technology for faster and easier pull starts. The chainsaw comes with a bar and chain oil and a portable, heavy-duty carrying case for enhanced mobility. An adjustable automatic oiler ensures the bar and chain get constant lubrication for smooth and efficient sawing experience.
The RM4218 is perfect for felling small to medium trees and cutting firewood. The innovative design, durable components, and solid build make it an excellent choice for the hobbyist homeowner and people with small wood cutting tasks.
Read the full review → Remington RM4218
5. XtremepowerUS 45cc Gas 2-Stroke Chainsaw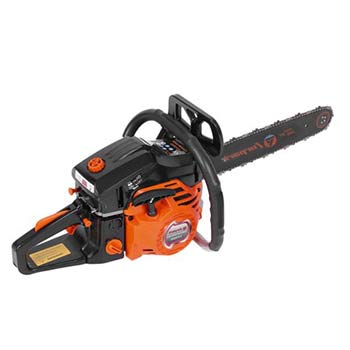 If you are a new chainsaw user, the XtremepowerUS gasoline chainsaw offers enhanced kickback protection without sacrificing cutting efficiency. Powered by a 2.4 horsepower engine, the machine's 22″ bar delivers a steady and smooth sawing experience regardless of the wood size or hardness.
The Ecoboost engine provides exceptional fuel efficiency and low CO2 emissions, making it eco-friendly and easy on the operator. A clean engine air-intake system prevents dust from entering the engine, extending runtime and engine life.
XtremepowerUS gasoline chainsaw features an ergonomic and lightweight design so you can work for longer without fatigue or discomfort. Starting this powerful machine is simple and cutting is a seamless and fast experience. For people who want their chainsaw to be powerful, light, and fuel efficient, the XtremepowerUS 2.4 hp gas chainsaw is a must-buy.
6. Husqvarna 120 2-Cycle Gas Chainsaw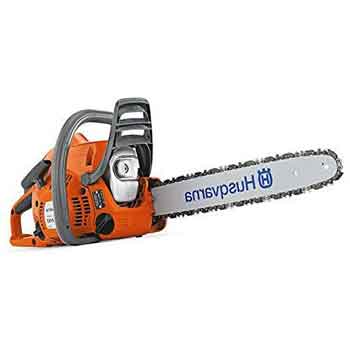 Husqvarna is a leading brand in the power tools industry, and the Husqvarna 120 chainsaw is the epitome of performance. Featuring an X-TORQ engine, the Husqvarna 120 delivers impressive fuel efficiency and lower exhaust emission compliant with CARB air quality regulations.
A combined choke/stop control enables the user to start easily and reduces the chances of engine flooding. The innovative centrifugal air cleaning system prevents dust and particles from reaching the air filter. Thus, you do not waste time cleaning the air filter while enjoying longer engine life.
The Husqvarna 120 features a low-vibration system that helps to reduce operator fatigue and improve handling. The air purge mechanism eliminates air from the carburetor and fuel system, facilitating a seamless starting every time you need to use the machine. The machine weighs only 10.3 lbs. and perfect for light cutting tasks. It features an ergonomic design, industry-leading innovations, and low emission levels.
Read the full review → Husqvarna 240
What Is a Gas Chainsaw?

A gas chainsaw is a gas-powered tool for felling trees and other wood cutting tasks such as limbing, bucking, and firewood. Unlike other types of chainsaws, the gas chainsaw derives its power from an internal combustion engine. The engine can either be 2-stroke or 4-stroke depending on the power output and manufacturer. When you start the engine, it drives the motor which moves the chain to cut through wood. Gas chainsaws are the most powerful on the market, and that makes them the preferred choice of lumberjacks and professionals who rely on chainsaws in their work.
A gas-powered chainsaw can deliver astonishing cutting power and work for longer. It offers unlimited mobility because the machine carries its own fuel. Additionally, gas-powered chainsaws are perfect for heavy-duty, continuous wood felling tasks. These beasts are not for the novice because they can be difficult to control. There are smaller versions of gas chainsaws but a similar sized electric model can't compare in performance and reliability.
The only downside of gas chainsaws is that they require more maintenance and can be noisy. However, these tools compensate with their unbeatable performance and sheer cutting power.
Gas Chainsaw Buying Guide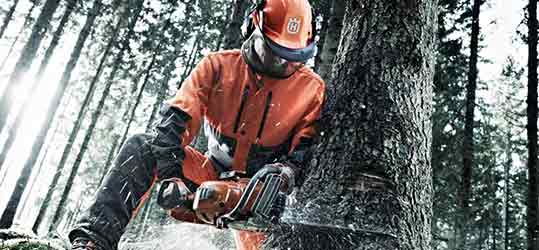 If you want to buy a gas chainsaw, you may find it difficult to pick a durable and cost-effective model for your needs. While there are various chainsaw brands on the market, your aim is to find a machine with the right power, size, and features that will make your purchase a worthy investment.
If your wood cutting tasks are light or occasional, a battery chainsaw is perfect. An electric chainsaw is ideal for homeowners who want to keep their yard tidy or make firewood. For professionals who deal with heavy-duty tree felling tasks, you need a high-performance gas-powered chainsaw for mobility, increased efficiency, and ease of use.
Whatever your needs are, you can check out in-depth reviews of the best chainsaw brands on our homepage if you need a little help to make up your mind.
In this buying guide, we cover everything you need to look out for when buying a gas chainsaw.
What To Consider When Buying The Best Gas Chainsaw
When you are buying a gas chainsaw, the following rank among the most important factors to consider.
Guide Bar Length
Engine Power
Safety Features
Level of experience
Guide Bar Length

The guide bar length is the distance of the bar from the tip of the chain to where it enters the enclosure. The cutting power of a chainsaw depends on the guide bar length; the longer the guide bar, the more powerful the chainsaw and vice versa.
The ideal guide bar should be 2″ longer than the wood size. Therefore, if you want to cut an 18″ wood, the length of your guide bar should be 20″ or more.

However, you can still cut larger trees with a smaller guide bar, but perform the task in two passes. The problem with using a small blade to cut a larger tree is that it increases risk, reduces flexibility and things can go wrong quickly.
There are different classes of guide bar lengths including:

Homeowner chainsaws: Guide bar lengths of 14″-20″
Farm and Ranch chainsaws: Guide bar lengths of 10″-24″
Professional chainsaws: Guide bar lengths of 22″-36″

Homeowner Chainsaws

If you are a homeowner whose cutting tasks entail trimming tree branches, pruning, or making firewood, chainsaws with a guide bar length of 14″ and below is ideal for you. These chainsaws are smaller, easier to handle and come with enhanced safety features. If you are a beginner who is not familiar with a chainsaw, this is also the best place to start.

Farm and Ranch Chainsaws

Chainsaws with a guide bar length of 10″ to 24″ is ideal for users who want a machine that is more powerful but still offers relative safety and ease of handling. If your work involves cutting medium trees or hardwoods at the farm, then this guide bar length is appropriate for your needs. These machines are ideal for professionals and homeowners who cut bigger trees regularly but do not want to buy heavier models.

Professional Chainsaws

In the heavy-duty category are chainsaws with bar lengths of 22″ to 36″. These types of gas chainsaws are the first choice of professional lumberjacks who fell large trees and handle large-scale tree cutting after natural disasters. Professional chainsaws are heavier, more powerful, and difficult to control. If you use the chainsaw daily and you cut trees with a width of 24 inches or more, you need guide bar lengths exceeding the tree size to make cutting easier, faster, and less risky.

The guide bar length is a vital feature to consider based on the work you do with your chainsaw. Also, remember that the difficulty of handling a chainsaw is proportional to the guide bar length. When buying a chainsaw, go for a model with an appropriate guide bar length you can manage safely.

Engine Power

Gas chainsaw power is a measure of the engine's cubic centimeters or cubic inches. The power of the chainsaw is proportional to the cc or ci rating, but so does the weight. Chainsaws come with engines of 20 to 50cc ratings depending on the job specification.

If you need a chainsaw for light cutting tasks such as pruning, limbing and trimming, a 30cc engine is appropriate for your work. Light firewood requires a power rating of 35cc to 45cc while medium firewood needs a gas chainsaw with 40-50cc engine power. Moderate tree felling needs up to 45cc and above while heavy-duty cutting requires 50cc and higher engine ratings for effective cutting.

Safety Features

The chainsaw is one of the most dangerous hand-held power tools on the planet. Using one with poor handling skills or without using appropriate safety measures can lead to severe injuries, disabilities and sometimes fatalities. That is why you need to look out for safety features before buying a gas chainsaw.

The US witnesses over 100,000 chainsaw injuries each year, but most of these incidents are avoidable with the right technique and safety equipment. Also, know how to use your chainsaw correctly. In addition, you need to have the proper safety equipment and use them properly and always. It helps if your chainsaw comes with safety features such as

Low-kickback bar
Chain brake
Automatic oiler system
Throttle interlock

Must-Have Safety Equipment

You also need to have the following safety equipment to reduce the risk of injuries while using your chainsaw.

A safety helmet
Eye protection
Hearing protection
Appropriate gloves for the task
Leg protection
Protective boots, preferably steel-toed
Non-snag outer clothing, preferably made from high-visibility material

Level of Experience

Gas chainsaws are the most powerful on the market. Go for a chainsaw that fits your level of experience regarding operation, safety measures, and maintenance. Be sure to read the user manual before using the machine and always wear protective equipment. Professionals can afford to use the heavy-duty chainsaws, but every chainsaw user needs to show the tool some respect to avoid life-changing injuries.

Weight

Can you handle a 20-pound chainsaw? Does your cutting task require such a heavy tool? Consider your fitness level, the period of use, and your ability to handle the machine for extended periods.

Ergonomics

Operating a chainsaw is a serious enterprise, making it essential to buy a model with ergonomic designs. A unit with a padded handle and anti-vibration mechanism will increase ease of handling and operator comfort. Look for a machine with the right balance, weight, size, and maintainability. Light and compact is best for enhanced handling and lower risks.

Noise Levels

Chainsaws are loud machines, and the noise increases with the size. If you are a homeowner who intends to use a chainsaw in a built-up area, go for a unit with low noise levels to uphold the virtues of good neighborliness. A professional who fell trees in the wilderness has no problem using a large machine with high decibels as long as you protect your ears.

Handedness

All chainsaws are right-handed, so you may have difficulty getting used to one if you are left-handed. While you can increase control with practice, the tendency to make mistakes becomes higher as a chainsaw requires high levels of balance and coordination for proper use.

Chain Maintenance

The chain is the cutting edge of your chainsaw, which is why you need it to be in top shape always. Go for a machine with an easily accessible chain to make maintenance in-between jobs faster and stress-free. Models with automatic oilers and tensioner are better as they make your work easier and safer.

Automatic Oilers

When shopping for a gas chainsaw, it is better to choose a model with an automatic oiler. A chainsaw is as good as the amount of lubrication between the chain and the wood. An automatic oiler allows you to work fast and efficiently by bathing the chain in a continuous stream of oil, reducing friction and making your work easier, faster, and safer.

Tool-free Assembly

Tool-free assembly means you need no hand tools to dismantle your chainsaw. A chainsaw with this feature makes your work easier and reduces maintenance time, thus helping you to cover more in less time.

Simple Start

Gas chainsaws require pull cords to start, and this can be daunting because of the air-fuel mixture in the carburetor. A Simple Start mechanism makes starting the engine less arduous, saving time and energy to do the actual work of woodcutting.
How to Pick the Right Size Gas Chainsaw

The size of your chainsaw depends on the type of work you intend to do with the machine. Are you a homeowner, farmer or professional lumberjack? For homeowners, the ideal chainsaw should weigh no more than 10-12 pounds.
Since you will be trimming, pruning and making the occasional firewood with your chainsaw, a small size is ideal so you can have better control of the machine and reduce risks.
For people who cut small and medium-sized trees, buck branches, and make firewood regularly, a medium-range chainsaw with enough cutting power is perfect. As a regular user, you will have the skills to use the machine correctly regarding balance and maneuverability.
Professionals who fell large trees everyday need heavy-duty chainsaws. You need a chainsaw with enough guard bar length to cut large trees at one pass with no troubles. Professionals know of the risks involved in operating chainsaws, and most never compromise safety and professional procedures.
Read more about Difference Between 4-Cycle and 2-Cycle Oil
How Do Gas Chainsaws Work?
A gas chainsaw works by driving a mechanical saw into wood. The mechanical chainsaw is a saw on a chain. The chain sits on a bar that connects to a centrifugal clutch. The centrifugal clutch gets its driving force from a motor. An internal combustion engine provides the power that drives the motor. That is why a gas chainsaw can continue to work as long as you have fuel. As the fuel burns in the ICE, the motor moves quickly, driving the chain to high speeds.
A gas chainsaw is noisy although manufacturers continue to find new ways to reduce noise and emission levels. With proper technique and safety measures, using a gas chainsaw can make work easy, fast, and efficient.
Gas Chainsaw Uses
A gas chainsaw performs a wide range of functions including the following.
Felling trees
Bucking, the process of cutting a felled or delimbed tree into specific log sizes according to the use of the timber such as plywood, pulp, or lumber production.
Tree limbing, i.e., cutting tree branches.
A gas chainsaw can also serve as a power pruner.
Gas chainsaws are excellent for making firewood.
During wildfire outbreaks, a gas chainsaw helps first responders to create firebreaks to contain the blaze.
How to Start a Gas Chainsaw
Starting small tools like the chainsaw can be a challenge, especially if you are trying to start it after a long time in storage. The most important thing for a quick start is to use fresh fuel with the correct oil-gas mixture ratio, clean parts, and avoid flooding. Here we go.
Add the amount of 2-stroke engine oil to the gas tank. Close the tank and shake the saw to get an even oil-gas mixture.
Push the chain-brake lever away from the motor in the bar chain's direction.
Place the chainsaw on solid ground. Locate the ignition switch and change the position of the switch to the "ON" position.
Press the prime pump several times, if your unit has one.
Pull the choke control knob out from the motor.
Place the tip of your shoe into the chainsaw's rear handle. Hold down the stationary handle with one hand and use the other to pull the starter handle quickly three to four times or until the engine fires and dies.
Move the choke control knob to its original position. Repeat the process in point 6 above until the engine starts, and then allow to idle. Do not release the throttle.
Pros and Cons of Gas Chainsaws
Gas chainsaws may be the most powerful woodcutting tool on the market with multiple applications, but they also have drawbacks. While it is important to look for the benefits of a gas-powered chainsaw, it is also essential to know the disadvantages of the machine. Here are some pros and cons of gas chainsaws.
Advantages of Gas Chainsaws
Power

Gas chainsaws are the ultimate handheld power tool. No other type of chainsaw compares to the power, longevity, and efficiency of a gas-powered unit, making them the favorite of professionals. If you need a saw that can handle any woodcutting task, a gas chainsaw is it.

Mobility

With a gas chainsaw, you enjoy unlimited mobility as you can carry the machine with you everywhere you go, so long as you have fuel to power it. An electric corded or battery-powered chainsaw restricts your movement to the length of the electric cable and proximity to a power source. A gas-powered chainsaw has no such limitations, making it the go-to tool for lumberjacks who make clearings in the forest. For more information, read our detailed battery-powered chainsaw buying guide and the best electric chainsaws on the market.

Check out the link to compare the various differences between battery and gas chainsaws to see how they compare to one another and also read electric vs gas chainsaw comparison to learn which is best for you?

Extended Run-time

As long as you have fuel, a gas chainsaw allows you to work for as long as you can control the machine safely and efficiently.

Perfect for Larger Jobs

Because they deliver higher cutting power, gas chainsaws are the ideal tool for felling large trees and other activities such as bucking and limbing.

Wide Range of Options

With gas chainsaws, you have an almost unlimited number of models, features, and add-ons to suit any task.
Disadvantages of Gas Chainsaws
Bulkier

Gas chainsaws are heavier and bigger because their engines require more moving parts. Their weight makes the machines harder to maneuver and control and can quickly lead to operator fatigue. Read on to find the list of the top-rated gas pole saws.

Noise Levels

All chainsaws make a noise, but some gas chainsaws have atrocious noise levels. The noise from gas chainsaws can make them unsuitable for built-up areas and can damage the operator's hearing without hearing protection.

Emissions

Gas-powered chainsaws emit noxious fumes into the atmosphere. However, most brands now field cleaner engines that comply with the EPA and CARB regulations.

Costlier

Gas chainsaws cost more than electric counterparts do. However, the additional cost is worth it because they deliver unbeatable performance.

Oil-Gas Mixture

Gas-powered chainsaws use 2-stroke engines that require mixing the oil and gas at a specific ratio for the machine to work. Many users find this measurement confusing. However, you can avoid this confusion and related problems by using readily available premixed oil-gas mixtures.

Maintenance-Intensive

Because they have several moving parts, gas chainsaws require more maintenance. The good news is that many brands are easy to maintain with some having tool-free assembly.

If you can follow the manufacturer's instructions to the latter, you will get maximum value from your gas chainsaw. Whether you are a homeowner or a busy professional, a gas chainsaw will always deliver.
Maintaining & Cleaning Tips of Gas Chainsaws
Gas chainsaws require more maintenance if you want to enjoy your saw for longer. While the engine and parts will wear and tear with use, you can get maximum value from your chainsaw with regular maintenance. A little care and time is all you need to keep the machine in top shape. Here are chainsaw maintenance tips.
How to Maintain a Gas Chainsaw
Always use the correct gas and oil fuel mixture to avoid starting problems and excessive smoke that could damage the engine and pollute the environment.
Be consistent with the use of the bar and chain oil to ensure a smooth and efficient engine operation.
Clean off the dirt and sawdust from the oil ports, power sprocket, guide bar grooves, and air filters after using the chainsaw.
Keep your chain sharp always to ensure a smooth and easy cutting experience and extended motor life.
Check the air filter and spark plug regularly. A clogged air filter or dirty spark plug reduces the performance of the saw and strains the engine.
Change the fuel every two months or according to the manufacturer's instructions.
Clean the chainsaw with a damp cloth after each use.
Clean the oiler, carburetor, exhaust system, cooling mechanism, and other parts and adjust the moving parts occasionally. Also, learn how to adjust the carburetor.
Check the tool for any cracks, leaks, wear and tear and replace any broken parts.
How to Clean a Gas Chainsaw
A gas chainsaw needs regular cleaning to deliver optimal performance every time. Use the following tips to clean your chainsaw for longevity and improved operation.
Remove the chainsaw's clutch cover and wipe clean.
Clean the brake band.
Clean the bar and remove any debris or sawdust clogged in it.
Remove the cylinder cover and wipe with a damp cloth.
Clean the chain with a toothbrush and water and then dry with a cloth or air gun.
Wash the bar guide and chain sprocket in warm or hot soapy water to remove dirt and debris and dry with an appropriate material.
Wash the air filter properly to get rid of dust particles and debris.
Remove debris caught between the cooling fins and air intake.
Remove deposits on the spark plug regularly.
Drain the fuel tank and wash with a solvent such as toluene or lacquer thinner.
Check the flywheel pins for any obstruction to ensure a free flow of air to the engine.
Read more about replacing the old fuel lines on your chainsaw.
Gas Chainsaw Safety Tips
A gas chainsaw is a powerful tool that can be dangerous with inappropriate handling. The most serious chainsaw accidents are due to kickbacks. A kickback can happen if something pinches the chain in the wood, forcing the machine to fly back toward the operator. It can also occur if the chain encounters a hard surface such as a nail or a change in the wood hardness, causing the machine to reverse its motion into the saw handler.
Must-Have Safety Features of a Gas Chainsaw
These accidents happen so fast even the most skilled professional cannot avoid them. The following safety features are vital for safe and effective use of a gasoline chainsaw.
Chain Brakes

Manufacturers now install a chain brake, which stops the saw from spinning almost immediately a kickback occurs. It is advisable to buy a chainsaw with an inertia chain brake which stops the brake automatically when it senses the unit is about to experience a kickback. Manual chain brakes also work but the operator's hand must be on the lever to trigger the brake. Unfortunately, kickbacks happen without warning.

Low-kickback Bars

Low-kickback bars help reduce the risk of injury while using a chainsaw. The function of low-kickback bars is to lower the risk of kickbacks to the barest minimum. If you are a beginner, you need to have this feature in your gas chainsaw.
Anti-vibration
Vibration reduction systems also help protect your hands from losing sensitivity, reducing the loss of control and risk of severe injuries.

Safety Switch

Most chainsaw brands also feature a safety switch to prevent accidental engagement of the throttle.
These features are becoming standard, but double-check before buying a gas chainsaw.

Pay Attention

Pay attention while operating the chainsaw. As you become familiar with the machine, you get comfortable and careless, but this increases the risk of accidents.

Safety Equipment

Also, ensure you use proper technique and wear safety equipment such as safety helmets, eye protection, hearing protection, gloves, leg protection, and appropriate outer clothing.
FAQ
What is the proper gas and oil mixture for a gas chainsaw?
Gas chainsaws require gas to oil mixing ratio of 50:1 or 32:1 but manufacturers can recommend values within these ranges for different chainsaw models. When in doubt, consult your user manual.
Don't forget to check out our homepage at www.thechainsawmag.com for more details about chainsaws!
Wrap Up
Buying a gas chainsaw is a serious decision considering the level of skill and mental preparedness you require operating the machine efficiently. If you are shopping for the best gas chainsaw for your woodcutting needs, you need to consider several factors such as power, weight, maintenance, and design. All these elements play a critical role in the utility you can derive from your investment.
Our gas chainsaw reviews dig deep into the topic to help you pick the perfect tool when it is time to decide. From the best brands on the market, safety features, and care tips, this article provides everything you need to know about gas chainsaws and more.