Did you know that you don't have to face hours of roaring, smelly work just to rid your garden of problematic branches and trees now? It's true! With the help of some of the best electric chainsaws on the market, you could soon be sitting down to enjoy your garden instead of struggling with it.
Electric chainsaw models, while not as well-known as their gas-powered peers, have fast closed the gap with the traditional chainsaw, offering a more user-friendly option that's free of exhaust fumes and carbon emissions, versatile, and can go almost anywhere. Whether you're a novice to using a chainsaw at all or a veteran of older models, you may well find that the perfect match for you is electric!
We've rounded up some of the top-rated corded chainsaw reviews for you to compare, as well as brought you all the information you could possibly need about buying, owning and maintaining an electric chainsaw.
The only question left is- what model will you be trying out first?
Best Corded Chainsaws
Before we take a closer look at owning, using and maintaining an electric corded chainsaw, let's have a look at some current market winners.
1. Makita UC4051A 16″ Electric Chainsaw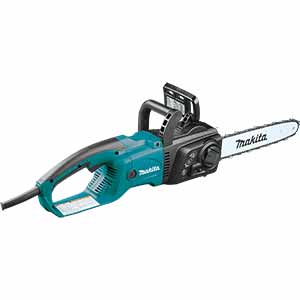 Skip the hassle of gas altogether, and opt for this slim 16" bar electric chainsaw instead. The chain speed hits 2900 FPM, providing cutting efficiency, and burnout protection in the form of an engine limiter to keep things simple and under control. An automatic chain oiler and chain brake allow you to work safely and productively for longer. A view window ensures you never run the engine dry because you didn't realize the oil was out.
We particularly liked the shaped, rubberized handles, providing a balanced, ergonomic grip, and the trigger switch is a good, large size that's easy to handle. Tool-less adjustments for both the blade and chain are a welcome feature too. You may also enjoy the 'soft start' feature for smoother, simpler start-up. Makita also offers a 1-year warranty on all products and a 30-day 'satisfaction window'. This ensures to cover you against problems.
Read the full review → Makita UC4051A
2. Oregon CS1500 Self-Sharpening Electric Chainsaw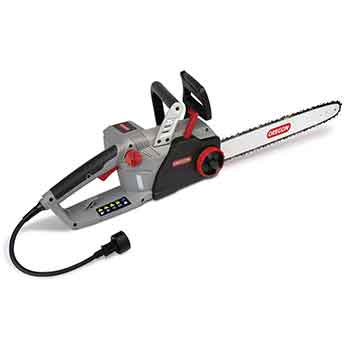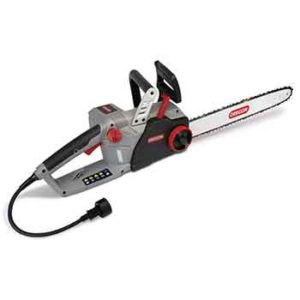 This is certainly a good looking chainsaw, but does it live up to the challenge? We certainly believe so. With an attractive, ergonomic design and comfortable handle that damps vibration to the user, it's simple to use. The chain is also self-sharpening. Rated at 15 amps, this chainsaw carries all the weight of Oregon's long history in the chainsaw industry, but without the tricky start, warm-up, oil/gas ratios, and emissions of their classic gas chainsaws.
This model boasts a longer 18" bar and guide design that reduces kickback. You don't need any special tools to adjust the chain tension. A chain brake, a fairly common safety measure in modern chainsaws, is also present. If you're looking for a solid, low-maintenance electric chainsaw with the backing of a well-known brand and easily available parts, this could well be the choice for you.
Read the full review → Oregon 603352
3. Poulan PL1416 Corded Electric Chainsaw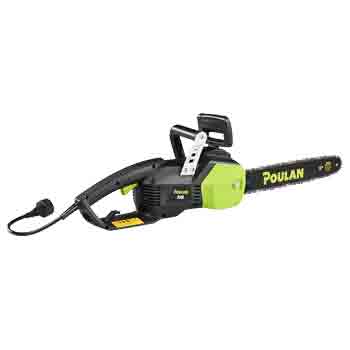 This quality corded chainsaw comes with a 14 amp motor and 16" bar, making it versatile for a lot of domestic yard work. At 11 lbs, it's also one of the lighter models we have assembled here for you today. Overall, this is a delicate-looking machine, with an in-line engine design adding grace, balance, and control to the mix, but it's well up to the task so don't let it's good looks deceive you. We'd recommend this one for a medium, average yard needing regular maintenance and the odd clean-up after a storm.
The chain brake alert is well placed to be instantly viable, and the chain is tensioned from the side with no tools needed, so adjustments are simple. The chain oil reservoir is self-lubricating, making maintenance simple and reducing the risk of kickback as well as giving a little boost to the performance.
Read the full review → Poulan PL1416
4. WORX WG303.1 Powered Electric Chainsaw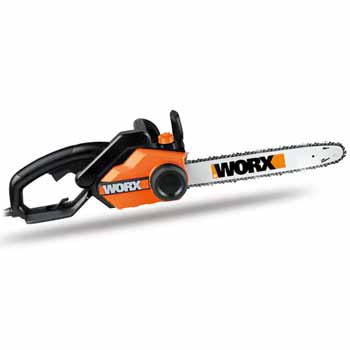 Another chainsaw featuring toolless auto tensioning, this also packs a 16" blade and 14.5 amp engine, delivering 3.5 HP of power. It's a great choice if you haven't got much experience with chainsaws, and is very beginner-friendly. It even eliminates the lifespan-reducing chance of over-tensioning the chain. Metal dogs at the bar base add a little stability while cutting.
You will need to oil the nose-bar sprocket as you work, but the rest of the chain is self-lubricating and operation is hassle-free. Start-up is the simple flick of a button, and you can manage oil reservoir levels with a look. The chain brake feature ensures the device cuts out immediately if there is a risk to the operator. Overall, the rubberized handle and wrap-around front handle allow for comfortable, controlled use. A generous 3-year warranty makes this a great choice for new and seasoned users both.
Read the full review → Worx WG303.1
5. Greenworks 20332 Corded Electric Chainsaw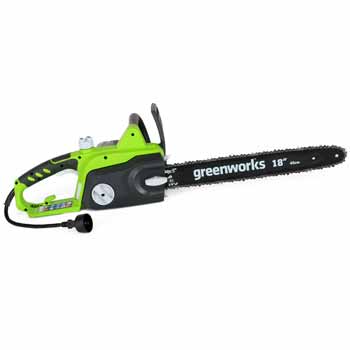 Greenworks aims to provide earth-friendly gardening equipment, and this 18" chainsaw is one of the flagship tools in their range. They also provide a very impressive 4-year warranty to back their promises. This particular model has a strong 14.5 amp motor with instant-start. As is becoming standard, the tensioning needs no special tools and can be adjusted quickly.
Standard safety features like auto lubrication are present too, taking much of the hassle out of your job. It is important to note that the unit doesn't have a sophisticated chain brake feature, however, which we typically prefer to see. We also liked the wrap-around handle and general easy-to-handle shape of this particular unit. The shape makes cutting at awkward angles, and general trimming tasks, a breeze. At 12.1 lbs, it isn't the lightest chainsaw we reviewed here, but it's certainly manageable and easy to maneuver.
6. WEN 4017 Electric Chainsaw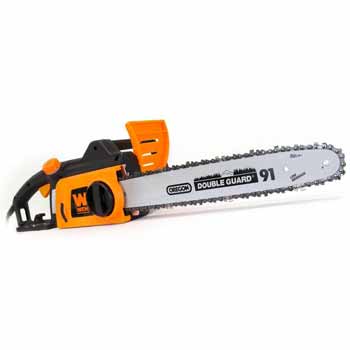 With a 12 amp motor, this is the lowest powered chainsaw we included in our reviews today. Little doesn't mean inefficient, however. With a 16" bar and Oregon quality chain, this little chainsaw is perfect for small and medium yards. It's also supremely easy to maneuver, given it's small, compact design and lighter weight. There is an auto-lubrication system and- unique among the gadgets listed today- a 'cable strain relief notch' to ensure the extension cord doesn't slip loose or get in the way.
A tool-free chain is standard, and a 2-year warranty on the chainsaw should be more than enough to set your mind at ease. We'd particularly recommend this unit for those of you who are new to chainsaws, want to see if an electric, corded chainsaw is right for you, or who need to combine power and maneuverability in one.
7. BLACK+DECKER CS1518 15amp 18″ Corded Chainsaw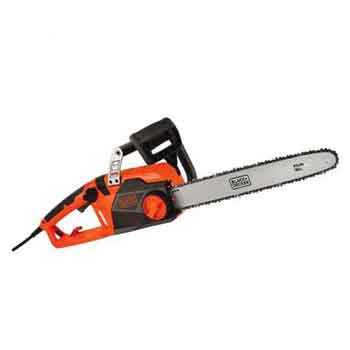 Black+Decker knows how to make durable and high-efficiency power and yard tools, and the CS1518 is no different. The machine is a corded chainsaw powered by a powerful 15Amp motor which delivers astonishing cutting force that can handle most jobs.
An extended 18-inch Oregon low-kickback bar and chain deliver enhanced cutting performance, increases reach and flexibility and also improves the safety of the user. You can monitor the oil level through the oil tank and the blade receives constant lubrication thanks to the automatic oiling system.
The CS1518 also features a chain brake for added safety during operation. Adjustments and tensioning are easy with the tool-free tensioning system. The machine weighs 12 pounds and features ergonomic handles for easy handling, safety, comfort, and maneuverability. It is backed by a 2-year limited warranty.
Read the full review → BLACK+DECKER CS1518
8. WORX WG304.1 18-Inch 4 15.0 Amps Chainsaw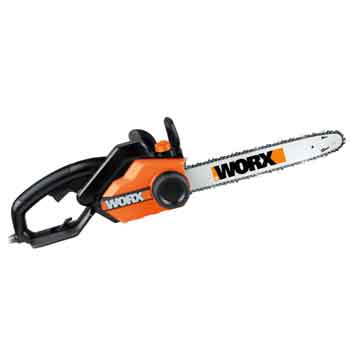 The WG304.1 is the small guy with a heavy punch. Despite its small size, this chainsaw features a 15.0 Amp electric motor and an 18-inch bar which produces a devastating cutting power. For improved safety, it comes with automatic oil lubrication and inbuilt oil reservoir which shows the oil level so you don't have to distract yourself monitoring the oil level while working.
The machine also comes with an inbuilt chain brake and low kickback bar for more safety. An innovative auto-tension chain system ensures that the saw stays at the ideal tension always. You don't have to worry about coupling as the machine is fully assembled from the factory.
The WG304.1 weighs only 11.3 pounds and comes with many advanced features that extend its reach and cutting power, ergonomic rear and front handles and a powerful motor which can deliver up to 4 hp.
If you need an electric chainsaw that delivers gas-like performance, the WG304.1 is an excellent candidate.
Read the full review → WORX WG304.1
Now you've seen what some of the best electric, corded chainsaw models on the market have to offer, let's take a closer look at the process of selecting, buying and using your new power tool.
What is an Electric Chainsaw?


An electric chainsaw is exactly what it says it is- a chainsaw that does not rely on gas to run. This means that they use simpler, electric-powered motors rather than the 2-stroke engine you may be used to. This significantly decreases the maintenance required as well as the weight of the unit- and weight can be a key factor in the chainsaw world. This does give them some notable advantages, which we've looked at in more detail below. Electric chainsaws are typically marketed for home use, however, as they may not have the engine capacity to handle day-in, day-out use by contractors.
Electric chainsaws are ideal for pruning and for tackling small-to-medium trees, especially in suburban gardens where the noise of an industrial chainsaw may be unwelcomed (or outright banned). They are also earth-kind and offer a practical blend of power and controllability for the homeowner to safely carry out regular garden tasks without many of the risks present in heavier gas-powered chainsaws. They can also be lighter on the pocketbook than their gas counterparts, making them an ideal choice for the average gardener looking to invest in a power tool that will take them through a variety of garden situations and last well for years, never letting them down.
Corded Electric Chainsaw Buying Guide
Now you've seen some of the best electric corded chainsaws currently available on the market, you have a better sense of the options open to you. Now it's time to get into the nitty-gritty of buying a chainsaw- and everything you need to know about owning one- with our handy corded electric chainsaw buying guide.

What to Consider When Buying a Corded Electric Chainsaw
Point of use

As always, your purchase should start by considering the job you are going to be doing. An electric chainsaw can be one of the most useful tools you ever own- but they can also be dangerous in unskilled hands. It's important to treat them with the respect they deserve. A key part of avoiding injury is making sure you buy the correct chainsaw for your needs- we go into a little more detail on this aspect below, but remember that it's critical and fix this balance in your mind immediately.

Power

An underpowered unit will burn out without getting the job done, but an overpowered unit can be equally dangerous as well, as it opens you up to greater risk of incident and kickback. Rather look for the balanced middle ground where you have the power to do the task at hand, but not too much-wasted capacity. If you are buying for typical home tasks, but suspect you may have the odd heavier job to do, remember that you can often hire a tool that will suit the larger once-off job for a day (or leave advanced tree felling to skilled contractors), and keep your trusty friend for the regular work of making your home look good.

Ease of Use

Electric chainsaws are immensely convenient, requiring only basic care and starting at the press of a button. They trade away a little portability with the cord, however- but with the range of tasks you will be tackling as a homeowner, this shouldn't be a bad trade-off. While much fuss is made about the 'loss of power' in electric units, the simple fact is less power is actually safer for you- the average gardener does not need the same power as a field contractor, so don't let this debate worry you. It's not relevant to the home user.

Handling Comfort

Two chainsaw styles exist- rear handle and top handle.
Top handle saws are designed mostly for people who will be using the saw while suspended in trees, in cutting harnesses. It's a tricky style to learn, and very likely best left for professional contractors rather than the average gardener.
In almost all circumstances, the rear handle design is going to be more comfortable (and safer) for you to use at home, produce fewer strain injuries, and give you more control over what you are cutting.

Do I need a chainsaw or a pole saw?

Electric pole saws are used for cutting high canopy only. They are typically very light in engine capacity and come in very short bar lengths. They would be suitable for a home where you only use the saw to tame overgrown, high tree canopy, but typically a proper electric, corded chainsaw will offer you far more versatility and use around the home. You cannot use a pole saw for 'normal' chainsaw tasks like cutting firewood or removing trunks/low limbs.
How to Choose Your Guide Bar Length
The 'guide bar length' is the distance from the tip of the chain to the engine housing. This is indicative of your cutting area, and will also be a guide to the largest piece of wood you can tackle with the saw (unless you do two passes, which is feasible for occasional larger limbs).
Ideally, aim for a guide bar that is at least 2" longer than the average wood you hope to cut to greatly reduce your risk of kickback (more on this below). For homeowners, we recommend two typical bar lengths:
Under 14": Light duties
16"-20": Medium duties
It's important to realize that more than the bar length matters, however. You can't 'upsize' your bar vastly, and expect a small engine to be able to handle the load. It will also become unstable and unsafe to operate. Rather stick within the recommended bar lengths for the chainsaw you purchase.
A quick note on kickback:
Remember always that longer bars are more difficult to handle and have increased risk of 'kickback'- basically, an adverse event where you see the chainsaw whirring towards your face instead of cutting through a limb as you intended. This is caused when the area where the chain changes direction- the last 2" of the bar- is applied to wood. Instead of directing the chain down into the wood and away from you, it kicks it back upward towards you, hence the name. This is why a chain brake is an important feature- it kills the movement of the chain the second there is kickback, averting accidents.
Here are our recommendations for guide bar length based on task:

Guide bar, as we mentioned, is not the only thing to consider when selecting your chainsaw. Here are a few other considerations.
How to pick the right size electric chainsaw
Several things other than guide bar length will affect the size of the chainsaw you need.
Firstly, know how much you will be using your chainsaw- you will need a stronger engine the more use you expect to put on it. The engine also needs to be strong enough to handle the guide bar length recommended for the task.
The type of wood you are cutting will also impact the size of the chainsaw you require. Softer woods can be handled by lower-powered models, while with hardwood the stronger the engine the better.
How broad are the branches/trees you will be tackling (on average)? You will need more power for thick limbs and trunks than you will for simply tackling small branches and other pruning tasks.
Electric chainsaws are not rated in cc like gas chainsaws. They are, instead, rated in Amperage (amps). The higher the amp rating, the stronger the engine. Here's the same table from above, reworked with some recommended average engine sizes.
Always make sure that your engine capacity and your guide bar length are nicely balanced with each other in order to get the best results possible. Do not assume that bigger is always better- while size certainly does matter when it comes to electric chainsaws, a chainsaw that is overpowered for the job is far more dangerous to use.
Other Considerations When Choosing an Electric Corded Chainsaw
Once you've settled the sticky question of engine size and guide bar length, there are a few other things you should also consider:
How does it feel?

Ergonomic designs are particularly important for using a chainsaw, as the unit is a weight that will fast wear on the body no matter how great the brand you buy. Make sure it's a chainsaw you can easily handle both for quickness of the job as well as to reduce your risk of strain injuries while using it.

How strong are you?

Using a chainsaw makes an impact on the muscles of the back and shoulders, especially if you have a lot of overhead cutting to do. Are you up to the task? Can you easily see yourself wielding this chainsaw, not for 5 minutes in the shop, but throughout a day's work?

How much does it weigh?

In a similar vein, the lighter the chainsaw is for you to work with, the better- but only within reason of course. It's important the chainsaw matches the job, rather than weighs less, but it's worth considering. You should, likewise, make sure that the chainsaw feels sturdy and well-made, especially where it counts most- the engine housing, all attachments (especially for the chain) and the guide bar.

How easy is it to manipulate?

Despite the maintenance advantages of an electric chainsaw, you will still need to get hands-on with this tool. Is the tensioner easy to use? Are the buttons well laid out and easy to access with your hand size? Can you get replacement chains easily, and are they simple to install? Do you know how to sharpen the chain? You want a sharpener that's easy to work with.

Safety features

Chainsaws are powerful tools, therefore, it's best not to mess around with. It's important your unit has safety features like the chain break to enable you to avert accidents easily- and it's equally important you can access them easily and know how they work. Take the time to read over this section in your manual, too.
Now you know more about the selection process for your chainsaw, let's take a closer look at the electric chainsaw and the good (and bad) aspects of owning one for your pruning and trimming needs.

Pros & Cons of Corded Electric Chainsaws
Advantages Of Electric Chainsaws
While gas chainsaws may once have dominated the market, that's no longer the case. Electric chainsaws are better than their gas cousins for the average homeowner in many ways, the most notable of which are:
Weight:

Due to the more compact engines, and no added fuel weight, electric corded chainsaws are lighter and easier to maneuver for people who do not do this as their daily work. Given the awkward situations in which one typically uses a chainsaw, this can be a massive boon.

Ease of Use:

With none of the fickle nature of 2-stroke engines to contend with, you are free of the need to mix oil/gas, and most electric models simply start on a button fire. They're simple and intuitive to use- and to stop if needed.

Noise produced

Due to the electric motor, the chainsaw is far quieter than a gas chainsaw, and much more welcome for regular use in the suburban environment.

No exhaust pollution:

Not only is it safer for you to work without fumes, but it's also kinder for the earth too. Electric chainsaws are, by far, the cleanest power tool option on the market.

Easier to store:

It's rare to have your chainsaw in daily use if you aren't a contractor. Gas chainsaws need to be cool when stored, fully prepared for storage with empty tanks and need to be stored dust-free in cool, ventilated areas to reduce fire risk. No such worries with electric! Simply store it in a convenient cover on a shelf, and it will be ready when you need it again.

Maintenance is lower:

You should never have to tamper with the engine of your electric chainsaw, unlike 2-stroke engines that need spark plug changes and other basic maintenance. For new users, or those looking for the simplicity of use, this makes electric a great choice.
As you can see, these are not small benefits! Electric chainsaws are a fabulous choice for the normal homeowner. As always, however, there are pros and cons to everything.
Disadvantages Of Electric Chainsaws
Let's look at some of the downsides of electric chainsaws:
Power:

The technology driving the electric chainsaw is a lot newer than that of gas chainsaws, and that has meant you lose a little engine power due to technology limitations. This is why contractors typically still use gas-powered equipment. However, this only really shows in demanding jobs- for the average homeowner and the normal garden, you will not notice the lack and will benefit from some added security. Check out our roundups of the best gas chainsaws here!

Cord:

The big advantage corded models have over cordless is that they can pack a lot more power, using the mains electricity rather then easily-drained batteries. However, that comes at a price- the cord. It's important to properly manage the cord as you work (tips below), and it can be slightly inconvenient for involved jobs. Knowing what to take into consideration is important so read our cordless chainsaw reviews before you buy.
Learn about the differences between electric and gas chainsaws to help figure out which of these two types of chainsaw would serve you better.
How to Safely Use & Maintain an Electric Chainsaw
Want to know how to correctly, and safely, use your chainsaw? Keep reading for our top tips.
Top 5 Tips on How to Use Your Chainsaw Like a Pro!
Cord management

Some chainsaw varieties offer features to help you manage the cord more safely. But even if yours doesn't, this is a key safety protocol you need to establish. Firstly, make sure you have adequate extensions to reach where you need to work. Try and minimize the need to switch power sources while working if possible, too.
Make sure you are using correctly gauged and rated cords suitable for heavy-duty tools. Also, make sure all plugs are firmly interconnected to avoid pulling loose, and that they cannot drop into puddles or water features. For the best possible power draw (and user safety), make sure the cord isn't much longer than you need, too. That said, there should still be slack enough for you to maneuver safely at the site.

Technique

As for your cutting technique, you need to bear the cord in mind at all times. Never cut down directly towards the cord. And never allow the cord to wrap around your legs or the branches where you are working either. There's the danger of splitting the cord with the chain. This can cause electric shock- something to keep in mind. You also don't want the cord interfering with the drop of the branch you are cutting. Work smartly, and make sure you always have space on the cord to maneuver, that it's always safely out the way, and that you are aware of its position.

Operator safety

A chainsaw is not a toy. If you don't believe you can get the job done safely, rather let the professionals handle it. You should never try large-scale tree felling by yourself, ever. Nor should you try large-scale tree removal if you are not utterly familiar with the complex technique needed to correctly drop a tree- or a damaged roof and difficult-to-explain insurance fight wait in your future.
An electric, corded chainsaw is more suited to basic home maintenance tasks, like removing branches and keeping trees nicely shaped. These are tasks you can accomplish safely as a home user. However, you should try not to work by yourself- use a 'spotter' to help make the task easier. At least be sure someone knows you are working, and ensure you have help on hand if you need it.
All children and pets should be removed from the working area. Even more, adult family members who are not working should also stay away. It's important that they don't accidentally get injured by falling debris- or spook or distract you as you work. It's a serious tool, so take the job seriously.

Eyes and Ears

Use a pair of safety goggles to protect your eyes from flying chips and dust. Chainsaws should, if the chain is oiled and sharp, product thick sawdust 'chunks' rather than actual chips of wood. You don't know what debris could be hiding in your tree. Even the smallest dust particles can be an irritant. These also minimize glare from the sun that could affect your work.
If you plan a lot of work, consider investing in kevlar 'chainsaw chaps'. This is for in case you do cut towards your legs by accident. You can also use padded gloves and a dust mask if you wish.
Make sure you always have an 'escape route' from where you are cutting. Be certain that you are cutting a sensible limb with clear space to fall into without hooking on other branches/trees. It is vital that you practice situational awareness at all times.

Technique

Make sure you always have firm footing, solidly planting yourself before you start the saw. Hold the saw firmly with both hands. Use the bulk of the blade, not the tip, as cutting near the tip increases your risk of 'kickback'. Tension your chain correctly if needed. Asses the limb you are cutting for tension. You don't want it smacking you in the face or ricocheting off through a window or other hazards. Then start the saw and cut through the wood cleanly.
Do not cut towards your legs. If an accident happens, it will be too fast for you to avoid, so rather cut safely and sensibly. Try to avoid any situation in which the collapsing form of the tree will 'pinch' the blade bar and chain. Stop cutting immediately if this occurs. Ropes can be used to influence the direction of fall. Regularly check that there is still oil in the self-lubricating chamber, and oil the nose sprocket if needed. Watch the debris you are producing for signs of the chain dulling, or for burning on harder woods.

Avoiding kickback

Here are a few ways to avoid kickback from your chainsaw:

Do not touch the bar tip to wood or the ground
Never cut more than one piece of wood at once
Only use the saw at full power for cutting
Keep the chain sharp and with correct tension.
Check all safety features before use.
Consider an 'anti-kickback' chain

Maintenance

Electric chainsaws need a lot less maintenance than their gas counterparts, but they do still need a little care. Make sure that you keep the chain sharp, and maintain the correct tension for the chain every moment you work. You will also want to clean off the unit thoroughly after use and before storage. Especially if sap (which can harden) is on the chainsaw, guide bar or chain. Unlike with 2-stroke engines, you should never need to open and tamper with the engine of your electric chainsaw. If you believe you need service,  check your manufacturer for advice. Check out the link to learn how to adjust an electric chainsaw.
You now have the basics of maintaining and safely using an electric chainsaw under your belt. Remember to start off with simple tasks and refine your technique with time.
FAQs
While we hope our nifty buying guide has answered most of your questions about electric, corded chainsaws. We've also rounded up a few other, common corded electric chainsaw questions below.
Can you use an electric chainsaw in the rain?

We certainly don't advise it! It's important to understand that it's not even recommended to use a gas-powered chainsaw in damp conditions. Firstly, while most quality chainsaws are sealed to prevent damp penetration, that doesn't mean it's a good idea to get one wet and use it!
You are asking for engine damage- and potential danger to yourself- if there's even the tiniest crack in the sealing. Such sealing is in place to prevent atmospheric moisture affecting the unit, not to withstand a deluge.
Secondly, not only do you put yourself at risk of lightning strikes up ladders and trees, but damp wood is also more erratic, and less safe, to cut with a fast device like a chainsaw. With electric chainsaws, you don't run any risk from the unit itself, and extension cords should be sealed too, but there's also the risk of water penetrating at the plug-in point, risking electric shock.

Do you need oil for an electric chainsaw?

You will not have to do the careful balancing of oil and gas as for the 2-stroke engines of the gas-powered chainsaws, no. You will, however, need a little lubricating oil for your corded electric chainsaw, which is of the same sort as used in a 2-stroke mixture, so be sure to grab a bottle.
For self-lubricating chains, you will fill the reservoir on the chainsaw and may need to add a little oil to the end, at the nose bar sprocket. Learn more about oiling an electric chainsaw.

Do I need a special extension cord?

Standard, light-duty extension cords will overheat easily if used for a power tool like a chainsaw. Rather invest in a properly gauged, heavy-duty extension cord for use with your unit. Remember to keep it as short as possible, as power drops over longer cords.

I am left-handed, does it matter?

Pretty much every chainsaw in the market today is specifically for right-hand use. You may, indeed, find some awkwardness as a left-handed user. Don't let this discourage you, however- you will quickly adapt to the technique required.
Wrap Up
There you have it! You now know everything you could possibly need to know to guide you through the process of buying, using and maintaining a corded, electric chainsaw.
We've looked at some of the best electric chainsaws currently available. It's important that you know everything you need to understand the world of chainsaws as you choose your model. You know exactly how to go about the buying process. The pros and cons of electric chainsaws, how to select a guide bar length. Not to mention how to safely work with an electric chainsaw in your garden. You even know how to correctly maintain and store your new tool.
Now it's time to invest in a trusty electric chainsaw to help you make your garden beautiful again! And hopefully with the help of our corded chainsaw reviews! Which of these quality models will you try?