Overview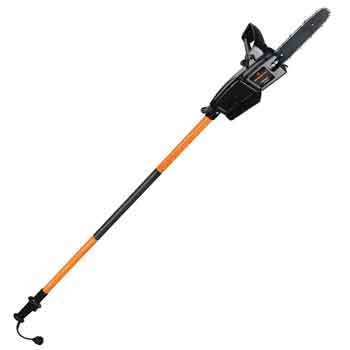 Most people will have gardens or yards that need tending on the weekends or during the holidays. As such, having the best power tools to perform tasks on your yard or garden is recommended. Companies continue to churn out great tools as innovation and development intensify particularly in the pole saw industry.
Consumers want high efficiency in cutting, a high degree of usability and affordability. In this line, Remington has been able to craft a modern, unique pole and chainsaw that will redefine your pruning experiences. The new product is dubbed the Remington RM1025P Ranger pole and chain saw. This is a device that has great capabilities in terms of performance, ease of use and durability. The features, pros, and cons of this device will be expounded in this article.
Feature and Pros
Ergonomic Body

The RM1025P Ranger measures 9.5 x 9 x 66.8 inches. On the other hand, it weighs 12.4 pounds. These two properties make this tool quite light. You will, therefore, be able to move around and reach all the corners you want with this device. Besides, you will be able to operate for longer without feeling tired.

Remington also ensured that this device is multifunctional. In this, its perfect design makes it possible for the user to switch from a pole saw to a chain saw with much ease. To aid in this, a detachable pole made of aluminum exists. It is also adjustable, adding to the flexibility of the user. The manufacturer was also keen to include a locking trigger. This has the role of keeping the pole secure as you use the saw in the extended mode. There is also a non-slip handle which adds to the comfortability of the user.

Reliable Performance

This model is a predecessor of the newer RM1025SPS. However, it is able to utilize the highest level of cutting technology. In this, it is backed up by an 8-amp electric motor that is specifically made to cut small to medium limbs of approximately 9 inches. Besides, there is a low-kickback 10' bar and chain which boost the performance of this device. The low-kickback feature makes it easy to cut even the thick limbs and branches. Remington ensured that the chain on this tool has an aggressive tooth layout and will run at approximately 1.5 horsepower.

Ease of Use

The manufacturer knew that a consumer's greatest concern is the ease of use in a tool. In this, Remington gladly included a wrap handle which you a tighter grip and consequently better control of the device. To cater to the safety of the user, there was the inclusion of an anti-rotation property which ensure that this tool does not twirl when you are cutting. There is also the low-kickback feature which ensures that the probability of accidents is reduced. This makes this tool ideal for use even by the beginners.

Durability and Flexibility

This tool is made of heavy duty material that will ensure that it serves you for the longest period. The pole of the RM1025P Ranger is made up of aluminum. In addition to making the device light, it also makes it strong to last many years.
Remington also involved the use of the flip and lock clamps. These hold the pole in a stable position and hence the saw is always safe from falling even at 15 ft heights.

The flexibility of this device comes into play as it is a 2-in 1 combination of a pole saw and a chainsaw. This is unique as not many manufacturers provide dual-functionality for the power tools. It shows how Remington had the consumer in mind in the construction of the RM1025 Ranger pole and chain saw. It also possesses a 10-foot telescopic shaft which makes it stand out from other products in this range.
From the above, the Remington RM1025P Ranger appears to be a study power tool that will transform your experiences in the yard or garden. Its good performance is attributed to the numerous features such as durability, ergonomic design, and flexibility. With this tool, your budget is well catered for as it has 2-in 1 properties of a pole saw and a chain saw. The manufacturer also includes a 2- year limited warranty which is quite ideal.
Cons
Noise-Mot consumers have stated that this tool tends to make lots of noise when it tilts to certain angles. This happens when the fan hits the plastic end plate of the device and cuts it in the long run. To curb this, you could adjust the end plate.
No Automatic Chain Oiler and Leaks -The user has to oil the chain for this tool manually as it is not self-lubricating. In this, you could simply have a container that you could use to occasionally lubricate the chai so as to achieve high degrees of efficiency. Besides, make sure that the oil reservoir is empty when you store the device to prevent oil leaks.
To check out in-depth reviews of all the latest models head over to our pole saw reviews.
It is clear that the Remington RM1025P Ranger is a powerful device that you can count on. It comes with numerous features that ensure that you get all the benefits that are listed above.