Did you know that long-term use of loud power tools can contribute significantly to hearing loss over time? It's true- but it doesn't need to be. With the best battery powered chainsaw on the market at your disposal, it's time to toss the heavy, old gas-powered model lurking in your garage and get yourself into the next generation of convenience.
Would you believe us if we told you it's possible to still receive all the benefits of a chainsaw, without the noise, fumes, and hassle? You may imagine that this super package has to at least come with the annoyance of a cord- but you don't even need that anymore. Not with cordless chainsaws ready to eat up any wood you throw at them.
Still not convinced a battery chainsaw could be right for you? Then be sure to check out our convenient cordless chainsaw reviews below, and get a sense for some of the best models on the market today. Combined with our handy buying guide below, you'll be armed with all the info you need to make the very best purchase possible.
Best Cordless Chainsaws
If you're looking for a quick guide to some of the highest quality cordless chainsaws on the market today, look no further- these are our top 6 picks, and each has a lot to bring to the table.
1. DEWALT DCCS670X1 FLEXVOLT Brushless Cordless Chainsaw Kit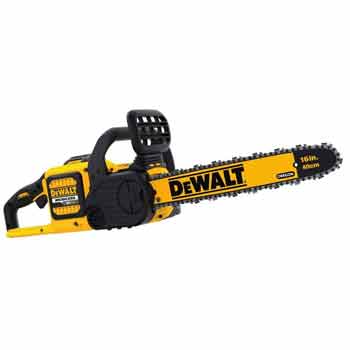 The Dewalt brushless chainsaw offers a 3.0 Ah battery rated to deliver 60 volts of power. Combined with a 16" Oregon bar and chain for proven quality, a chain brake as added protection, and a low kickback design, they sweeten the deal with a tool-free chain tensioning system. This and the bar tightener are through simple manipulation of a knob, making it easy to use for even a beginner.
The chain is auto-lubricated, and the oil well is set up with a quarter-turn cap to allow you to refill the reservoir quickly when in use. They anticipate 70 cuts per charge on softwood- not bad for a battery chainsaw. The brushless engine design ensures long-term motor stability, backed by a 3-year limited warranty for your peace of mind. At just over 12 lbs, this is a pretty light chainsaw, too, making it an ideal choice for you whether a novice or just someone looking for a light, quick-starting solution to garden issues.
Read the full review → Dewalt DCCS670X1 Flexvolt
2. Zombi ZCS5817 Cordless Electric Chainsaw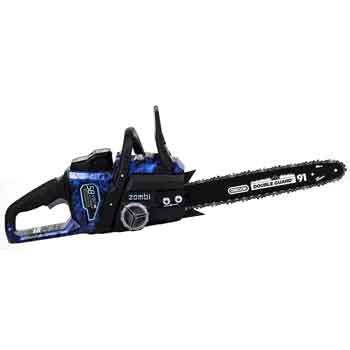 With fierce good looks, the Zombi ZCS5817 backs the package up with a quality Oregon bar and chain at 16", making it a great choice for most household gardens. The powerful 4Ah battery delivers 58 volts of charge, and a brushless motor ensures low friction for cool running and long motor life.
Smaller and easier to handle than a gas-powered chainsaw, this has the power to get the job done every time. With a chain brake and handguard to ensure your safety, a light-weight to make it maneuverable, and a convenient LED display to ensure you always know the battery status with just a glance, this is a simple to use and a convenient chainsaw that will outlast its 5-year warranty. Extra peace-of-mind is added with a 2-year battery/charger warranty. Auto-lubrication comes standard, and the price is more than attractive.
Read the full review → Zombi ZCS5817
3. Greenworks CS40L210 Cordless Chainsaw
GreenWorks have long put an emphasis on finding earth-friendly alternatives to gas-belching products, so it should come as no surprise to see this model hit our top picks list. It offers you two choices of battery, a 2 Ah and 4 Ah option, both providing power at 40V. Expect charge times of 1 hour for the smaller batteries, and 2 for the extended option. This is a 14" saw, equipped with a light, brushless motor for longevity while still delivering power and performance.
Keep an eye on the oil reservoir with a convenient window, while the auto-lubrication feature makes your life easier. Despite its small size, this is a robust device that delivers where it counts. Expect to receive up to 100 cuts (on the extended battery) before you need to reach for your charger, and you can easily purchase compatible batteries from the line to ensure you never have to slow down. They seal the deal with a pleasant to hold, ergonomically shaped handle that makes cutting less laborious for you.
Read the full review → Greenworks CS40L210
4. Makita XCU02PT Cordless Chainsaw Kit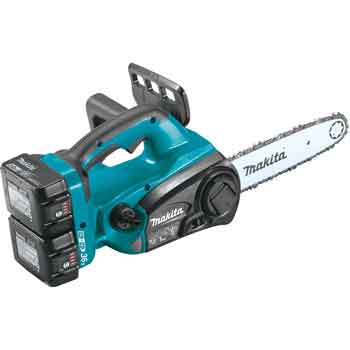 The Makita XCU02PT cordless chainsaw offers not one, but two 18V batteries to ensure you get the best results possible. The unit rates at 36V, but do be aware the batteries may need to be bought separately depending on your vendor. This superior power boost gives it a long run time, while the 12" guide bar and chain allow you to tackle most household gardening tasks.
It's a quiet-running device, rated at a super-low 89 dB, light to carry and easy to manipulate in even the most awkward situations. Chain adjustment is tool-less, with a front hand guard and chain brake for added safety. You also have access to an electric brake when needed. While this wouldn't be the ideal size for chopping firewood, this little beast is up to any garden task you throw at it and will see you through many happy years of service in your yard.
Read the full review → Makita XCU02PT
5. BLACK + DECKER LCS1240 Cordless Chainsaw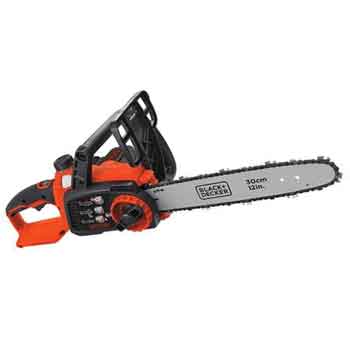 Black and Decker are a trusted power tool name, and this cordless chainsaw delivers quality in a simple package. You're looking at 2 Ah batteries, which give 40V of battery power, with a special design to ensure maximum battery life. With a 12" bar, this is best for lighter duty or yards with smaller trees. It would be perfect in an environment where it deals with pruning and fallen limb disposal.
The saw is designed for low kickback risk and simple chain adjustment, and it's simple to heft around at any angle. Auto-lubrication takes this arduous task out of our hand and ensures a long unit and chain life. The wrap-around handle design keeps you safe and gives you great maneuverability. Expect to get about 60 cuts per charge from this light and limber cordless chainsaw. At 10.4 lbs it's one of the lightest saws on our list but easily keeps up with the pack.
6. GreenWorks 20262 Cordless Chainsaw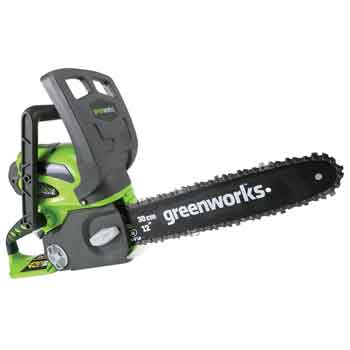 Another great option from GreenWorks, this is their smallest and lightest offering and an ideal entry-level option. The robust 12" steel bar offers tool-less chain tensioning as standard and works with all GreenWorks 2Ah G-Max batteries and chargers. Their batteries are designed to be free of fading, ensuring safer, quicker work. They also do not suffer from the 'memory loss' issues of older Li-ion style batteries.
Kick back reduction is in place, and lubrication easily monitored by an oil reservoir window. The wrap-around handle keeps you safe and makes it easy to get into any angle needed. Trim easily at any angle with this tiny next-gen battery operated chainsaw. The unit weighs in at just 6 lbs, making it incredibly light and easy to use. Despite the small size, you can expect years of hassle-free use from this powerful unit.
7. DEWALT DCCS620P1 Lithium-Ion XR Brushless Cordless Chainsaw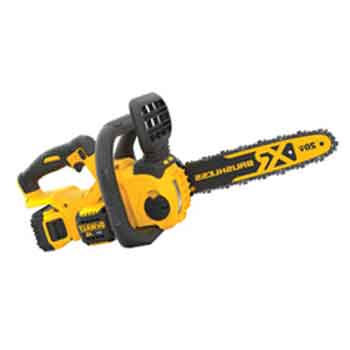 The DEWALT DCCS620P1 is a battery-powered cordless chainsaw built for optimal performance. The machine comes with a high-efficiency brushless motor with improved runtime and motor life. It also features a low kick 12″ Oregon Bar and chain which makes it perfect for a wide range of outdoor cutting applications.
The design is compact and the machine weighs only 8.8 pounds, ensuring maximum user control and comfort.
A tool-free chain tensioning and bar tightening knob is provided for improved bar clamping force. An auto oiling system ensures that the chainsaw and guide bar are always lubricated and a locking lever ensures accidents are reduced to the barest minimum. Power comes from a rechargeable 20V battery. If you need a lightweight and silent saw chain that can get the job done quickly, this is it.
Read the full review → DEWALT DCCS620P1
8. BLACK+DECKER LCS1020 20V Max Lithium-Ion Chainsaw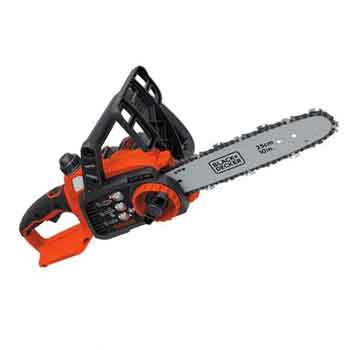 The LCS1020 is also a battery-powered chainsaw featuring 10″ premium Oregon low kickback bar and chain for increased efficiency. The machine is powered by a 20V 3Ah battery which comes with the unit. The long-lasting battery delivers extended runtime and longevity and is also compatible with 20V max outdoor and power tools. It features a tool-free blade tension system for easy and fast adjustments on the job and a wraparound handle for comfortable operation and maneuverability.
The saw is a composite of plastic and metal and is lightweight and balanced. The LCS1020 is easy to handle and makes light work of fallen trees and low hanging limbs. The battery delivers up to 20 minutes of runtime on a full charge, which is more than enough to handle most yard cutting tasks. If you need a battery-powered chainsaw that is affordable and still gets the job done, the LCS1020 is a great piece of hardware.
Read the full review → BLACK+DECKER LCS1020
Now you've seen some of the top-rated cordless chainsaws on the market with these handy reviews, let's take a closer look at everything you need to know about the ultra-modern battery operated chainsaw.
What is a Battery Powered Cordless Chainsaw?

Battery-powered chainsaws are coming to dominate the market, but you probably still have a mental picture of the older, gas-powered models. The cordless chainsaws really aren't anything too different- they still consist of a motor, bar, and chain and handle just as with the 'traditional' saw. The only difference is how they are powered.
Gone is the gas-guzzling 2-stroke engine. Instead, a battery (or, on some models, 2 batteries in tandem) provides all the power you need. This means they can use simpler engines- typically brushless for maximum motor life. They are also lighter in weight and easier to maintain. We've looked at some more of their advantages below, too. They're typically not a great choice for contractors as they are best for light/medium loads, but make a great alternative for homeowners.
This is the choice for you if you need to be able to prune and shape small-to-medium feature trees hassle-free. They're particularly great if you live in a suburb, where neighbors
won't take kindly to bellowing loud gas engines running as you work. While no chainsaw can be truly 'silent', these come the closest of the bunch.
There are other good features to consider. Not only do they produce no carbon emissions, but they are lighter, easier to maneuver and typically safer for inexperienced homeowners. If you're looking for the power to get the job done, but a lack of the 'intimidation factor' and danger of a traditional chainsaw, you've met your perfect match. They're also typically cheaper, which is a benefit everyone enjoys.
Cordless Chainsaw Buying Guide
Now you know more about the battery chainsaw, let's take a closer look at everything you need to know to make a smart choice.
4 Things to Consider While Buying the Best Battery Powered Chainsaw
Firstly, let's take a look at the factors that go into a chainsaw purchase.
What tasks will you be doing?

Every chainsaw purchase needs to start with the consideration of the job you will be facing. Every yard is different, and it's important that you match the chainsaw to the type, number and size of lumber you will be tackling.
Remember that a chainsaw can be a dangerous tool as well as a convenient one. It's important you also have the skills to handle the saw that you buy, too.

Surprisingly, the process of using a chainsaw most safely begins with a chainsaw. That is well-matched to the job at hand- an overpowered chainsaw can add extra danger to the job. While an underpowered one will create danger through erratic behavior outside of its intended use.

Consider the wood type (soft/hard), thickness and amount when buying a cordless chainsaw

Is cordless right for me?

Electric chainsaws, in general, suffer from a perception that they have 'less power' then gas chainsaws. While this is technically true- especially in battery-powered units, where the technology is still young- you are likely not a contractor who has to use the unit all day, every day. This 'lack' of power is actually a good thing for homeowners. It allows for safer, more reliable and less finicky use. It also discourages you from tackling the sort of trees you really shouldn't try and handle as a single, inexperienced feller. Compare the pros & cons of buying a battery vs gas chainsaw.
Think about it. Maintenance is almost non-existent. They have a single-button start and can be taken anywhere. They easily tackle standard garden tasks. What's not to love?

Battery-powered chainsaws are best for light to medium garden tasks, where you need to have a portable unit that can go anywhere but are not ideal for thick trees and bulky firewood.

What power rating do you need?

Too little power and you will both not get the job finished, and likely damage your unit by overloading it. Too much power and you both increase the risk of kickback as well as make the unit less safe for you to handle. It's important to match the power to the average tasks you will be doing with it. While you will likely get away with the odd task that your unit isn't designed for, you don't want to do it regularly. Take the time to match the unit to your home.

Smaller battery chainsaws are best left for light-duty tasks, while larger models will easily handle the demands of a medium to large yard.

Can you use the chainsaw easily?

The best chainsaw in the world is useless if you can't operate it. Generally, you are going to be looking for a rear handle design, as top-handle styles are intended for use when in harness on professional work. Make sure you can heft the chainsaw easily and can picture yourself using it for several hours as you work. Be certain that the weight is one you can support, and that you will be able to control the chainsaw without causing yourself strain injuries.

Consider the unit's weight, and look for comfortable designs with ergonomic handles.
How to Pick the Right Size Battery Powered Chainsaw
Cordless chainsaws are versatile, easy to use and up to almost any task. Don't let the fancy battery specifications scare you! The power rating for your chainsaw won't be expressed in cc as with gas chainsaws, but you'll rather see it listed as volts (V).
They begin from a very modest 8 volts, but this won't get you very much further than some light pruning. Most of the powerful saws on the market top out at 40 volts, although we are beginning to see some monster 80-volt options hit the market.
We personally advise most buyers to opt for the strongest battery chainsaws in order to ensure versatility and strength when you need it. This is especially necessary if you wish to venture into the 14" to 16" guide bar lengths, which are most suited for medium logs and small/medium trees as well as basic firewood. If you are looking at 12" guide bars, you can go a little lower. We also have prepared a guide to key battery pole saw features to help you decide.
What Battery Technologies Should I Look For?
Shopping for a battery chainsaw can seem overwhelming, because of the technical terms used around the batteries. However, you needn't be put off by these- we have all the information you require to make a smart choice.

What is Li-ion?
Most modern cordless chainsaws will use some form of Lithium-Ion battery or Li-Ion. These have come to replace the older Nickel-Cadmium (Ni-Cad) batteries. They outperform older battery types in two significant areas
They do not 'fade away' over the use of the battery. This means that you won't start your day sawing through logs like butter and end up wondering if using a butter knife would be quicker. You will get a consistent cut every time, right up until the battery discharges.
They charge far faster. While waiting 1-2 hours for your battery to charge may seem annoying, imagine waiting 12 hours!
Most Li-ion batteries of these same uses, amps, and volts are interchangeable, meaning you can easily get replacements.
Proprietary Battery Types
The other types of battery you see will typically be proprietary names for new, experimental technologies. GreenWorks' 'G-Max' is an example of this. These are simply trademarked names for these newer battery types, aiming to address some of the lingering issues with the Li-ion battery format.
In particular, companies are looking to address the problems of battery degradation over time- as we all know well not only from cordless power tools but from our cell phones, laptops and more. They are also looking to improve battery charge times and deliver more efficient power loads. If confronted with one of these 'name' battery types, do remember you will be tied to the range rather than able to use other battery manufacturer's brands.
What are Volts and Amps?
These are your indications of how much power you will get from the chainsaw. The higher the listed volts and amps, the more power for the job. Most typical gardens will be well served by a 40-volt chainsaw, although you will find them up to 80 volts. Remember that the battery will add weight to the unit, so always consider the total weight before you make your purchase.
Battery Life and Performance Factors
While battery chainsaws are undoubtedly the most convenient chainsaw type, they are also the newest technology type chainsaws have- and that means that they are getting better and better each generation. Modern battery chainsaws are well up to the task of taming your garden with you.
What will Affect a Cordless Chainsaw Battery's Lifespan?
However, while current generation batteries will likely be the first part of your chainsaw to need replacing (besides the chain, of course), there is a lot you can do to ensure that they stay healthy and in-service for longer.
Check out the rechargeable tool battery dos & don'ts here.
Pros & Cons of Cordless Chainsaws
How do you know if a battery-powered chainsaw is the right choice for you? Every chainsaw type and style on the market has its own unique pros and cons. So, let's take a closer look at those for the cordless chainsaw- and whether it's the right match for you.
Advantages of Using Cordless Chainsaw
Let's start by taking a look at what works well with the cordless chainsaw first.
That's a lot of benefits! Electric chainsaws have always been a convenient choice for the homeowners, and battery-operated chainsaws have re-introduced the convenience factor of portability back to the class.
Disadvantages of Using Cordless Chainsaw
As with everything in life, however, there are a few drawbacks. While we're certain you won't find them too much of a bother, let's take a careful look at them nevertheless.
As you can see, the pros of a battery chainsaw far outweigh the cons for the average user like yourself.
How to Use & Maintain a Cordless Chainsaw
Now, let's take a closer look at how to use your cordless chainsaw safely and smartly.
Safety first

We really can't emphasize this enough. A chainsaw is an amazingly useful tool- but it's also a dangerous one. Never tackle a job that feels beyond you. If you need to bring down large trees, leave it to the professionals who are skilled in the correct way to drop large limbs and trees with no damage to property or risk to your life. The technique is complex and takes years to learn.
However, basic garden tasks can be tackled by yourself. You can shape trees, resize dropped limps, and trim branches without too much expertise as long as you keep some safety basics in your mind.

Battery Powered Chainsaw Tips and Techniques

Don't work by yourself. Make sure someone is always in calling distance in case you get into trouble. And, better yet, have a friend to help keep an eye on things as you work.
Keep children and pets far away. Anyone not working in the garden should avoid the area too, not only so they don't get hit by debris, but also so they don't distract you.
Use safety equipment. Macho bragging rights aren't worth your health. Use a dust mask and goggles to avoid any risk and allow you to focus on the job. You may also want to invest in contractor's earplugs so you don't risk any damage to your ears if you're doing a lot of work. If you do a lot of work with your chainsaw, you can also add kevlar protective chaps to the mix to minimize risk from downward cuts. Use gloves if your hands chap easily.
Always have an 'escape route' planned in case the limb/tree drops towards you and cut so the wood can drop freely without hooking on branches.
Be aware of your surroundings as you work. Don't get lost in the zone.

How to cut properly with a chainsaw

Now you know how to cut safely, let's cut properly too. Use a solid stance with nothing shiftable under your feet, hold the saw firmly and make sure you are using the correct chain tension. Also, make sure the branch can't 'whip' at you if it's under tension. Stop cutting immediately if the wood 'pinches' the blade. Keep an eye on the lubricating reservoir, and fill as needed. If the large sawdust chunks you produce become proper chips, your chain is dull and needs sharpening, and if hardwoods start to burn you also need to get out the sharpener.

Know (and avoid) kickback

The chain changes direction at the tip of the guide bar- and that creates a situation where, instead of downward pressure, the chainsaw can 'kick' up at your face. This is known as kickback. Most good saws have an automatic cut-out if this is sensed, but you can avoid it with good cutting technique too. Don't ever cut at the tip of the saw, maintain the chain, and cut only one piece of wood at a time.

Maintaining your saw

The maintenance needs of a battery chainsaw are minimal. Follow instructions for your batteries and charger, and keep the unit clean. Cover it from dust when in storage. Never try to service the engine yourself- rather use an authorized service center. Luckily, it's unlikely to be needed for many years.
FAQs
This comprehensive guide should tell you most everything you need to know- but we've rounded up a few common FAQs here for you to check out too.
Choosing a chainsaw can be tricky so don't forget to check with our home page for more information!
Wrap Up
Now we've taken a close look at the battery-powered chainsaw cutting technique, how to use and maintain your chainsaw, and how to pick the right chainsaw for your needs. You're hopefully feeling a lot more confident about your next purchase.
We've taken a long look at how to best match your new chainsaw to your garden. There are many reasons that battery-powered chainsaws are a stand-out choice for the average homeowner. Also, we've removed all the mystery from the world of batteries. And, explained the terminology that you need to understand to select the best cordless chainsaw for you. Furthermore, our team has even looked at the basics of cutting, which will soon have you slicing up your garden like a pro.
Now there's only one step left- choosing your new tool. Why not use the convenient battery-powered chainsaw reviews we've included to help you select the best fit for your needs? You'll soon have your garden looking amazing if you do!