Overview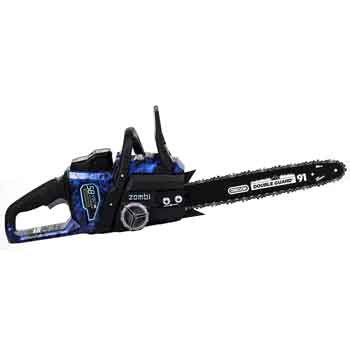 The Zombi Lithium Cordless Electric Chainsaw is relatively new to the market. A powerful cordless chainsaw that can be used wherever there is a need for cutting, trimming and pruning. With the cordless chainsaws, there may be hesitation due to it not being as powerful as a gas-powered chainsaw. A gas-powered chainsaw is ideal for more extended jobs and larger trees.
The professional logger, farmer, and rancher may look to find a gas-powered saw because of its mobility and stronger engine. The corded chainsaw is a direct opposite, in a sense, to the gas-powered saws. The corded chainsaw is limited since it has to be within 100 ft. or so of an electrical outlet. While this gives it unlimited use, the mobility factor is lost due to being corded. This leaves a cordless chainsaw as an option for those that have to saw trees that are not near an electrical outlet.
When looking for a cordless chainsaw, the risk of it not being as powerful can occur. These are usually a little less in price due to its limited usage time before having to recharge its battery. A cordless chainsaw is perfect for first-time users and for jobs that are small to medium sized. The Zombi 16" 58-volt 4 Ah Lithium Cordless Electric Chainsaw has a 58-volt battery, among the highest voltage for batteries on the market. The Zombi beats out not just other cordless but can handle jobs that you may grab your gas-powered saw to normally handle. With a 5-year tool warranty and a 2-year battery warranty, the Zombi could be a saw that is used for years to come, if it is properly maintained.
Pro
Low Kickback

Including safety features on a chainsaw is standard. The Zombi Cordless has several features that not only makes handling the tool easier but also safe. The 16" Oregon bar and chain gives a low kickback for the user. If a chainsaw has high kickback, it can really injure the user when cutting down logs or even trimming smaller branches. The Zombi Cordless has a low kickback from the Oregon bar and chain. The overall design of a chain helps in giving a low kickback as well. The Zombi Cordless has a laminated body and a narrow nose which is designed to help reduce kickback. The 3/8" pitch and 0.05" gauge is not just a popular design, but it assists with low kickback.

Tool-Less Tensioning System

Having a system in place to make use more convenient seems to be a priority with the Zombi brand. It is not lost on the Zombi Cordless Chainsaw either. The tool-less tensioning system has an easily accessible wheel on the side to set the tension, then there is a second wheel to lock it in the right position. There is no need to bring along any screwdrivers or wrench with this tool-less system

Automatic Oiling System

For optimal use, the bar and chain need to stay consistently lubricated. The Zombi Cordless Chainsaw did not forget the importance of keeping the Oregon bar and chain oiled. With a reservoir capacity of 5.75 ounces, this saw is comparable to many other brands with its holding capacity. Like many other cordless chainsaws, the oil levels may lower quickly. Zombi Cordless included a transparent oil tank reservoir window so it can easily be monitored. The window also has number markings to further assist in ensuring you keep the proper levels. The Zombi Cordless saw can handle a large variety of bar oil, with vegetable-based oil being preferred whenever pruning.
Check The Latest Price on Amazon!
Con
Heavy

Normally, the cordless battery-powered chainsaws are lightweight, with the average size being around 12 lbs. For the Zombi 16" 58 Volt 4 Ah Lithium Cordless Electric Chainsaw to perform at its high level, it is slightly heavier than other cordless saws. Weighing in at 16 lbs., the Zombi chainsaw does provide textured grips to assist in a more comfortable feel for the user. For first time users or those not used to handle heavier tools, using the Zombi Cordless may be slightly difficult.

Chain Sharpening

A cordless chainsaw is normally selected when you want a low maintenance saw. Daily maintenance is necessary for any type of saw however with the Zombi Cordless has just a few parts that may require some additional maintenance. To ensure your saw is performing the best, the chain should always be kept sharp. As soon as the saw starts to struggle to cut, the chain needs to be sharpened up. The downside is the technique to sharpen the chain. It may require a professional fix that cannot be done on your own, especially if you are a first-time user
Check The Latest Price on Amazon!
Wrap Up
The Zombi brand provides a range of products and tools for several uses around your home. The Zombi 16" 58 Volt 4-Ah Lithium Cordless Chainsaw is a heavy-duty battery-operated saw. It is ideal for a variety of trees. This powerful chainsaw is an efficient choice of saws. The 16" Oregon bar and chain provides a smooth cut every time.
With the tool-free tensioning system and low kickback, the Zombi is a safe saw for your daily use. Other safety features on the Zombi is the chain brake. When using the saw, the chain needs to be quickly stopped from rotating around the bar. The Zombi chain brake system is sufficient in stopping quickly every use. Additional safety features are within the design of the saw. The bumper spikes help when on the job and cutting through large logs. In addition, the handguard has a battery LED capacity reading display.
The benefit of using a cordless battery powered over a gas-powered chainsaw is more than just low maintenance. The gas-powered chainsaws emit fumes and require constant refueling of gas. The Zombi Cordless gives off no fumes and can be used near your home without too much noise. The portability of the Zombi Cordless makes it a better option than the corded saws that can go only 100 ft. from an electrical outlet. The low kickback, tool-less tensioning and automatic oiling system are just added features that make this durable, cordless saw a nice option for the heavier jobs around your property.