If you are enthusiastic about power tools, chances are you own one or two products from Milwaukee and Makita. Both companies are popular brands in the power tools industry, especially the cordless segment of the market.
Established in 1924, Milwaukee started as an electrical tool repair shop in the Wisconsin town it's named after. Over the years, the company has developed a reputation as a clear leader in the cordless power tools market with its industry-leading REDLithium batteries.
In the 1990s, Milwaukee made history as the first manufacturer to power its cordless tools with Lithium-ion batteries. Its M12 and M18 Fuel line of tools still set the benchmark for cordless power tools industry till date. Though a Pan-American company, Milwaukee now produces most of its over 500 tools and 3500 accessories in China.
Makita is a Japanese power tool manufacturer that also started as an electrical tools repair shop. In the 1970s, the company pioneered cordless tools, opening the gates for innovative designs from other companies like Milwaukee and DeWalt who have become the greatest disruptors in battery power.
Makita has the largest collection of 18V Lithium-ion battery-powered tools and its products are designed to deliver a powerful but smooth and silent performance. The company has factories in Europe and the United States where many professionals and DIYers love the dependability of their cordless tools.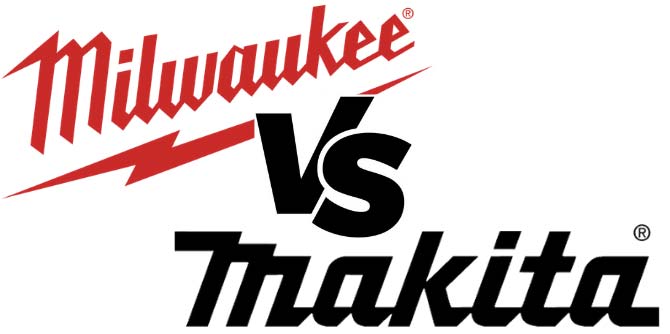 Milwaukee
Milwaukee products are expensive! But they blow the competition away by far. What is it that makes the company's chainsaws different?
Design

Milwaukee has perfected the art of building lightweight, durable, high-performance chainsaws that seem to have an unlimited amount of battery power. Despite their high-end cutting power, these tools provide exceptional maneuverability, operator comfort, and advanced power management systems.
One outstanding feature of Milwaukee's cordless tools is the company's Powerstate Brushless Motor which is optimized for consistent power delivery and high performance with minimal heating. Its gas-powered models also come with improved engine designs, low emission levels and a breathtaking balance of cutting power and ergonomics.
Unlike most power tools manufacturers, most of Milwaukee's products are designed for professional applications. This makes them exceptionally durable, powerful and far more expensive compared to brands like Makita.

A Little about Milwaukee Lithium-ion Batteries

As a pioneer in the Lithium-ion battery-powered cordless tool industry, Milwaukee's Redlithium Battery Technology is one of the most efficient power management systems.
This technology not only provides longer runtime per charge, but it ensures a consistent power output until the last drop and faster charging time. In fact, this system works in tandem with the Redlink Plus Intelligence which ensures the battery and tool are in perfect synch.
With these features, Milwaukee protects its products from overcharging, overloading and improves battery and motor life. Imagine wielding a battery-powered chainsaw that can handle serious cutting jobs at 6600 rpm?

Safety and Comfort

Milwaukee's chainsaws feature ergonomic designs that reduce operator fatigue and improve productivity. Thanks to rubberized handles and vibration-dampening systems, you can work for longer with their units with minimal exhaustion.
The company also provides anti-kickback technology, chain brakes and other safety features to make operation incident-free.

Warranty

Milwaukee chainsaws come with up to 3 to 5 years warranties. If you bought a cordless model, the company has different warranties for the tool and the battery pack. However, you have to register your product to enjoy the full benefits of the free service.

Support

Considering the high price point of Milwaukee chainsaws and other power tools in their line-up, the company offers premium customer support. So long as you have proof of purchase, your issue will receive a swift response.
Makita
Makita is the undisputed leader in the 18V cordless power tools with over 180 products and counting. The company's products are more affordable compared to Milwaukee, but still offer a bang for the money. If you are a DIYer, Makita's electric and cordless chainsaws offer everything occasional users want and more.
Design

Makita produces gas-powered and corded electric chainsaws, but its most popular models are battery-powered products from the LXT 18V collection. The LXT line of cordless power tools is the largest of its kind and every item in this collection can use the same battery.
Using LXT Brushless Motor, Makita's chainsaws are powerful, efficient and require less maintenance. Brushless motors are the next generation technology in cordless power tools.
These motors have fewer moving parts, experience less friction and wear and last longer. They are also more energy-efficient and lighter compared to brushed motors.

A Little about The LXT Lithium-ion Battery Technology

Makita's class-leading LXT Lithium-ion battery technology delivers 50 percent longer run time, faster charging, consistent power output and compatibility with every other tools in that lineup. With these batteries, you can power over one hundred Makita tools.
The company's Star Protection Technology provides an intuitive communication system that ensures a seamless operation between the tool and the battery. This prevents overheating, over-discharging and overloading, leading to improved battery performance and longevity.
Regardless of the power source, Makita builds sturdy chainsaws designed for optimal performance. Its chainsaws come with a simple ergonomic design that ensures a comfortable grip, low vibration and reduced operator fatigue. Its engines have a quick-start system that makes starting the machine fast and easy.
A cyclonic air filtration pre-filtration system prevents dust, dirt and particulate from reaching the air filters and engine for increased performance and longer useful life.

Safety

Like most chainsaw brands, Makita products come with a chain brake, chain catcher, automatic oiler, and more. There is also a hand guard that comes standard with many of their chainsaws.
For improved maneuverability, some Makita chainsaws have a wrap-around handle with rubberized grips that makes handling easy regardless of the angle of cut.

Warranty

Makita chainsaws typically come with 1 year warranty and a 30-day satisfaction guarantee. Some models have lower or longer warranty periods based on their purpose of use and design.
It's important to note the parts covered by the warranty and proper usage and maintenance procedures to be eligible.

Support

Makita has an extensive customer support platform accessible through their online portal and offline at dealerships and designated service centers. However, the company prefers that users register their product and provide proof of purchase. Whether your unit came with a faulty charger, damaged parts or won't start, you can always reach Makita customer support via telephone, email or in-store.
Wrap Up
Milwaukee and Makita produce some of the highest-quality chainsaws on the market, especially battery-powered models. Both are leaders in battery technology but Milwaukee caters to the professional and premium spectrum of the market. Makita also offers high-end chainsaws but at almost half the price of Milwaukee units.
If you need a chainsaw that would last a lifetime, nothing beats the durability and performance of Milwaukee products. But if you want an affordable cutter that still delivers a near-premium performance, Makita's versatile power tools reign supreme.