Overview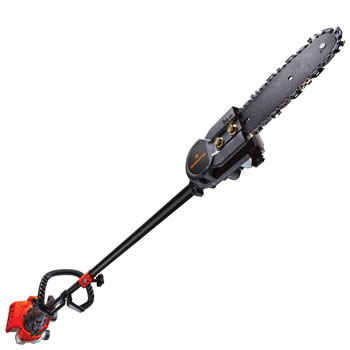 For those that have tall shrubs or trees in their properties, investing in the right power tools is essential. In this, a tool that will ensure that you save on time and energy in the pruning of the shrubs or trees is the pole saw. Powered pole saws have been deemed the best over the manual ones as they have unique abilities that lead to better completion of tasks. In the purchase of a pole saw key factors that you should look include the pole length, weight, and the power.
With the right pole saw, you will be able to efficiently remove unwanted branches that extend vertically and would have otherwise obliged you to get a ladder. A top choice in this industry is the RM25PS Maverick pole saw from Remington. This is a 38 x 10.8 x 12 inches' device that is coupled with numerous features which make it an extremely useful tool in your collection. This article will focus on the features, pros and cons of the RM25PS Maverick pole saw.
Features and Pros
Reliable Design

This device has a rugged design which is appealing to the eye. The measure of the tool is 38 x 10.8 x 12 inches, and it weighs 13.9 pounds. This is quite light and will ensure that you work for longer periods without any signs of fatigue cropping up. Remington included an 8-inch bar and chain that has been mounted on a pole that measures 7 feet. With this, you are given the ultimate control as you are able to reach up to approximately 12 ft in upwards. As such, you are sure to cut through the tree or shrub limbs easily.

The manufacturer also has included the trademarked quick start technology. With this, this pole saw is bound to start up quickly every time you want to use it. A key issue with most gas-powered tools is that a user has to pull a cord so as to start the machine. As such, most will have issues with random cold starts. However, the Remington RM25PS pole saw is exceptional as the quick start technology takes care of this efficiently.

Exceptional Performance

It is ideal to note that gas-powered devices are ideal for the power that they come with. In this case, the dominant performance that the RM25PS will give you will give you an edge over other consumers. You will be able to easily cut through thick limbs in trees or shrubs in your compound. Remington included a 25 cc duo cycle engine. This gives the tool massive power in terms of torque and rotations per minute to deal with even the toughest jobs that come along. The 8-inch bar and chain, on the other hand, are uniquely designed by Remington to ensure that your maneuvrability is enhanced in limited spaces. There is also an unmatched automatic oiler system. This ensures that your chain is always well lubricated and ready for exemplary performances.

Durability and Flexibility

This device has a sturdy design which makes it easy to operate and use. The compact design also ensures that it requires minimal maintenance practices. Combine this with the fact that it is a 2 cycle model and it will give you numerous years of excellent performance. This model is flexible in the sense that it will readily accept attachments. With this, you can simply switch the attachment heads to suit your specific task requirements. Not all trees or branches will be the same size so this is convenient for the user. You are able to accomplish different tasks all at once saving on time and energy. To add to this, Remington gives you a 2-year limited warranty.
From the above, it is clear that the RM25PS Maverick is a beast of its kind and will ensure that you have powerful performances. It comes with numerous features which make it stand out from the competition. These include the powerful engine, quick start technology, attachment capabilities, and the unique compact overall design. It is also quite affordable.
Cons
Hard for New Users

Some consumers have stated that the chain will not stay tight on the saw. While this might be okay with others, you can simply tighten the screws to your preference. Also, you are recommended to read the detailed user manual that comes with the device before handling it.
Therefore, the Remington RM25PS Maverick pole saw emerges as a reliable tool that will give you stunning performances. It gas-powered and at the same time possesses numerous features which lead to its unique performance. It will save your time as it has the unique quick start technology which ensures that it starts easily. Considering that it is a pocket-friendly tool, ensure you get it as it will surely redefine your power tool portfolio.