Overview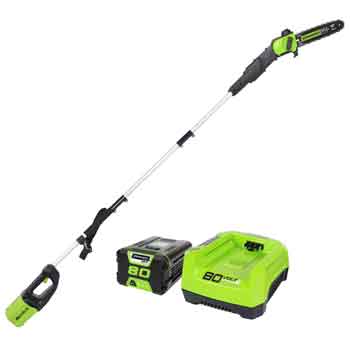 It is ideal as a consumer to have a diverse gardening tool kit. In this, a pole saw would be a great asset to the portfolio as it possesses numerous benefits to your garden. You will be able to efficiently wield tree branches and the hard to reach corners in your garden or yard. You are therefore saved the hustle of getting ladders and chainsaws every time. In addition to saving time, it also helps ensure that the consumer is safe at all times. However, with so many tools being offered on the market, it becomes an uphill task to make a purchasing decision.
As such, Greenworks, a renowned manufacturer has been able to come up with the Pro 80 V cordless pole saw. This 109 x 5.5 x 5.5 inches' device is able to meet all your pruning needs efficiently. It is stacked up with numerous features that make it stand out from the competition. This article looks at the features, pros and cons of the Pro 9' Cordless pole saw.
Features and Pros
Ergonomic Design

Greenworks invested their time in the design of this pole saw. It measures 109 x 5.5 x 5.5 inches and weighs 12.8 pounds. This is quite light and will be ideal for all ages. It ensures that you are able to wield without experiencing fatigue. The fact that it is cordless also makes it have the edge over its competition. With this, you are free to move anywhere in your garden and go on with your tasks. The manufacturer was also keen to include a metal handle which effectively wraps around a chainsaw. The metal handle gives the device a compact nature, and you will feel like you are operating a robust gas-powered equipment.

The Pro 9' cordless pole saw also has a 10-inch cutting bar and chain. This is sufficient to deal with the unnecessary branches. As such, it is able to limb up to 6in.dia which is quite impressive. An easy-adjust chain tensioning technology ensures that the user is able to have quick and easy adjustments.
Still, on the design, the manufacturer was flexible on the pole as it is adjustable. It has 3 adjustable lengths which add to your flexibility. This shaft is made up of aluminum which makes it durable and at the same time light to lift.

Good Overall Performance

This cordless pole saw is bound to give you unique performances. This is because it comes with a brushless motor which is powerful and durable. The manufacturer states that this motor enables the engine always to be ready for sawing. You are therefore sure that even a gas-powered device will not match this tool. It has less vibration than its gas rivals while it is definitely quieter as well.

The brushless motor is able to deliver an approximated 30% more torque which boosts the performance. Besides, the device is also equipped with a powerful battery and charger. While most consumers tend to shun cordless devices due to poor quality in the batteries, Greenworks seeks to redefine this with their powerful 80 V 2Ah battery. This battery is able to run the device efficiently. The battery is also durable and will serve you for the longest time. This device's charger is top-notch as it allows for a quick charge of approximately 30 minutes. With this, you are able to save on time and complete your tasks within the expected timelines.

Flexibility

An automatic oiler system is present in this device. This ensures that the bar and chain are well stimulated at all times. In turn, it leads to good cut performance which saves on energy and time in the long run. Greenworks included a translucent oil tank which allows the user to adequately observe the oil level. You are therefore in full control as you will know when to refill the tank. To add to the flexibility of the Pro 9' cordless pole saw, its battery and charger are compatible with models such as the GBA80400 and the GBA80200. This is a feature that many devices in this range lack. If you have these related models, you do not have to worry as you can easily substitute the charger or battery.
It is clear that the Greenworks Pro 9' pole saw possesses many great features which in turn add to its pros. It is lightweight, offers great performance and will serve you for a long time. Besides, this manufacturer offers a 4-year warranty on the tool which is impressive. However, the battery has a warranty of 2 years.
Cons
Chain Coming Off

New users have cited that the chain of this device tends to come off as they work. This could be annoying especially if you do not have all the time to fix it. However, it is ideal to note that the issue lies in the loose placement of the chain. This is easy to deal with as you simply have to tighten the chain properly.

Expensive

This device is quite expensive as compared to similar products in this range. However, keep in mind that cheap is expensive. With this tool, you are sure to get your money back in no time. You will get good performances which make this device a one-time investment.
Our helpful pole saw buying guide will tell you what to look for when it comes to buying one.
Overall, the Greenworks Pro 9' cordless pole saw is a reliable pole saw which will give you simplicity, power, and flexibility all in one.