Even the best and most careful chainsaw operators can run into problems at times. The most serious of these problems is what's called 'kickback'. Kickback is by far the leading cause of chainsaw injuries and death. One of the most susceptible places for kickback injuries for a chainsaw operator is their legs. Fortunately, many chainsaw clothing suppliers make protective leg chaps. The best chainsaw chap can minimize or totally prevent serious injuries from kickback and other chainsaw mishaps.
In this article, we will give you all of the information you need to make a well thought out chainsaw chaps purchase. We will do that by pointing out the characteristics of safety chaps that are important to focus on when you are shopping for them. Also included will be several chainsaw chap reviews of the best brand chaps in the marketplace.
Best Chainsaw Chaps
Here are the best chainsaw chaps that are found in the work clothes marketplace:
1. Husqvarna 587160702 Chain Saw Chaps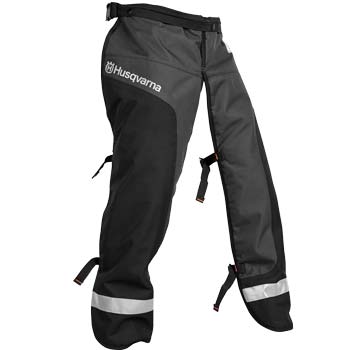 Leave it to one of the top chainsaw manufacturers in the world to make one of the best chainsaw chaps too. These are a stylish chap that wraps around and securely fastens to the user's legs. Their ability to stay securely in place, yet still allow good freedom of movement, is what makes them so desirable.
The key safety ingredient in these chainsaw chaps is their Tec warp protective layers. When a chainsaw blade cuts into these rugged fibers it tends to grab them and seize up or slow down. This happens in an instant and can go a long way toward protecting against horrific chainsaw leg injuries.
These Husqvarna leg chaps are made of sturdy 600 denier polyester with an added PVC coating. That makes them water and stain resistant which is important in the rough outdoor environment that chainsaws are used in. They are fully adjustable up to a 38" waist and meet all recommended chainsaw chap safety regulations.
2. Forester Chainsaw Apron Chaps with Pocket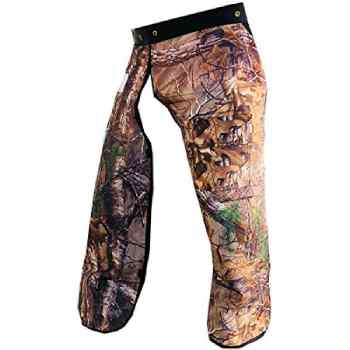 Are you a chainsaw operator that is concerned about both safety and freedom of movement? Then you will want to take a closer look at this apron style chainsaw chap from Forester. These chaps will do a nice job of protecting both the front and most of the sides of a chainsaw user's legs.
These pants are made of nylon 400-denier fabric that is both waterproof and stain-resistant. Woven into these lightweight pants are four protective safety layers of fabric to help prevent chainsaw leg injuries. Two layers consist of tough Kevlar fibers and the others are made of chainsaw chain jamming polyester felt.
These chaps tend to offer a better fit than some other brands of chainsaw chaps too. That's because they are size specific as opposed to being a one size fits all product. These chaps meet the strict safety requirements of ASTM F1897 and OSHA 1910.266 and they are completely UL certified too.
3. Husqvarna 587160704 Technical Apron Wrap Chap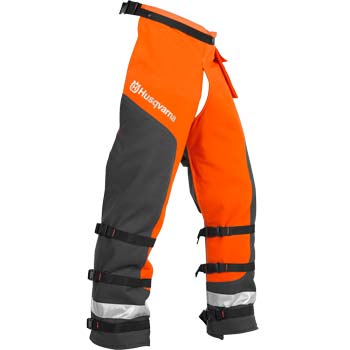 Here is another well-constructed safety chap from Husqvarna. This is a stylish apron style chainsaw chap that looks great with its vibrant orange color and black leg accents. It's made using thick and tough 1000 denier polyester fibers that are sturdy and highly water and stain-resistant.
What helps make these chaps a safer pair of chaps for chainsaw operators is the additional Tek warp proprietary fibers that are woven right into them. Once a chainsaw comes into contact with these fibers it slows down the chain and gives the user a chance to correct their position quickly and keep from getting severely cut.
Husqvarna makes these protective chaps using durable Delran buckles and has even built a convenient pocket into them too. These chainsaw chaps also meet or exceed all of the strictest safety requirements. That list includes ASTM f1897, ANSI z133.1, and OSHA regulation 1910-266. They are also fully UL certified for safety and performance.
4. Jonsered Protective Apron Chaps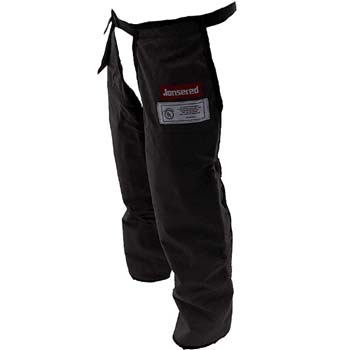 Here is a simple but effective pair of apron style chainsaw chaps from Jonsered. They are both a safety-enhancing and affordable pair of protective chaps. These chaps have a lightweight but strong 600 Denier outer shell. That makes them water-resistant and helps them repel even the toughest types of liquid stains too.
These chaps will definitely help increase the safety of your legs when operating any chainsaw. They contain a single layer of Rope-Mali fabric and 4-layers of Tek-warp fabric to help stop chainsaws from cutting through into the flesh. They meet the requirements specified for chainsaw chaps by ASTM F1897 and ANSI Z133.1. These chaps are also UL listed for safety.
One nice feature with these apron chaps is that not only the waist on them is fully adjustable but so too is the length. They can be made to fit any size waist up to 46". Proper fit always helps make for a safer pair of chainsaw chaps. They also come with an added built-in tool pocket for convenience.
5. Husqvarna 531309565 Chain Saw Apron Chaps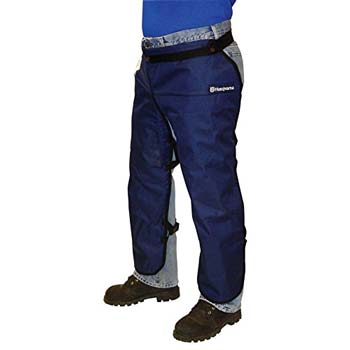 As you can see by our reviews, Husqvarna makes an effort to offer a wide variety of chainsaw chap options. Here are another excellently constructed pair apron style chainsaw chaps from them. They are made of high-quality 600-Denier polyester that makes them comfortable and lightweight. The added PVC coating on them also makes these highly-protective chaps' water and stain-resistant.
The fibers these chainsaw chaps have woven into their material are what help them keep a chainsaw operator's legs safe. They contain some 5-layers of 'Kevmalimot yellow line protective material'. That material is designed to quickly jam up a chainsaw chain when it makes contact with it.
These safety chaps conform to all chainsaw chap requirements stated under ASTM F1897, ANSI Z133.1 and OSHA Regulation 1910-266. They are also totally UL Certified. They can be hand washed and hung to dry and they are available in three different color choices.
6. OEM Arborist Forestry Professional Cutter's Combo Kit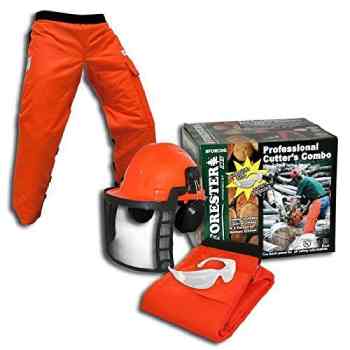 Do you want to get all of your chainsaw protective clothing needs out of the way at one time? Then this Forester protective clothing kit that includes an excellent pair of chainsaw chaps will help you with that. It also contains protective ear muffs and a certified forestry helmet with pull-down shield.
The apron-style chaps in this kit are made using 100% polyester water and stain-resistant material. That makes these safety chaps both lightweight and flexible. The main safety feature in them is their embedded WTS-34 fibers. These rugged fibers are able to easily slow up and jam even the most powerful gas chainsaws.
These chainsaw chaps are best used for non-professional use because of how lightweight they area. They are, however, and affordable and protective choice for home and occasional chainsaw operators. This also makes an excellent safety starter kit for those who are new to chainsaw use.
What Are Chainsaw Chaps Used For?
It's no secret that there are not many types of power equipment that are more dangerous to use than chainsaws. After all, these tree cutting tools have razor-sharp blades that spin around many times minute. That means if the operator makes a mistake while using a chainsaw they can be seriously injured or even killed. Chainsaw chaps are chainsaw protective gear that is meant to minimize or prevent a chainsaw leg injury.

They are especially useful for those that will do much tree or wood-cutting close to the ground. That's when a chainsaw operators legs are the most vulnerable. Safety chaps cover the front leg area and partially protect the sides of the leg area too. These are the areas of the leg where a large majority of chainsaw leg injuries occur. Chainsaw chaps are not armor, but they have proven to be effective at reducing the severity of chainsaw mishaps that involve the legs.
Chainsaw Chaps Buying Guide
Here are the main characteristics of chainsaw chaps to consider when searching for a new pair:
What to Consider When Buying Chainsaw Chaps
Size/Adjustability

It simply does not matter how many safety features a pair of chainsaw chaps have if they will not stay in place over the areas of the leg they were designed to protect. This makes fit an extremely important aspect of any pair of safety chaps that you are considering buying. It is absolutely critical that you size your new chaps properly or they are a very adjustable pair of chainsaw chaps.
Here are the three main ways that a pair of protective chaps are made to fit the wearer.

One size fits all

These tend to be a little bit oversized in order to allow them to fit bigger wearers. They compensate for that by being much more adjustable than other types of chainsaw chaps. One of the biggest benefits you get with these style chaps is they can be shared among different chainsaw users.

Standard sizing

Standard sized chainsaw chaps are not custom fit by any means but they are more individually tailored than one size fits all chaps. That's because they come in such sizes as small, medium, large, and extra-large. Standard sized protective chaps also have a medium amount of adjustability built into them.

Specific waist sizes

If you want as close to a custom fit as you can get with chainsaw chaps, then you want to choose a brand that fits according to waist size. Make sure you follow closely the manufacturers sizing chart when buying safety haps like this. You have to be aware that there is very little adjustability built into specific waist size chainsaw chaps.

Length

Most chainsaw chaps are one size fits all products as far as length is concerned but there are some exceptions. Protective chaps try to compensate for this fact by building adjustability into the length of them. They do this by adding such things as snaps or Velcro straps to hold them in place when rolled up.

Types/Style

There are two main types of chainsaw chaps that are found in the marketplace. These are apron style and wrap-around style. We will talk more in-depth about them later on. This will give you a quick overview of them though.

Apron

The main characteristic of apron style protective chaps is that they do not protect the entire leg surfaces. There are only designed to protect the front of the legs and a small portion of the side of each leg.

Wrap-around

These styles of safety chaps do a better overall job of protecting a chainsaw user's legs. That's because as the name implies, they wrap-around and protect the back of the legs too.

Material/Protective fibers

There is not a lot of choices when it comes to the predominant material in chainsaw chaps. Most all of them are either made of Denier polyester or tough nylon material. These materials are durable, fairly waterproof and somewhat slippery.

The protective fibers that help protect chainsaw users legs are fairly standard too. They use such things as Kevlar and ballistic grade nylon in the fibers that can jam up a chainsaw chain.

This will be discussed in more detail later on in this article.

Looks

Although safety is by far the biggest concern when selecting safety chaps, there is no reason they can't look good. With that in mind, there are many protective chaps in the chainsaw marketplace that don't look bad when wearing them. Two-tone chainsaw chaps tend to be the best looking ones in most people's opinion. They usually have a dominant color found in them with an accent color over a smaller portion of the chaps.

Weight

Although the weight of chainsaw chaps might not seem to be relevant, it makes a difference for professional chainsaw use. It also can be a factor for non-professionals that use their chainsaws for long periods of time. A 1 or 2-pound increase in weight will make the wearer have to exert themselves more as they work. This can result in a chainsaw user getting tired quicker with the extra weight that their protective chaps add on to them.

Of course, you cannot totally discount weight either and go with the lightest pair of chainsaw chaps. That's because the lighter a pair of safety chaps may not offer as much protection as a heavier pair of protective chaps. So be sure to balance weight versus safety when shopping doe new chainsaw chaps.

Comfort

Some brands of chainsaw chaps definitely offer more comfort than others. This is especially important to professional chainsaw operators. Most chap manufacturers will specifically state on the packaging or their website what makes their chaps comfortable. Nylon tends to be slightly softer than Denier polyester, as was mentioned these are the two most popular chainsaw chap fabrics. Polyester is the better choice when working in wet areas because it repels water better.

Flexibility

Along with comfort, you want safety chaps that do not restrict your movement at all. The best way to tell if a pair of protective chaps are flexible is to try them on. So be sure if you are ordering chaps online, they are returnable if they feel too stiff when tried on. Flexibility is super-important to those that operate chainsaws. This is especially true of chainsaw professionals.

Safety Certifications Earned

There are testing bodies in America that are tasked with making sure safety equipment like protective chaps works as intended. These testing bodies really put the safety chaps they study through some demanding tests. Often these tests put the chaps under more stringent conditions than they would ever see in the field. That's why any pair of safety chaps you buy should have these safety certifications.

What are some of the most desirable safety certifications for protective chaps to have? Look for safety certifications such as chaps that meet ASTM F1897 and ANSI Z133.1 standards. It's also desired that they meet OSHA Regulation 1910-266 and they are UL Certified. These testing bodies all require chainsaw chaps to meet strict safety requirements before they get their approval.

Pockets

Some people like to have pockets in their chaps and others prefer their protective chaps have none. A pocket can be a convenient place to keep small tools such as those used to tighten chainsaw chains. Safety chaps with pockets are never recommended for those in areas with a lot of brush and small trees. That's because trees and small branches can get caught in the pocket and cause potential problems for the user.

Apron versus Wrap-Around Chaps
Here is a little more in-depth detail about the difference between wrap-around and apron style chainsaw chaps.
Apron Style Chainsaw Chaps

Statistics show that the vast majority of chainsaw accidents happen to the front and front sides of a chainsaw operator's legs. That's the exact area that apron style safety chaps are designed to protect. Apron style chaps allow for more freedom of movement and usually are much lighter than wrap-around style safety chaps are.

The biggest disadvantage with apron-style chaps is they do not protect the back and back sides of the legs. Although they do allow the chainsaw user's leg to breathe better, they do not have a more custom fit like wrap-around chaps do.

Wrap-around

Are you looking to protect your whole leg as much as possible when operating a chainsaw? Then you will definitely want to search for a pair of wrap-around style safety chaps. They protect the whole leg except for a very small section in the very back of each leg.

Wrap-around protective chaps do tend to be heavier and slightly more cumbersome to work in that apron chaps. Your legs will also sweat more when wearing them. They do stay in place as you wear them better than apron-style chaps do.
How Chainsaw Safety Chaps Keep You from Sawing Your Leg Off?
Chainsaw protective gear manufacturers realized a long time ago that the only true way to keep chainsaw accidents from happening to someone legs when operating one was to wear a suit of armor. Of course, operating a chainsaw requires the user to be nimble and flexible so heavy gear was not an option. So another alternative was necessary and hence the idea of protective chaps was born.
The goal of lightweight chainsaw chaps is not to repel a chainsaw blade when it comes into contact with a person's legs. They were specifically designed with the goal of quickly stopping or extremely slowing down a chainsaw chain's rotation. The use of chainsaw chaps does not even guarantee a person won't get cut when their legs come into contact with a chainsaw blade. However, these protective chaps should go a long way toward preventing serious chainsaw leg injuries.
The key to how these chainsaw safety chaps work is in the fibers that go into making them. Chainsaw chains rotate at extremely high speeds that see them cycle completely around in just a fraction of a second. When a chainsaw hits the chainsaw chaps it will dig into them. During the process, it will then pull out some of the tough fibers that chainsaw chaps are made of.
Depending on the type chap material, these threads will significantly slow down the blade or get caught up in it. The threads that get caught up in the chain are designed to jam up the chain and stop it when they reach the motor housing. This all is designed to happen in less than a few seconds. These tough chaps have proven effective for many years now at reducing major leg injuries during chainsaw operation.
What Are Chainsaw Chaps Made Of?
Chainsaw chaps are not made like a regular pair of chaps or pants. That's because they have several different types of materials and layers that go into making them. This is what contributes to a chainsaw operator's safety when wearing them. Here are some of those materials that the highest-quality safety chaps are made from:
The Materials Used for Chaps that Protect Your Legs
Primary fabric

Because chainsaw chaps are used in such a tough environment, they need to be made using string fabrics. Otherwise, they will need to be replaced in just a short period of time. Nobody wants to repeatedly spend money on chaps so the manufacturers only use the very toughest fabrics when making them. This includes such fabrics as rugged Denier polyester and proven tough nylon based fabrics.

Protective fibers

As was mentioned, chainsaw protective chaps are not meant to be a shield against chainsaw blades. They work by having several layers of protective fibers in them that jam and slow down the rotation of gas chainsaw chains. These safety fibers consist of such heavy-duty materials as Kevlar, Avertic, and ballistic grade nylon

Outer coating

Most brands of chainsaw chaps have some type of PVC coating on the outside of them. This has several purposes. The most important of which it makes the outside of safety chaps slightly slippery. That helps keep a chainsaw from blade from easily catching the outer material. This is important because once a chainsaw blade catches on the outer material it pulls it toward the user's flesh. PVC coatings also make chainsaw chaps water and stain-resistant.

Buckles and straps

It does no good to have a pair of chainsaw chaps that have materials in them can minimize chainsaw injuries if those chaps do not stay securely in place. That's where having quality buckles and straps come into play. They make sure any pair of safety chaps stay right over the areas that they were designed to protect.
Most straps are made of a material similar to spandex that stretches and does not break down easily. The buckles are made of such material as heavy-duty polymer plastics and Acetyl Delran.

Who Makes The Best Chainsaw Chaps?
Here we will do a quick overview of these popular chainsaw chap brands: Husqvarna, Forester, Stihl, Labonville, and Jonsered.
Top-Seller Chainsaw Chap Brands of 2019
Husqvarna

Design & Innovation:

You will find few chainsaw manufacturers that put as much time and effort into design as Husqvarna does. Their chaps work well and are highly rated by those that use them. They also make some of the most stylish safety chaps that are found in the marketplace.

Value & Selection:

Husqvarna offers an excellent selection of all different types of chainsaw chaps. They are also among the most expensive safety chap brands

Customer Support & Warranty:

You may have to wait a while to get a rep on the phone at this company. The good news is that once you get one, they are both knowledgeable and helpful. Husqvarna's warranties on their products are usually much better than the industry standards.

Forester

Design & Innovation:

This company's chaps are not what you would call cutting edge designs, but they are safe and reliable. They tend to be a follower as far as what goes into their chaps. Their products are well-liked and pass all safety standards for chainsaw chaps.

Value & Selection:

Forester offers a very wide variety of chainsaw chaps. They come in all different colors and sizes. The price of their chaps is on the lower side which is good considering they are quality chap products.

Customer Support & Warranty:

Forester gets mixed reviews on their customer service so we will call it inconsistent. The warrantees on the safety chaps are in line with the industry standard for these products.

Stihl

Design & Innovation:

You would expect the world's oldest chainsaw manufacturer to have some innovative and well-designed chainsaw chaps and they do. Everything from their 9-layer pro-style chaps to their occasional chainsaw user chaps is well made. Their chaps are very highly rated by those that use them too.

Value & Selection:

What Stihl lacks in selection they make up for in quality. As with all Stihl chainsaw related products they are among the most expensive. You will not find their chainsaw chaps online for sale either.

Customer Support & Warranty:

Steel has a very good customer service department considering how large they are. Their warranties tend to be among the worst in the industry and that's surprising given the cost of their products.

Labonville

Design & Innovation:

Labonville is an outdoor and forestry clothing specialist so you would expect them to make a good pair of chaps. Their competitive safety chaps are among the best you will find and feature 10 safety layers.

Value & Selection:

This company does not have a large selection of chainsaw chaps to choose from. Their chaps are also considered highly specialized products and that puts their cost second to only Stihl chainsaw chap products.

Customer Support & Warranty:

This company gets mixed reviews on their customer service. The warranty they offer on their various safety chap models is slightly better than the industry standard.

Jonsered

Design & Innovation:

No one would accuse Jonesered of being on the cutting edge of chainsaw chaps. Their products are plain as far as style goes too. Jonsered safety chaps are well received by those that own them and meet all necessary safety standards.

Value & Selection:

This company does not have a big selection of chainsaw chaps. The products they do have are very fairly priced.

Customer Support & Warranty:

People generally have favorable things to say about this company's customer service department. The warranty they offer on their protective chaps is in line with the standard in the industry.
Can You Wash Chainsaw Chaps?
Chainsaw chaps come with all different types of materials that are used in their construction. Some of these materials are not washing machine compatible and others are. You definitely never want to put your chainsaw chaps in the dryer after washing them.
Chainsaw chaps generally fall into one of three categories as far as washing them goes. These are:
Coldwater machine washable
Hand washable
Non-washable/Wipe off only
What's the best way to tell if your new chainsaw chaps can be washed or not? As usual, it's to consult the instructions that come with them or contact the manufacturer.
Chainsaw Chap FAQs
Here are some questions that we get all of the time on chainsaw chaps:
Question: Is it ok to use safety chaps when operating an electric chainsaw?
Answer: There are definitely varying opinions on this. That's why we think it's best to ask this question to the maker of any chaps you are considering purchasing.
There are two reasons that we feel chainsaw chaps may not be good to wear when operating an electric chainsaw. One of them is that some brands have metal type fibers in them that may contribute to getting shocked. Another school of thought is that electric chainsaw chains rotate very fast and have a high amount of torque too. That means the fibers in the safety chaps will not stop the chainsaw blade in time to prevent serious injury.
The consensus here is to wear them if the manufacturer of your chaps says it's ok with electric chainsaw use.
Question: Is it possible to repair chainsaw chaps after they have been cut during a chainsaw mishap?
Answer: This all depends on just how serious the mishap was that damaged them. Our recommendation is always to replace them after they have successfully saved you from a major chainsaw leg injury. Even after they have been repaired that repair will still be considered a vulnerable spot if a chainsaw contacts your chaps there.
Your legs are worth far more than the $50-$100 it will take to simply purchase a new pair of safety chaps.
Question: What is the recommended length for chainsaw chaps?
Answer: There is a lot of debate on this one. It also depends on what type of footwear you have on when operating a chainsaw. We will go under the assumption the chainsaw operator has a sturdy pair of protective work boots on to answer it.
In this scenario, whether you have high or mid-high work boots on, they should go just past the top of the boot. The theory here is that a good pair of leather work boots can fend off a momentary strike from a chainsaw blade. So measure them from your waist to just above your ankle to get the length you require in your new chainsaw chaps.
Read on to find more details on choosing the right chainsaw sharpener!
Don't forget to check out our chainsaw mill buying guide and chainsaw chain reviews.
Final Cut
Without a doubt, chainsaws are some of the most powerful and dangerous power tools that anyone will ever use. As such, it is on the chainsaw user to protect themselves as much as possible with the most effective chainsaw safety gear and clothing. The best chainsaw chap can be a big part of this because a chainsaw operator's legs are vulnerable to accidents. A good pair of chainsaw safety chaps can reduce the seriousness or prevent chainsaw leg injuries altogether.
What's the right pair of protective chainsaw chaps for you? That's what you need to use are chainsaw chap buying guide to help you determine. All of the protective chaps that we did chainsaw chap reviews on would also make a great safety chap purchase. There are many choices out there in chainsaw chaps and you definitely want a quality pair. Safety chaps are well worth spending extra money on to keep your legs safe as you use a chainsaw.