A chainsaw sharpener keeps the cutting edge of your chainsaw sharp and ready for action. The chainsaw may be the ultimate handheld power tool, but it is as good as the sharpness of its chain. A dull chain makes your work difficult, slow, and increases the risk of kickbacks and pull-ins. The machine requires more energy to work, wearing the motor and reducing engine life. However, you can avoid these problems and more when you use one of the best chainsaw sharpener on the market.
Our chainsaw sharpener review discusses the top brands of sharpeners. It also includes a detailed buying guide, features, and different chainsaw sharpeners. Whether you are a professional lumberjack or a hobbyist homeowner looking to keep his chainsaw in top shape, this review has something valuable for everyone.
Best Chainsaw Sharpeners
1. Oregon 410-120 Bench or Wall Mounted Saw Chain Grinder
The Oregon 410-120 Bench or Wall Mounted Saw Chain Grinder is perfect for the hobbyist chainsaw user who sharpens occasionally. The sharpener is mountable on either a bench or a wall. It features a built-in light and one-way motor rotation for enhanced safety during use.
The Oregon 410-120 comes with three grinding wheels for sharpening 1/4″, 3/8″ Low Profile, .325″, .325, 3/8″, .404″, 3/4″ pitch chain and depth gauge grinding, a quick template and a dressing brick. The powerful engine produces 3500 rpm and 0.4 hp for fast cutting. The machine features a wheelbase of 5-3/4 and weighs 17 pounds. The new sprocket nose system delivers longer nose life and improved performance.
The Oregon 410-120 chainsaw sharpener is versatile. Not only does it perform excellently with chainsaws, but it can also sharpen chisel and semi-chisel chains among others. This powerful machine will breathe new life into old and rusty chainsaws. If you need a chainsaw sharpener you can trust to perform for many years to come, Oregon is an industry leader that delivers always.
2. Timberline Chainsaw Sharpener with 3/16″ Carbide Cutter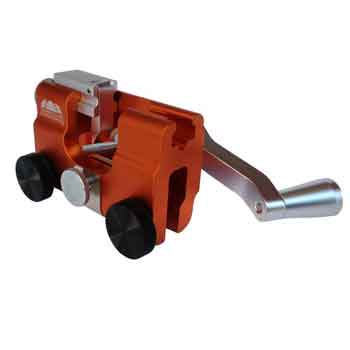 The Timberline Chainsaw Sharpener is a fast and efficient chainsaw sharpener with an impressive performance. The machine uses a patented tool that delivers with precision and accuracy. You don't need to remove the chain from the saw to use this sharpener; the tool clamps on the bar and sharpens each tooth on the bar. It features a high-grade tungsten cutter with a handle you turn manually. The sharpener comes with carbide guides fitted at a universal angle of 30 degrees and includes 25 and 35-degree guides.
At two pounds, the Timberline Chainsaw Sharpener is easy to set up and even easier to use. The grinder removes only a small amount of material from each tooth to increase chain life. It sharpens each tooth in seconds to a precise length and angle. If you need an easy-to-use chainsaw sharpener that delivers professional results in record time, the Timberline Chainsaw Sharpener is an excellent choice.
3. Buffalo Tools ECSS Electric Chainsaw Sharpener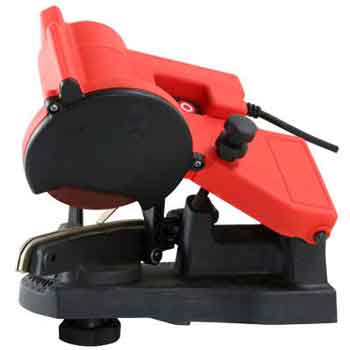 Do you spend a fortune every time you need to sharpen your chainsaw chain? The Buffalo Tools ECSS is an affordable but effective chainsaw sharpener that delivers professional results. It is a versatile tool which you can mount to a bench, wall, or vise and adjusts to most chain and pitch designs. The tool is powered by a 120-Volt electric cord which spins the 4-1/4-Inch x 1/8-Inch grinding wheel at 4200 rpm for an accurate and perfectly sharp. This sharpener weighs only 4.11 pounds and is easy to operate by the professional and the beginner chainsaw user.
While the Buffalo Tools ECSS Electric Chainsaw Sharpener is designed for occasional use, it always delivers. The device is built to deliver exceptional and consistent results every time. The machine sports a knob that allows you to change the sharpening angle so you can get a perfect cutting edge.
The Buffalo does not come with an automatic chain feeder, but it is still fast and precise in operation. For the hobbyist homeowner who only uses his chainsaw occasionally, the Buffalo Tools ECSS electric-powered chainsaw sharpener is a worthy investment.
4. Granberg Bar-Mount Chain Saw Sharpener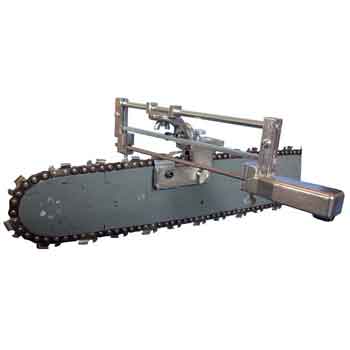 The Granberg Bar-Mount Chain Saw Sharpener is an easy-to-use manually operated chainsaw chain sharpener that delivers a quick and professional sharp. The popular file-n-joint chainsaw sharpener has been an industry leader for its durability and accuracy.
Whether you are professional or homeowner, this guide file sharpens your saw chain on the bar with impressive precision. It is versatile and will adjust to standard chain pitches and lowering depth gauges of all kinds. It features a precision bar-mounted sharpener/file holder constructed from cast aluminum and zinc-plated steel for enhanced durability and longevity.
The sharpener has features that enable you to set an ideal file height and tooth length for specific tasks. Calibrated swivel guide markings help set and hold correct sharpening angle. For a tool that weighs a meager 14.4 ounces, the Granberg Bar-Mount Chain Saw Sharpener is in a class of its own.
5. Katzco 8 Piece Chainsaw Sharpener File Kit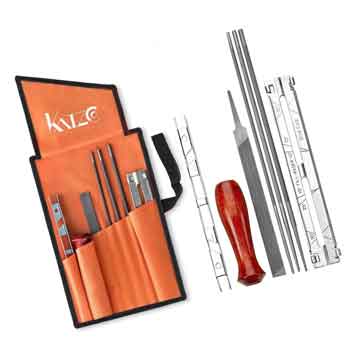 This 8-in-1 chainsaw sharpener file kit is one of the most affordable toolkits to maximize the potential of your chainsaw. It features every field tool you will ever need to sharpen your chainsaw anywhere, anytime. The Katzco 8 Piece chainsaw sharpener comes with a roll-up tool pouch for enhanced mobility and portability.
A versatile hardwood handle that can fit in any of the files and depth-gauge tool offers a comfortable and firm grip for simplicity, safety, speed, and efficiency.
Regardless of the type of chain, this file kit comes with everything you need to get your chainsaw in excellent condition. It is affordable and delivers a professional finish always.
Each Katzco 8 Piece Chainsaw Sharpener File Kit contains:
One 3/8" hardwood stain & finish handle
One 6" flat fine-tooth file
One filing guide
One tool pouch
One depth-gauge tool
Three round fine-tooth files in sizes 5/32", 3/16", and 7/32."
6. Blue Max 5655 Electric Bench Mount Chainsaw Sharpener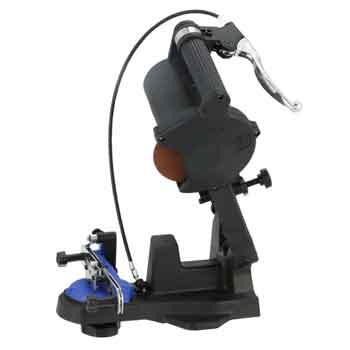 The Blue Max 5655 Electric Chainsaw Sharpener is a versatile tool for increasing the performance of dull chains. The machine is suitable for any chainsaw chain and offers precision angle adjustments up to 35 degrees left or right when used on a table vise. With innovative technology and exceptional construction, the Blue Max 5655 renews the cutting edge of your old chain, allowing you get maximum value from your investment while also reducing the time you need to complete your tasks.
Users can mount the sharpener on a bench vise or wall according to your needs. It is powered by 120 volts/60 Hz/85 watts which produce 4,200 rpm for fast and efficient sharpening. The chain vise adjusts to all chain designs and pitches and weighs only 5.5 pounds. It is easy to set up and works seamlessly with any chain. This chainsaw sharpener comes with a rebound plate which gives it an impressive precision and accuracy regardless of the frequency of use.
The Blue Max 5655 is affordable, fast and delivers exceptional sharpening. If you are a contractor who wants to achieve professional results at a fraction of the price, this chainsaw sharpener is a delight to work with any day.
What Is a Chainsaw Sharpener?

A chainsaw sharpener is a tool for renewing the cutting edge of a chainsaw chain. It can be manual or electric-powered. A blunt chainsaw cannot cut anything. And if you try to use the saw in a dull condition, work becomes harder and riskier.
You can find an array of chainsaw sharpeners on the market. Some come in a filing kit you operate manually; others have a mechanism that fit any chain type, and you can buy electric types which work on a vise you can mount to a table or wall. Whether you are a professional or occasional user, a chainsaw sharpener is an essential tool if you want to maximize the potential of your saw. But having a quality chainsaw sharpener is not enough; you need to know how to use the tool correctly.
Chainsaw Sharpener Buying Guide
Chainsaw sharpeners are essential tools for everybody who owns a chainsaw. Whether you are a professional who works with a chainsaw daily or the occasional homeowner with a wooded lot, you need a chainsaw sharpener to get maximum value from your cutters. If you are shopping for a high-quality chainsaw sharpener, this buying guide shows the factors that can help you make an excellent choice.

What to Consider When Buying a Chainsaw Sharpener
When you go shopping for a chainsaw sharpener, the following are vital considerations to make a worthy investment.
Frequency of Use

It is important to think about how often you will use the chainsaw sharpener before buying one. If you are an occasional chainsaw user who only files his chain occasionally, you can go for a simple and cheap file kit. However, a lumberjack who cuts trees every day will need a chainsaw sharpener that automates the chain filing task, reducing time spent on sharpening, increasing productivity, and eliminating complexities.
Professional woodcutters may require industrial sharpeners designed for heavy use. Simple commercial sharpeners may also be ideal but can't stand the rigor of daily wear and tear which professional tree fellers require performing their work. If you use a chainsaw for pruning or limbing the few trees on your yard twice in three months, a manual chainsaw sharpener may be ideal for your needs.
Whatever your decision, buy a chainsaw sharpener with the design and durability for the frequency of the sharpening tasks you hope to perform. That will help you maximize the value of your purchase.

Price

Price is an important determinant in the buying process. Based on your needs, make sure not to sacrifice quality over price considerations. While it's essential to buy a chainsaw sharpener within your budget, it is vital to choose a model or brand with all the features you need. You might end up paying a little extra for the ideal tool, but you will enjoy your investment in multiples.

Power

Power is a critical consideration when buying a chainsaw sharpener. Chainsaw sharpeners can be manual or electric-powered. The manual chainsaw sharpener can be as simple as your regular flat or round file you operate manually or the bar mounted versions.

The problem with manual sharpeners is that they need an enormous amount of skill, control, and precision to deliver a perfect grind. If your mind strays while filing the cutters with a manual chainsaw sharpener, you can ruin the chain, forcing you to buy a new one. Bar mounted manual versions are easier to operate and deliver a better job compared to handheld options.

The electric-powered versions offer the highest level of precision and accuracy, power, and versatility. These tools can adjust to most chain sizes and increase chain length by removing a small part of the chain. With an electric chainsaw sharpener, your work becomes faster, safer, and more efficient. When buying an electric chainsaw sharpener, look at the RPM rating; the power is proportional to the engine's RPM.

Speed

Nobody wants to spend all day filing a chain in a workshop. And that's why you need a sharpener that can deliver within a short time with relative ease. Electric sharpeners are the fastest and most efficient way of giving your chains a new cutting edge, but they can be expensive. You can also buy a bar-mounted sharpener to reduce time spent on sharpening cutters.
If you cut trees for a living, go for a high-quality sharpener that allows you to get more work done with minimal energy and expenses. The faster the better so you can concentrate more on real work; which is what really matters.

Compatibility

If you intend to buy a manual sharpener, you need to buy an option compatible with the size of your blades. Remember that rounded hard files are suitable for particular types of chain cutters, so buy a file perfect for your chain size.
Most electric powered sharpeners are suitable for almost every type of chain size, making them the ideal choice if you can afford it. If you work with a variety of blade sizes, you are better off buying an electric chainsaw sharpener. The electric version may be costlier, but it is well worth it regarding versatility, speed, precision, and accuracy.

Durability

The best chainsaw sharpeners feature top grade materials and construction. It's best to buy a sharpener made from heavy-duty machined metal as they are more durable and able to cope with rough handling. There are sharpener options made with plastic and other fragile materials, but these types sacrifice functionality for aesthetics. Go for a functional sharpener with a sturdy design; not a beautiful product that won't last a season.

Safety Mechanisms

When buying a chainsaw sharpener, go for options with built-in safety features, especially if you are a heavy chainsaw user. It's also important to get a machine easy to operate. This will make your work faster and reduce the risk of injuries.
Types of Chainsaw Sharpeners
There are three types of chainsaw sharpeners, including:
Handheld sharpeners
Bar-mounted Sharpeners
Electric Sharpeners
Handheld Chainsaw Sharpeners

These chainsaw sharpeners are the simplest form. It consists mostly of rounded files which you can operate by hand to sharpen the cutters on your saw chain. Handheld options require skill and control to file the teeth of the chain.
Handheld sharpeners are not as versatile as each file is only compatible with certain blade sizes. However, some manufacturers like Katzco provide a full kit with a variety of files for every type of blade possible. Handheld sharpeners have low precision and accuracy, making it difficult to achieve a consistent sharpness across the cutters. If you are skilled enough to control the handheld sharpener, it is the cheapest you will get on the market.

Bar-mounted Sharpeners

Bar-mounted sharpeners are manually operated but deliver better functionality compared to handheld options. They need a flat, stable surface like a table or bench for maximum effectiveness. As the name implies, you only need to position the device onto the bar of your chain and run the blade over it to get a sharp edge.

A bar-mounted sharpener is more precise and accurate and the edge of your blade will be more uniform, but you must adjust the device correctly to the chain size and the device's filing angle and depth. This option is more affordable compared to electric units. Remember to wear hand-eye protection goggles before using a bar-mounted chainsaw sharpener as it throws off metal shavings during operation.

Electric Chainsaw Sharpener

The electric sharpener is the most sophisticated device for transforming dull blades to sharp cutting edges. Most professionals prefer electric sharpeners because it is ideal for any chain size and delivers exceptional precision and accuracy. Electric sharpeners are fast, efficient and offer a professional finish that will increase your productivity.

To use an electric unit, all you need do is place the chain inside the machine, adjust the settings and sharpen.  However, these tools also need the operator to use safety equipment such as goggles, hand gloves, among others. The only downside is the higher cost, but electric chainsaw sharpeners deliver exceptional value for professionals.
Features of Professional Chainsaw Sharpeners
If you are a professional chainsaw user who intends to buy a top quality sharpener, you need to check the following features regarding your work requirements.
Settings

It is vital to check that the sharpener comes with default settings that make your work easier. Some high-quality brands leave you to figure out the ideal settings for each chain type, and this takes time. Double check your sharpener has preset templates that allow you to work efficiently regardless of the blade type you want to sharpen.

Mounted or Portable

If your work requires being mobile every time, it is advisable to purchase a portable sharpener so you can sharpen your blades anywhere, anytime. However, mounted or bench-top sharpeners are perfect for people who work in a fixed location. Sometimes, it's possible to fix a bar-mounted sharpener to a board and carry it around. The bottom line is to choose a sharpener that gives you the ability to sharpen your dull blades when you need it.

Assembly

Assembling and setting up your chainsaw sharpener may be simple for people familiar with power tools and other mechanical devices. However, people without such backgrounds can find it difficult to assemble or fit the device to a work surface. If you are the latter, make sure the model you choose comes in a simple design that won't leave you wracking your head for ideas.

Attachment

Attachments can multiply the utility of your chainsaw sharpener. If you work with different blade sizes, you need a sharpener with over one wheel size to accommodate the various chain sizes. A sharpener with 2 or more wheel types is ideal for professionals.
If you also need to create your own lumber quickly, check out our list of the best chainsaw mills here!

How Does a Chainsaw Sharpener Work?
How a chainsaw sharpener works depends on its source of power; manual or electric. Manual chainsaw sharpeners depend on a guide that shows the user the correct filing angle. With the angle set, you move the file across the guide to sharpen the cutters.
Electric chain sharpeners use a different mechanism. Electric chain sharpeners can either be handheld or a bench and wall-mounted sharpeners. The wall and bench sharpeners are stationary while you hold the handheld sharpener in your hand during operation to sharpen your saw's chain.
Electric sharpeners are more accurate and precise for sharpening chainsaws and also improve blade life because they remove only a small portion of the chain. Also, bench sharpeners are more accurate compared to handheld electric sharpeners because it is stationary, improving control and precision.
You use a forward and backward hand movement to file the cutters when using manual sharpeners. But you only need to fix the chainsaw to the electric unit and turn the motors to sharpen the cutters and repeat until the sharpening is complete. The electric variant is also faster than the manual sharpeners and makes your work faster and more efficient.
You need total concentration while filing a chainsaw, especially when you are using a handheld sharpener. If you file too high or too low, you can damage the chain or make it too sharp for use, increasing the risk of injuries. Make sure you get the correct angle and pay attention to avoid ruining your chain.
When and How Often to Sharpen Chainsaws
How often should you sharpen your chainsaw? This question is common in many online communities where hobbyist chainsaw users meet to share ideas. There are many answers to this question, but one stands out; it's time to sharpen your chainsaw when you need to apply pressure before the machine can cut through wood.
In its ideal condition, a chainsaw cuts through the wood in a smooth and effortless motion. If you apply pressure or force it to enter the wood, then your chainsaw is dull and needs sharpening.
A lot of factors can determine the frequency of sharpening. The wood you cut, the cuts, and the size of trees you fell are factors that affect the wear and tear on your chain. If you cut clean wood for several hours of continuous use, you may need to sharpen the chain after the work.
Cutting through dirt or sand or any other uneven surface dulls the cutters quickly, causing an immediate sharpening if you want to continue working with high efficiency.
So, if your chainsaw won't cut without additional effort from you, or the debris from the cut looks more like sawdust instead of chips, then it's time to sharpen that chain. A dull chain not only makes your work harder, but it also increases the risk of kickbacks and other chainsaw accidents. Your chainsaw requires only a little help to do its job unless the chain is dull.
Chainsaw Sharpening Tools
Chainsaw sharpening tools come in a diverse range of designs and constructs. Here are the common chainsaw sharpening tools popular among professionals and hobbyists.
Round files
Flat files
File handles
File handle and guide
Filing guides
Stump vices
Depth gauge tools
Easy file
Sharpening pouches
Grinding stones
Grinders
How to Sharpen a Chainsaw
In the hands of a skilled user, a chainsaw sharpener is simple to use. However, a novice can damage the blade if he does not know the correct technique of sharpening a chain. Below are steps to follow when using an electric or manual chainsaw sharpener.
How to Sharpen a Chainsaw with an Electric Sharpener
Inspect the shape of the grinder wheel.
Set the vise assembly to the correct top plate filing angle if there is no present template. Otherwise, use the default setting of the device.
Set the correct grinder head angle using the top-plate cutting angle recommendation of the manufacturer.
Check that the chain is blocked and screw the vise blocking handle tight.
Power the electric sharpener.
Lower the arm-motor unit to sharpen the blade.
Raise the arm and loosen the handle when the sharpening is complete.
Run the chain forward to place the next cutter in position for sharpening.
Repeat the process above until you have sharpened all the cutters.
How to Sharpen a Chainsaw with a Manual Sharpener
Hold the bar in a vice while the chain brake is activated.
Position the guide between the rivets of the chain so that the guide's arrows point toward the bar nose.
Start filing from the top plate of the cutter and make sure not to grind the side plates excessively as this will reduce the blade's efficiency.
With 2-3 steady, even strokes; file the cutter until you see a shiny silver face.
Once you are done with one side of the blade, disengage the chain brake to flip the other part of the chain for sharpening. Now, reactivate the chain brake
File the other side when you are through with sharpening one side.
Adjust the chain's depth gauge height with a depth gauge tool. The depth gauge must not be too high to ensure the blade has maximum contact with the wood surface.
Whenever you sharpen your chainsaw, clean off debris from the chain surface and then use bar and chain oil to lubricate the chain thoroughly. Soak the chain overnight for optimal results so you are ready to rumble on the next task.
Chainsaw Sharpening Angles
Chain manufacturers fit the cutters to the chain at specific angles, and you need to consider the angles when sharpening the blade. Each tooth has two angles in the top plate and side plate. It is essential to maintain the following angles when sharpening a chainsaw.
Inside Top Plate Angle: The ideal sharpening angle for the inside top plate is 30˚ to 35˚ if you cut clean and soft wood. But you can make the angle blunter if you cut hardwood to increase the edge strength of the blade and improve longevity.
Outside Top Plate Edge: The appropriate sharpening angle for the outside of the top plate edge is 15˚ to 20˚.
Outside Side Plate Angle: Sharpen the outer side plate angle at angles 85˚ to 90˚ to improve cutting efficiency.
Inside Side Plate Angle: The ideal sharpening angle for the inside side plate angle is about 45˚.
Chainsaw Sharpening Tips & Tricks
Sharpening a chainsaw to the ideal depth and angle takes practice. Here are tips to keep your chain saw sharp.
Wear protective gear like hand gloves, long sleeves, goggles, and hearing protection if you use an electric sharpener.
Use a sharp file that matches the size of your chain.
Oil your file before storage.
Use your depth gauges every time.
Clean your chain before sharpening.
Inspect the chain for any damage or wear and tear. If the chain is damaged, it's better to repair it to avoid injury and low productivity.
Place the chainsaw sharpener on a stable and steady surface to avoid slips and accidents.
Use both hands while operating a chainsaw sharpener.
Hold the chain in place with a vice.
Make sure the chainsaw is not connected to the power source if you are sharpening the chain in the chainsaw bar to avoid accidental starting that could lead to injuries.
FAQ
When to replace the chain
It's time to replace the chain on your chainsaw when:

It pulls itself into the wood.
The chain runs in one direction.
The chain bounces or rattles around when cutting.

The chain-smokes when cutting, even when everything is in order with the chainsaw.
The chain is making sawdust instead of wood chips.
The chain is missing teeth.
Make sure to also check out our chainsaw chain buying guide.

Should you buy a manual or electric sharpener?
People who sharpen frequently can buy electric sharpeners as it is faster and more accurate. A manual sharpener is sufficient for the occasional chainsaw user.
When should I sharpen my chain?
Sharpen your saw when it produces sawdust, no longer self-feeds, or you need to exert pressure on the saw to cut.
If you are also looking for a chainsaw that best suits you, check out our homepage!
Don't forget to check out our roundup of the high-quality chainsaw chap reviews for maximum safety & comfort.
Wrap Up
A dull chainsaw is a dangerous and inefficient machine, and that is why you need to buy the best chainsaw sharpener that fit your requirements. This chainsaw sharpener review provides in-depth information on what you need to consider when buying a chainsaw sharpener. You can choose either a manual or electric sharpener based on your needs and frequency of use. If you don't know how to use a sharpener correctly, this review provides a step by step guide to help you make the most of the device.