If you are currently looking for a new chainsaw, you have probably come across the names Husqvarna and Stihl. And with good reason, they are two of the most popular brands of chainsaws in the world. If you have ever asked an experienced chainsaw user for a recommendation, these names would come up often. Even in online reviews, the users of these two chainsaw brands speak highly of them. So how do you know which brand chainsaw is better than the other? We are about to give you an overview of each and then compare them. Here's Stihl vs Husqvarna Chainsaw, brand comparison.
Comparing Husqvarna vs Stihl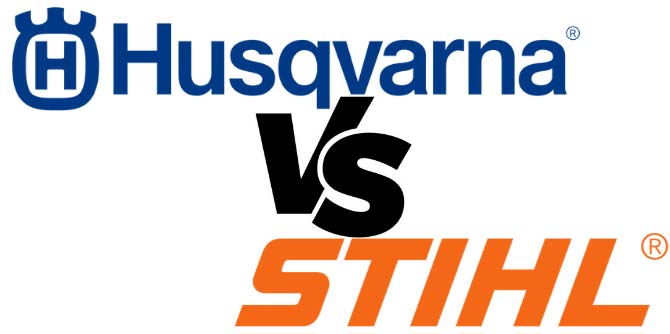 There is much to like about both of these chainsaw brands. Each of them strives to make their chainsaws as light as possible and stand up to heavy use at the same time. They both use excellent chain brake systems and also offer advanced air filtration. You have to like the fact that each brand also uses vibration dampening technology and makes chain tension adjustment easier. They both put safe chainsaw operation at the forefront too.
6 Key Differences Between Stihl vs Husqvarna Chainsaw
But if you look at Stihl and Husqvarna chainsaw brands a little closer, there are some subtle differences between them.
Design Differences

Each of these brands has its own design features that make them different from the other. For instance, Stihl makes their own high-quality chains for their chainsaws and Husqvarna does not. Husqvarna chainsaws are thought to be the faster cutting chainsaws of the two. Yet, Stihl's lower-end torque makes them the preferred choice for extremely difficult tree cuts.

Availability

Are you a busy professional that doesn't have a lot of time to go to stores to look at products and make purchases? If that's the case, then you will be very disappointed trying to find Stihl products online. The company believes that online sales really dilute their brand. Husqvarna, on the other hand, offers almost their complete chainsaw product line through various internet suppliers.

Greener Products

Husqvarna chainsaws have a slight edge when it comes to being environmentally friendly. This is due to the technologies they built into their chainsaws to help reduce fuel use and exhaust emissions.

Ease of Handling

Stihl builds their chainsaws with smaller gas tanks to help keep the weight of their chainsaws down. This is both an advantage and disadvantage because it cuts down on run time before refueling too. Stihl chainsaws are also thought to require less routine maintenance than Husqvarna chainsaws require.

Warranty Differences

They both have excellent 7-day satisfaction guarantees on their chainsaws. However, they are not identical customer satisfaction guarantees. Husqvarna will give you your money back but Stihl will only let you exchange it for another of their products. Stihl falls far short of Husqvarna in terms of warranty coverage too. Husqvarna warrants their chainsaws for home and casual use for 2-years and 1-year for professional use. The Stihl warranty is 90-days for home and casual use and 30-days for professional use.

Preferred Use

If you look at brand preference by user between Husqvarna and Stihl you would probably get an almost even 50/50 split. Over the years some trends have emerged though as to what brands certain groups of chainsaw users prefer.
Those who use their chainsaws for home or occasional use are said to prefer to use Stihl chainsaws. Much of this has to do with their slightly lower cost than Husqvarna casual use chainsaws. Husqvarna is a popular choice among those professionals who use their chainsaws all day long. The better warranties and faster cut times of Husqvarna chainsaws most certainly play a role here.
An Overview of Husqvarna Chainsaws
General Information

Husqvarna is a company that has been around making quality tree cutting tools since the 1600's. It's only natural then that this Swedish company would eventually become a worldwide player in the lucrative chainsaw market. They are known to be leaders in the industry when it comes to design and innovation.
The Husqvarna Group also manufactures much more than just chainsaws. They offer a wide variety of power tools, lawn and garden equipment, and off-road vehicles.
It may also be worth noting that the Husqvarna Group owns Poulan which makes some very good chainsaws too. Because of this Poulan chainsaws have some of the same innovative technology in them as Husqvarna chainsaws. Some people find the Poulan line of chainsaws to be a more budget-friendly option.

Design

Ever since Husqvarna introduced their first chainsaw way back in 1959, they have been well-known for their creative chainsaw designs.
The company claims that they design all of their chainsaws with emphasis on four main things. These are:

Safety – first and foremost
The ability to cut faster
Chainsaws that cut longer without overheating
To design chainsaws that make smoother cuts

Husqvarna puts some big emphasis on other design areas too. For one, they like all of their chainsaws to be user-friendly. Simply put, this means their chainsaws tend to be easy on the bodies of those that use them. The company accomplishes this by adding such things as handles that have anti-vibration characteristics and are ergonomically designed.
It's a company that does its chainsaw designs with the environment in mind too. They have introduced technologies into their chainsaws that save fuel and limit emissions. Husqvarna's cordless chainsaws are lightweight, work well for small to medium-sized jobs and cut down significantly on the noise pollution they emit as opposed to gas-powered chainsaws.

Value & Selection

Here are some of the different types of chainsaws that Husqvarna makes:

Gas-powered chainsaws
Electric chainsaws
Cordless chainsaws
Pole saws
Casual use chainsaws

Husqvarna offers both home and casual use chainsaws and a heavy-duty professional chainsaw line too. Their chainsaws that are considered to be ideal for home and casual use include everything from budget-friendly to medium-priced options. The professional's chainsaw line is mostly made up of higher-end chainsaw products. Some of these saws run well over $1000.
This company does offer significant volume discounts to arborists and other companies that purchase a large number of different chainsaws.

Innovative Features

Here are some of the more impressive features that Husqvarna builds into many of their chainsaws.

X-Torq®

This is a green power tool feature that enables the gas chainsaws equipped with it to use less gas and in turn give off lower emissions too. It helps makes Husqvarna chainsaws some of the most environmentally-friendly models that you can buy. With this automatic torque adjustment, the chainsaw user will save up to 20% on gas and cut down emissions by some 60% too.

Air Injection®

Many of Husqvarna's chainsaws feature a centrifugal air cleaning system. This helps do such things as remove larger size dust and debris particles before they reach the actual air filter itself. This makes for less air filter cleaning and cooler engine working temperatures. The specialty Air Injection® system will promote a longer engine life.

Smart Start®

Running a chainsaw is one of those tasks where repeatedly starting and stopping these tree cutting power tools is required. Husqvarna makes the start and stopping task easier with its Smart Start® feature. With this feature, the start/stop switch is combined into one and it works in conjunction with the fuel pump to make both warm and cold starting of the chainsaw easier.

AutoTune

It used to be that gas chainsaw operators spent a lot of time making carburetor adjustments to get their chainsaws to cut efficiently. That's no longer the case with Husqvarna's environmentally-friendly AutoTune feature. Gas-powered chainsaws that come with this feature automatically adjust fuel flow and efficiency depending on the working conditions.

User-centric design

Husqvarna has pledged to their users that they will always strive to make their line of chainsaws as user-friendly as possible. They call this heir user-centric design principle. The company does all they can to add features that will reduce vibration, help keep their chainsaws well-balanced and cut down on opposing gyroscopic forces that cause fatigue.

Support & Warranty

Husqvarna chainsaw owners are likely to experience some long wait times when calling this company. It is one of the biggest complaints about this manufacturer's customer service. Owners of Husqvarna chainsaws do find their customer support staff very knowledgeable and friendly once they reach them.
Husqvarna also does a very nice job of backing up their products with warranties that are usually equivalent to the industry-standard or better for similar products. This includes a 2-year warranty for home or non-professional users and a 1-year warranty for professional use. They also offer a 7-day trial period with a no questions asked money-back guarantee. That is pretty impressive for high wear and tear items like a chainsaw.
An Overview of Stihl Chainsaws
General Information

Stihl, not unlike Husqvarna, is one of the most popular chainsaw brands that people buy. They have a reputation for making chainsaws that are nicely powered and well-constructed. This brand of chainsaws is a favorite of everyone from casual home users to seasoned woodcutting professionals. Stihl claims to have the world's best-selling brand of chainsaws and sales figures from around the world suggest they are correct.
The company made its first chainsaw all the way back in 1926. It was an electric chainsaw model that weighed well over 100 pounds. Since then, Stihl's innovative design and engineering teams have kept them a leader in the chainsaw marketplace. The company is headquartered out of Waiblingen, Germany

Design

When it comes to their overall design, you get very few complaints from Stihl chainsaw users. Since it's the oldest mass chainsaw manufacturer, you expect them to have tons of experience making these power tools. That's why they are often the first to introduce new design features that make chainsaw use safer and more efficient.
When it comes to chainsaw design Stihl certainly holds nothing back. They are a company that always keeps operational safety at the forefront of their designs too.
Stihl designs their products with such useful additions as:

Spark Arrester Mufflers
Front handguards
Secure and ergonomically placed grips
Protective spark plug covers
Oversized starting handles
Rear handguards
Translucent gas tanks

They also design all of their chainsaws with smooth lines so they don't snag on brush as someone uses them. Stihl air filters are very easy to change out too when the need arises.

Value & Selection

Stihl offers a wide range of tree cutting saws. They have chainsaws that are good for everything from light home use to heavy-duty professional tree cutting. Here are the categories that Stihl chainsaw products generally fall into:

Gas-powered chainsaws
Electric chainsaws
Cordless chainsaws
Pole pruning saws
Cordless pole pruning saws
Carving chainsaws

Stihl products can be purchased in a variety of price ranges too. Their home and casual use chainsaws are very popular because they are quality products that are also affordable. Of course, their professional line of chainsaws is priced much higher as you would expect for a chainsaw that has to stand up to the rigors of demanding tree cutting tasks.

Innovative Features

These are some of the unique features that make Stihl chainsaws stand out from their competition:

Master Control Lever™

Chainsaws are hard enough to operate just because of the rough tasks that are often done with them. So anything a manufacturer can do to simplify the operation of them is great. This feature incorporates into a single lever the operation of the choke, starting throttle lock and on-off switch.

STIHL OILOMATIC® Saw Chain

Steel does not leave anything to chance when it comes to the blades they use on their chainsaws. They are one of the few chainsaw manufacturers that make their own chainsaw chains. That way they can make their chainsaw chains to their own exacting standards. On average their blades perform much better than those of their competition because of this.

STIHL Quickstop® Chain Brake System

The chain brake system in Stihl's line of chainsaw products is more advanced than you will find in most other brands of chainsaws. That's because they use a chain brake system that is multi-dimensional. Not only can their chain brakes be activated by the user, but they will also go into operation automatically when the chainsaw senses the resisting inertia is building up to a level where a kickback is about to occur.

Ematic™ Bar

Stihl has come up with a system to help reduce oil use during chainsaw operation. The Ematic™ Bar setup includes a polymer bar oil reservoir that is located much closer to the bar than in most other types of chainsaws. This reservoir placement allows Stihl chainsaws to more efficiently distribute oil to the chain. This results in chainsaw oil use reduction of up to 50%.

High-Tech Polymer Housings

Fatigue is a huge issue when it comes to the operation of any size chainsaw. Chainsaws are bulky beasts that have to be built strong to handle the demanding jobs that they do. Stihl has found a way to keep chainsaw durability high while at the same time reducing weight. They are a leader when it comes to the use of lightweight and durable high-tech polymer housings.

Support & Warranty

Stihl is a company that can boast having excellent customer service. The wait times when you call customer service are not too bad and they respond fairly quickly to emails too. Their customer service representatives are also known to be courteous and knowledgeable. Knowing you can get this type of customer service is a big bonus when buying a chainsaw.
The warranties that Stihl offers on their chain saw products are nothing to write home about. That's somewhat disappointing for what's considered a higher-end line of chainsaws. They cover chainsaws for casual and home use for a period of 90-days and chainsaws that are professionally used for 40-days. This is much lower than the industry standard for most chainsaw models.
Stihl does offer a 7-day customer satisfaction guarantee also. This is a great way for any Stihl chainsaw buyer to test drive their new Stihl chainsaw for a week. The only problem with this satisfaction guarantee is Stihl will not give you your money back. They will only let you exchange the chainsaw you are unhappy with for another Stihl product.
A Few Final Thoughts: Stihl versus Husqvarna
In all honesty, you can't really go wrong with purchasing either one of these chainsaw brands. Both companies are leaders in the chainsaw industry when it comes to useful designs innovations. They are both really fantastic chainsaw brands when it comes to quality and durability too. That's exactly the reason why both Stihl and Husqvarna are among the best selling chainsaw manufacturers in the world.
When it comes to comparing Stihl vs Husqvarna chainsaws there is not a lot of huge differences between them. It's much like comparing different cuts of the same size diamonds; they both still have great value and it really comes down to personal preference. In this article, we have tried to point out some subtle differences between Husqvarna and Stihl that will help you make a buying decision if you have narrowed down your chainsaw choices to these two brands.