Overview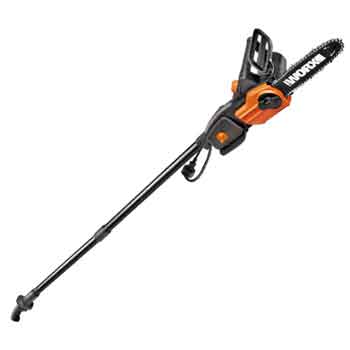 It is important for your trees and shrubs to have good sunlight which leads to more fruit and a better environment for your home, yard or even garden. Moreover, you have to keep them looking good through various maintenance practices such as pruning. At times, you will be confronted with trees and shrubs that are so high to reach.
Without the proper power tool, this kind of pruning can be quite a hard task. However, thanks to technology and dedicated manufacturers such as Worx, we are in the era of the pole saws. These are tools that are specially designed to aid in pruning tree limbs and branches in an efficient and convenient manner. Worx, a household name in the power tools industry, has been able to come up with the Worx WG309 Electric Pole Saw. This is a 10-pound tool which boasts of power, elegance flexibility. This article seeks to deeply analyze the feature, pros, and cons of the WG309.
Features and Pros
Reliable Product Design

The structure of the WG309 is quite ergonomic. It measures 42 x 8 x 9 inches and weighs 10 pounds. This makes it quite light hence portable. The user is granted the capability to carry the device for long and consequently completes their tasks faster. Fatigue also does not set in as the weight of the tool is evenly distributed throughout the body. The manufacturer was also keen to include an orange and black look which is rugged.

There is a hand grip on the pole which is soft and specifically designed by Worx to reduce weight issues in the device. Besides, an auto-tensioning system is included. This assists you to fine-tune and streamline the chain adding to its durability. The pole of the WG309 has a detaching feature which adds to the overall design. The oil tank, on the other hand, is uniquely designed with a capacity of 120ml. This is ideal to ensure that you complete your tasks without stops.

Good Performance

This model comes with a powerful 8A motor. With this, you are guaranteed to cut through tough thickets in the branches. The performance is also boosted with the fact that this tool is able to transit into a normal chainsaw. With this, you will be able to detach the chainsaw form the pole after you run. It, therefore, becomes a good option when you do not want to carry large power tools.

The manufacturer was also keen to ensure that the oiling and tensioning system in the WG309 pole saw was automatic. This gives the bar and chain zeal in cutting at all times and saves you the hustle of doing it manually. A handle rotation feature is present, and this helps to quickly wield the branches. This means that you are given full control with this tool.

Reduced Noise

Numerous consumers state that as compared to other products in this range, the Worx WG309 pole saw is most ideal when it comes to noise. In this, it will be ideal to operate around many environments.

Durability and Flexibility

This tool requires minimum maintenance. This is because Worx already included features that ensure that the device lasts for the longest time. This benefits the consumer. The features include a compact body, an automatic oiling framework, and a level indicator. The work of the indicator is to show the oil level so that you do not operate a dry machine as it would have harmful effects.

The flexibility is seen in the ability to transform into a chainsaw which helps you process the fallen branches and shrubs. A safety locking mechanism is also present. The reason for this is to prevent the saw from firing accidentally.
The above indicates that Worx was dedicated to coming with a master class pole saw. From the features included in the device, it is able to give an incredibly stunning performance. It gives you ultimate control of the device at all times. It will also require less maintenance which makes it the perfect tool for all your wielding purposes. A warranty of 3 years is also inclusive, and this shows that Worx churned out a quality product.
Cons
Loose Chain

Numerous users have stated that the chain of this tool will need frequent tightening. However, this should not be a non-issue as the manufacturer included a detailed user manual. By reading it comprehensively, you will be able to solve small issues like these with much ease.

Occasional Oil Leaks

Some users have reported oil leakages at times. While this is not a big recurring issue, you should try and avoid storing the tool without emptying the oil. By emptying the oil after use, you will be contributing to the lifespan of the WG309 pole saw.
Don't forget to check the top things to consider when buying a pole saw.
This tool from Worx is worth all the praise as it is able to perform optimally. It is fitted with numerous features which aid adequately in your wielding activities.