Overview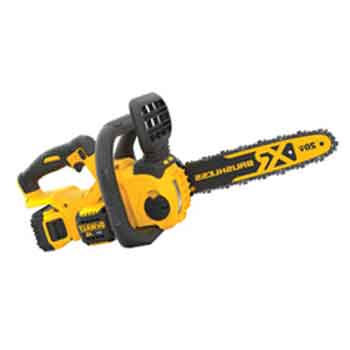 For the smaller jobs around the yard at your home, you don't need to choose the heavier, gas-powered chainsaws. Dewalt has an option for those little cutting jobs with their 20 V. Lithium-Ion XR brushless and cordless chainsaw kit. This 8.8 lb chainsaw is compact and lightweight in design makes this saw easy to handle. It could even be used as a one-handed saw, for those with chainsaw handling experience. The 20 V battery lasts for jobs such as light pruning, selective vine cutting or any other type of lightweight work.
The tool-free chain tensioning and bar tightening knobs are added features that make this chainsaw easy to handle. This allows you to easily adjust chain tension without a screwdriver or a wrench. Featuring high-quality parts, the 12" Oregon bar and chain gives you reliability and durability. The Oregon guide bar works best for small to mid-size saws. It gives you more control with reduced risk of kickback from the Dewalt. The lasting power of this bar and chain is contributed to the multi-revet sprocket giving it a long nose life. The sprocket helps to maximize cutting speed because it reduces friction around the bar tip. The bar is prevented from dragging around the bar nose to minimize bar wear and tear by this Oregon sprocket making the Dewalt chainsaw even more durable.
For those limbing jobs around your yard, a cordless chainsaw may be the best option to get it all done. Going with a trusted brand like Dewalt, unlimited mobility is possible with their lightweight, low-maintenance cordless chainsaw. Gone are the days having to be restricted by a cord or dealing with the heavy maintenance that comes with a gas-powered saw. The Dewalt Brushless Cordless chainsaw for the day to day cleaning and brush clearing around the yard.
Pros:
Motor

The brushless motor installed in this Dewalt chainsaw performs highly efficiently with a maximized run time and motor life. The saw comes with a 5AH 20 V battery life that can last for those little branch trimming jobs or even take along for camping trips. If there is a job that would require longer usage, it is recommended to have a second battery charging. The brushless motor makes this chainsaw quieter than most, specifically the saws with brushed motors and gas-powered saws. Other benefits to the brushless motor in this Dewalt chainsaw is that it cools easily after use. It is an overall more efficient motor due to it being electronically controlled and not having to replace any brushes. Being a gas-free chainsaw eliminates carburetor issues, fumes, cold starts and the overall heavy maintenance of a gas-powered saw.

Auto Oiling System

The Dewalt 20V Cordless chainsaw has a system in place to lubricate the chain constantly on its own. With the guide bar, you can monitor your oil levels to ensure you won't run low on lubrication. Keeping in mind this is a smaller chainsaw, the oil is set to last for the duration of the battery life. It is recommended to use a vegetable-based bar and chain oil to yield the best performance of this saw. Using a high-quality oil is the best with this Oregon bar and chain as it automatically lubricates
Check The Latest Price on Amazon!
Cons:
An issue with this chainsaw is the oil filler cap. The quality of this seems to be rather flimsy and takes time plus effort to even loosen this. If oil is left in the saw, it does tend to leak out as well. To prevent an oily mess, it is recommended to drain any left-over oil after each use. Instructions for proper drainage does come with the chainsaw too. Other minor issues with this would be that this does go through chain oil rather quickly. It normally needs a refill on oil when the battery is set to be fully recharged.
Overall, for the size of this chainsaw, you would use this for smaller tasks around the yard. Due to minor issues such as some parts are hard to remove like the oil filler cap. This small chainsaw can work well with the right maintenance. It is not recommended to ever use mineral oil or any thick, heavy oil as well as to drain the oil after use. Also, the battery should be removed when oil levels are lower than a quarter. The Dewalt is a smaller saw so any chain placed on here larger than 14" won't have optimum performance. Having a brushless, cordless chainsaw of this size is not meant for professional loggers or even for clearing timber. If you are looking for a more compact, small chainsaw for light work around a yard, the Dewalt 20V Lithium-Ion Brushless Cordless chainsaw would more than suffice.
Check The Latest Price on Amazon!
Wrap Up
The Dewalt Brushless Cordless chainsaw is not only compact but easy to
The chain is extremely durable for its size as well as have a great cutting speed and endurance. If you are looking to take a low-maintenance saw on a camping trip or even if you have a few simple cutting jobs around your property, this chainsaw is ideal for those small jobs. Even if there are those fibrous and stringy trees like palmettos, the Dewalt Brushless Cordless chainsaw can tackle the problem. Many users found it perfect to use for simply bucking small logs and even found it valuable to cut down birch trees.
Even with its power, this is still a small chainsaw that needs to be properly maintained. Take care to not overheat the equipment when using with multiple batteries back to back. A 5 AH 20 V battery does last throughout many small tasks but keeping a second battery charging for a quick switch out would be ideal. In addition to proper battery upkeep, remember to close the oil filler cap and drain any remaining oil after each use. The small chainsaw is meant for small to mid-size jobs so don't overload the saw by applying too much pressure.