As an amazon associate we earn from qualifying purchases. Click here to find out more.
Overview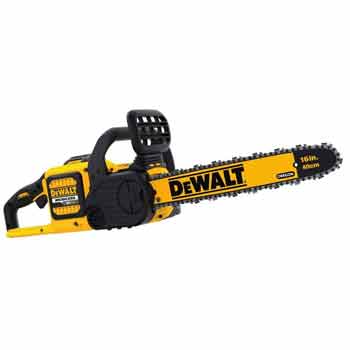 With so many different types of chainsaws to select, the cordless chainsaws that are battery powered are becoming a more popular selection. Depending on how big the job, you may need either a gas-powered, corded or cordless chainsaw to cut down your wood. Typically, for the professional logger or for the rancher that has acres of wood to cut through, the gas-powered chainsaw is top on the list. The farmer or rancher would select the gas-powered chain to handle large trees and be able to cut for an extended time period.
While this may work for some, an electric chainsaw is most popular among the homeowners that just need to tackle their property with trees that need trimming or felling. The Dewalt Flexvolt Lithium-Ion Brushless Cordless Chainsaw would be ideal because it is cordless and can go wherever its needed and not worry about needing an outlet like the corded saws. With corded saws, you would have to plug in and stay within 100 ft. of your home to use.
The Dewalt Flexvolt is a lightweight chainsaw that only weighs 12.2 lbs. which makes it easy to handle. Unlike the gas-powered chain that is typically heavier due to the engine, a cordless chainsaw is battery powered so you can better maneuver on high cutting jobs.
However, just because the engine isn't as heavy as the gas-powered saw does not mean that is isn't able to get the job done. The Dewalt Flexvolt is 3.0-amp hour and a 60-watt voltage battery with 16" chain and bar.
The cordless option is perfect for the first-time chainsaw users since it easier to handle and simple to start. In particular, the Dewalt Flexvolt has a smart system which includes:
Tool-free chain tensioning
Automatic oiler system
Chain brake system
Pro
Tool-Free Chain Tensioning

The bar and chain are important to maintain on your chainsaw. With the right upkeep, you will be able to get many uses from your chainsaw and cut down several types of trees frequently. Like every saw, the chain needs to be the correct amount of tension or it will loosen up and fall off. Besides being a large safety hazard, it is delaying the job having to constantly fix this issue. With a tool-free chain tensioning system, you are able to tighten up as you go with no wrench or screwdriver needed. The Dewalt Flexvolt has a tightening knob conveniently located on the saw. With proper clamping force, you will get the right tension for every job.

Automatic Oiler System

In any saw, the bar and chain need constant lubrication to perform its best. The hassle of having to lubricate manually every time can be time-consuming. With the quarter-turn oil cap, it makes refilling oil easy and quick. Offering continuous lubrication also helps with the chain to not break or fall off easily. Refilling the oil is one of the only maintenance steps to take to ensure the saw has optimal performance.

Chain Brake System

Safety is important when handling a chainsaw. Even though the Dewalt Flexvolt is lightweight, with all the power, there are safety features in place. The chain brake system stops the chain from rotating around the bar. With this brake system, the Dewalt Flexvolt also has low kickback. With the low kickback, the saw is easier to handle for first-time users as well as making it perfect to take on a ladder to cut down higher branches.
Check The Latest Price on Amazon!
Con
The Dewalt Flexvolt Cordless Chainsaw is an ideal saw for those light work jobs. The durability of the saw as well as it being easy to maneuver is one of the reasons to choose this for trimming and felling.
There are some parts of the saw that could be slightly improved.
Washer

The washer within the saw that retains the chain to the sprocket may slide around slightly. This is more of a design issue that may or may not even arise in every Dewalt. The retaining bolt beyond the saw's cover may move slightly as well which will ultimately make the chain move out of alignment and slip off.
If this happens, it could damage the sprocket and a manufacturer replacement would be necessary.

Oil Replacement

With it having an automatic oiler, the chain and bar is constantly being lubricated. The ease of this means you no longer have to remember to oil throughout the usage, just have to remember to refill the oil periodically. Like many chainsaws, this seem like a constant refill of oil. Even with these conveniences, the Dewalt Flexvolt Cordless will need to be refilled frequently, which is why it comes with an easy to refill oil cap.
Check The Latest Price on Amazon!
Wrap Up
The Dewalt Flexvolt Cordless Chainsaw is a lightweight saw with a 16" Oregon bar and chain. Oregon is a reliable brand that is durable and perfect for cutting small to mid-size jobs. With being battery powered, the Dewalt Flexvolt doesn't have a hot engine and won't give off a loud noise. For the suburban and residential homeowners, a quieter saw is much appreciated when trimming and felling around the home. Being a cordless chainsaw, there are no restrictions on where you can use your saw. After fully charging the Dewalt 60-watt battery, there is normally an hour or so use of the saw then you can either switch out batteries or recharge for a few hours.
The smart systems in place for the Dewalt makes it not only safe but more efficient to use. The tool-free chain tensioning system gives you proper bar clamping force and provides the right amount of tension. The automatic oiler system is giving out consistent lubrication, so the bar and chain is always performing at its best. Lastly, the chain brake system is a safety feature that will give you a quick stop as well as a low kickback. A cordless chainsaw may not be ideal for large jobs due to the battery life, the Dewalt Flexvolt is still a powerful tool that can be used for small to mid-sized jobs.