Overview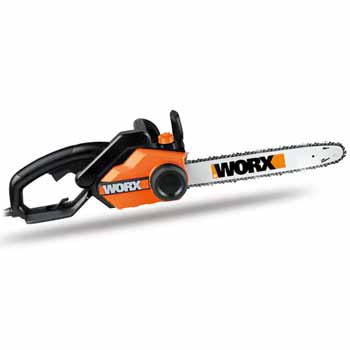 The Worx brand is known to have affordable chainsaws that are built to last. The Worx 14.5 Amp Chainsaw is no exception. With great benefits to buying an electric powered chainsaw versus a gas-powered saw, the Worx provides a vibration-less and fume-less option for you.
With so many different options for a chainsaw, you should decide on what works best for the task ahead as well as what size you can handle. Gas powered chainsaws are normally what the professional loggers would grab. Or, for those that need to carry out longer jobs and cut down trees for an extended time period. While there are lighter gas-powered saws, for the most part, gas-powered saws are heavier to handle due to its engine size.
Another choice would be the cordless chainsaw. This gives you a slightly lighter saw than the gas-powered option, however, it does not give you a long time period of use. The battery in a cordless saw does not last long, normally one can get an hour or so use from it before having to recharge. A corded saw is ideal for small to mid-size cutting jobs near an outlet. There are limitations to how far you may be able to move away from the outlet, however, the Worx will deliver a powerful performance to ensure you are cutting through the trees.
Summary
The durability of this saw as well as its ergonomically designed body makes this an ideal choice for the first-timer to handle as well as those that may use it more frequently like the rancher or farmer. The Worx chainsaw is lightweight at 11-lbs and with a 16" bar and chain. This saw is easy to maneuver around those tighter areas and for tree trimming or felling. Within the Worx saw, there are all-metal dogs located at the base of the bar that provides a more stable hold when cutting.
The Worx chainsaw is not the largest saw but it is powerful. With a 3.5 peak horsepower, you can cut through a variety of types of trees. A perk of owning a Worx chainsaw is the smart system design such as the auto tensioning and the automatic oiler, both located on the saw for easy access during jobs. The Worx chainsaw also comes with safety features the chain brake system which can prevent injury and helps provide the ultimate cutting performance.
Pro
Auto-Tensioning System

It is important to be able to tighten the chain when using your Worx chainsaw. When the chain has the right amount of tension, it can best perform and easily cut through the wood. The patented auto-tension system in the Worx 14.5 Amp Chainsaw includes a single, oversized knob that can automatically secure the bar and chain. This will maintain proper tension while you're working and reduce the risk of the chain falling off. The auto-tensioning system extends the bar and chain life by eliminating any chance of over-tightening. This patented system allows the chain to stay at the right tension for an extended period, so you are not worrying about tensioning every time you use the Worx chainsaw.

Automatic Oiler

The Worx 14.5 Amp Corded Chainsaw comes with an automatic oiler. When operating any chainsaw, you should make sure to always lubricate the bar and chain to receive the best performance. The built-in 6.75-ounce oil reservoir provides constant lubrication to both the bar and chain. Refilling the oil is one of the main maintenance steps to take when owning this chainsaw. The amount of times you will refill depends on your usage of the chain.
For this lightweight chainsaw, you may purchase for only periodic uses or even if you do plan to utilize daily, refilling oil is normally low in price as well as being simple to refill. The Worx chainsaw comes with a window level indicator so you will not have to guess when to refill. Running the risk of being in the middle of a job, then running out of oil is not the case when you have this indicator to easily view prior to starting the task.

Chain Brake System

This Worx saw has an aggressive chain brake system. This brake system is a built-in safety feature. With a 3/8 chain pitch and a chain gauge of 0.05 inches, it is important to be able to quickly stop the chain when needed. Worx brand has created a reliable chain brake system that will stop in seconds, if necessary. It is apparent that Worx designed this saw with safety first in mind.
In addition to the quick chain brake system, this saw has a reduced kickback. Kickback can cause serious injuries. So, finding a saw that offers less kickback is not only important for the novice user but to anyone operating the saw.
Check The Latest Price on Amazon!
Con
Limited Distance

An electric chainsaw will always have a limitation on how far you can go with the saw. This should not be a deterrent from buying electric unless you do require the option to be more mobile with the saw. If you do need to go further, purchasing an extension cord is the best solution.
Keep in mind that with an increase in cable length, there may be a decrease in voltage in the circuit. To remedy this issue, simply select a larger amp-wire size. Decide before purchasing what type of jobs you will complete with the saw. Then you can have a cable-ready before starting so you won't have the worry of not reaching far enough.
Check The Latest Price on Amazon!
Wrap Up
The Worx 14 Amp Corded Chainsaw works great on lighter jobs such as trimming and felling trees. For the jobs that are near your home, this saw is powerful to cut through trees with the diameter up to 18 inches. Being that this is a corded saw, there is lower maintenance with not having to constantly refill gas or always recharging a battery. You will be able to use for an extended length of time due to its low vibration. If a saw has high vibration in a saw, the user could suffer from fatigue a lot quicker. Because it requires more energy to handle. In addition to low vibration, there are other safety features such as the chain brake system which helps to give a low kickback.
The auto-tensioning system and the automatic oiler are additional features that make this saw more user-friendly and easier to maintain. Worx has placed other details to help extend the life of this saw. Small details like the auto oiler have the sprocket on the bar nose that is easy to access to lubricate. Being able to ensure this is always lubricated will help preserve the life of the chainsaw. The no-hassle of an electric saw makes owning one a smart decision. The Worx 14 Amp Corded Chainsaw offers safety features and easy to maintain parts, so your saw will last for years.