Overview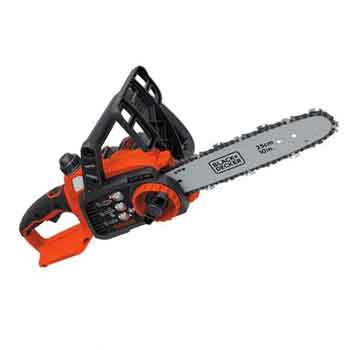 A battery powered chainsaw works great for those smaller cutting jobs around your property. Black & Decker is known for its large selection of power tools and is an extremely reliable brand. The 20V Max Lithium-Ion Chainsaw works great for pruning branches and cutting a few fallen trees. This lightweight lithium powered saw maneuvers easily as well as simple to handle for first-time chainsaw users. The added protection like the front handguard blocking any flying debris. And, the safety lock-off button prevents any false starts. The Black and Decker 20V saw has a capacity cutting 10 inches in diameter. The Tool-less Chain Tensioning makes for fast and easy adjustments along with a manual chain oiling system.
This Black and Decker 20V chainsaw offers:
Portability
Fast Setup
Ease of Use
While not intended for the professional lumberjack or logger, this Black and Decker chainsaw is the perfect choice for the first-time chainsaw buyers. For those that just need to clear their backyards, a lightweight, battery-powered saw that is compact and portable is a great option against the gas-powered or electric saws on the market. Depending on your budget also determines what saw works best. Black and Decker is a solid purchase. However, there are still a few quirks about the saw that should not be overlooked.
Pro
Portability

This lightweight, compact Black and Decker 20V chainsaw is perfect as a cordless option to handle tree trimming and pruning around the yard. Weighing just under 9 lbs., this saw can be taken on many camping trips or packed up easily when not in use. The size of this chainsaw is what pulls in first-time chainsaw buyers and those that have never used a saw before. The homeowner that needs to clear their property after light tree damage occurs. To be able to easily maneuver around the yard without restrictions of a cord lets you accomplish a little more at a quicker pace. A few users of the Black and Decker 20V chainsaw was even able to use a ladder to reach those higher up branches but was able to use this Black and Decker model as a one-handed saw.

Oregon Bar and Chain

The 10" premium Oregon bar and chain give this saw a low kickback. It also is relatively quiet especially compared to the gas-powered chainsaws on the market. Gas-powered chains are definitely an option for those larger jobs or for professional arborists, however with this battery-powered saw the novice will feel confident in using. There is no offensive fumes emitting from this saw which is also another plus when having to tackle cutting wood.

Ease of Use

The ease that comes with assembling and using this chainsaw is what a lot of first-timers are looking for in a chainsaw. If you would rather handle a small bush clearing or tree branch trimming job around your yard, investing in the Black and Decker 20V chainsaw may work for those little jobs. This type of chainsaw seems to work perfectly for the daily cutting of firewood or to trim a few trees here and there. The lithium ion battery does not weigh down the chainsaw so being able to handle through cutting through 10" won't be too strenuous.
Check The Latest Price on Amazon!
Con
Chain Oiler System

The biggest issue with this saw would be with the chain oiling system. The Black and Decker 20V chainsaw has a manual oiling system that requires a little more effort when operating. The oil does need to be pumped through the oil reservoir and it takes several pumps to get the oil to start flowing. A lot of times this can be fixed by clearing out the debris from the saw. Debris tends to get stuck within the saw and causes the oil reservoir to become clogged. If clearing debris doesn't seem to be the problem, then the oiling system may be a manufacturing issue.

Battery Power

The risk of purchasing a small chainsaw is if it will have enough power to finish the job. The Black and Decker 20V chainsaw battery life is determined from the size of wood. With a 10" chainsaw that is battery powered, it will only be able to handle smaller branches and bushes. Black and Decker provide a small charger for their battery. The average time for use is about one hour then after you may need to switch out for another battery or take a break to recharge. With this shorter battery life, this chainsaw is ideal to handle light yard cleaning. Once the battery dies, it normally takes about 5 hours to recharge. It may be a good investment to have a backup battery always ready.
Other minor issues with this saw would be the chain may not stay adjusted. It also may bounce when cutting so let the saw work through the wood without added pressure. For optimal performance, remember that this saw is ideal for small jobs and not even for heavy trim work. You can also switch up the motor oil, try a higher quality brand and it may help with the oiling system. Keeping in mind that the oil does pump slow; always remember to clear the debris so it doesn't clog the system.
Check The Latest Price on Amazon!
Wrap Up
The Black and Decker 20V lithium-ion battery chainsaw is what the homeowners will choose for lightweight trimming and pruning jobs around the yard. The first-timers looking to purchase a battery-powered chainsaw for beginners should consider the Black and Decker brand due to the portability, fast setup and how easy it is to use the saw. For cutting down smaller trees to pruning hedges around your property, with this small chainsaw you want to keep the task to under an hour.
The battery life, as well as some functionality of the oiling system, are two things that hinder this Black and Decker chainsaw from being the top in its category. This saw is not for heavy use, so the battery life is something that can be managed. Remember to fully charge your battery prior to use and purchase a backup battery. This can be used in the case the first one dies and there is still some of the job left to be done. The oiling system is another function that could use some improvement. To still work with this saw, just continue to keep the debris out of the system by cleaning after each use. Also, use high-quality oil to better lubricate the chain. Even with a few tweaks, the Black and Decker 20V chainsaw works great on small jobs at its price point.