Overview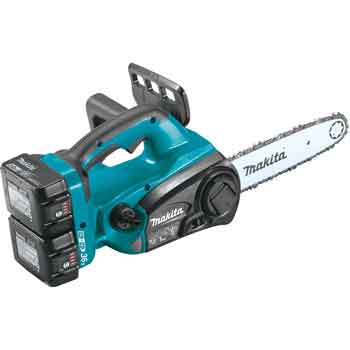 There are a lot of times where you have a few branches to clear up or maybe some trees to trim, whether near your home or away. For those camping or hiking trips or even for cleaning up bushes on your property, not every job will require a gas-powered chainsaw with a 20" chain. A lot of times there are opportunities to use a smaller saw that is easy to handle and maintain. The Makita Lithium-Ion Cordless 12" Chainsaw would be an ideal selection for small, quick jobs. The Makita brand creates tools that include four key components to ensure it gives optimal uses every time.
LXT batteries
Rapid Optimum Charger
Brushless Motor
STAR Protection Computer Controls
The Makita Lithium-Ion Cordless Chainsaw comes with a 12" chain and weighs 8.8 lbs. With smaller jobs, it is always better to not have to deal with the smell and mess that comes with the gas-powered chainsaws. The corded chainsaws may be as powerful however they are limited in the reach with only being able to operate near an electrical outlet.
The Makita Cordless Chainsaw is compact and easy to travel with for those on the go jobs. The low noise level on the saw due to the 89 dB(A) means that you can work on trimming and pruning even early in the mornings and not disturb the neighbors. With zero emissions, the user isn't inconvenienced with harmful smells while working.
Pro
Smart Systems

Makita has created this cordless chainsaw to be an easy choice for small jobs around the home and easy to take on the go. Starting with the smartly designed LXT batteries. These batteries can tackle one-hour jobs with ease and deliver powerful results. It is one of the most advanced battery systems within the cordless chainsaw market as well as dependable. The 18-volt LXT battery charges relatively quickly.

Keep in mind, when purchasing this product, the batteries and chargers are sold separately. The STAR Protection Computer Controls handles the saw and gives it efficient power management. Coming from the Makita brand, they are known to be a cordless tool expert. This smart system is what powers the charger to safely and efficiently charge the batteries.

Rapid Optimum Charger

Another part of the smart system in this Makita Cordless Chainsaw is the Rapid Optimum Charger. This charger communicates with a built-in chip. It charges the battery by controlling the current voltage and temperature. This advanced charging system means it takes less time to charge for a full battery.

The charger system also has a built-in fan that will help circulate air through the battery which serves as a cooling process. This doubles as a safety feature so the battery does not overheat and damage the saw. Not only is this a safety feature but it also speeds up the charge time, so you can finish up the job at hand.
Check The Latest Price on Amazon!
Con
Small Jobs Only

This Makita Cordless Chainsaw is built with high-grade plastic. So, it is not able to take on the larger trees like a cast aluminum, gas-powered chainsaw. You have to remember that this 8.8 lb. chainsaw is not made for replacing the 16"-20" chainsaws that will tackle cutting down trees. Issues will arise if wood collapses and it pinches the bar and chain causing for damage to the saw. This smaller saw does not operate properly with dry hardwood or if the wood is heavily drenched from rain.

If you need tackling a job that will require extended use, you may find that the grips are not comfortable. It places the wrists in an awkward position that would not be ideal if using for an extended amount of time. These restrictions just mean that you must handle lighter jobs when grabbing the Makita Cordless Chainsaw.

Leaking Oil

Many cordless chainsaws experience oil leakage from the filler cap. This Makita Cordless is no exception. When the saws are leaking oil when not in use, this adds to the issue of always needing to replenish. A way to fix this issue would be to ensure any remaining oil is drained after use.

Leaking is not as critical as other saws. So, if you are transporting this saw around for use, as long as the oil is drained, it should not cause an oil leaking mess. Another way to fix this issue is to add a hose type washer to the filler cap. This assists in the drainage of the oil and helps guide it correctly out.
Check The Latest Price on Amazon!
Wrap Up
The Makita Lithium-Ion Cordless Chainsaw is not for professional lumberjack jobs. If you are purchasing this saw with that in mind, the 8.8 lb. cordless chainsaw would not be the best choice. This Makita saw works for those trimming and cutting jobs of small to mid-size firewood. Ideally, if you are looking to power through cuts of 4" to 12" in diameter, the Makita Cordless Chainsaw is powerful and durable to get this job complete. When a saw is this size, it's easier to take with on mountain biking jobs or even on camping trips.
With a quieter sound than the gas-powered saws, this can even work in residential homes and not disturb others. The convenience in using this saw means that you can take this saw on a lot of jobs away from the home as well. Makita Cordless Chainsaw includes staple cordless features such as the tool-less chain tensioning system, automatic oiling system, and brushless motor. Being able to tackle 40 cuts at a time or even handle an entire backyard of pruning and trimming, the Makita Cordless Chainsaw is easy for the first-time chainsaw users or for those that have several saws on hand.
This smaller saw can be the go-to option for those simple jobs, eliminating the hassle that comes with gas-powered saws and the restriction of corded chainsaws. The Makita smart systems give more run time with the LXT lithium-ion battery and brushless motor. The increased durability with the Extreme Protection Technology keeps the saw's key internal components clean of dust, debris and water. The Makita Lithium-Ion Cordless Chainsaw is a perfect addition to your collection since it is a simple option for small jobs.
Here you will find the top-rated cordless chainsaws reviewed by TheChainsawMag Editors!