Overview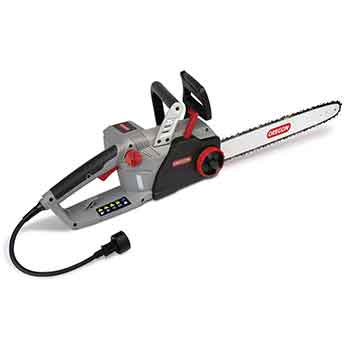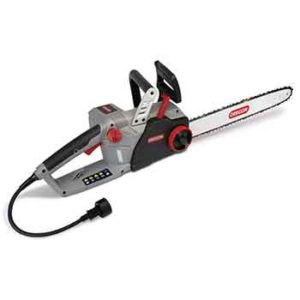 When there is any limbing or felling to do around your home, a powerful chainsaw is the ideal tool to chop through all of the wood. There are a few different options for chainsaws that will be appealing when shopping around for a saw. To make sure you select the right saw for you, base it off size (make sure you can handle it) and the size of the job.
The Oregon CS1500 Self-Sharpening Electric Chainsaw has a high-power motor, exclusive self-sharpening capability. And it is quieter when compared to its gas rivals and is lightweight. When the job is not too far from an electrical outlet, the Oregon saw is powerful to complete the task and still will be easy to handle.
The Oregon CS1500 is made of high-quality materials. Electric chainsaws are normally the best choice for when you are doing work near your home. The Oregon CS1500 has the typical cord length of 100 ft. It can easily be plugged into an extension cord if you do find that you need to reach further out. The plus of using an electric saw is mainly not having to deal with the cleaning and maintenance that comes with a gas-powered chain. Another plus to this low maintenance saw gives off no fumes.
For the homeowner and first-time chainsaw users, the Oregon CS5100 is lightweight enough to easily maneuver around your home. Keep in mind that there is a limit to how far this saw can go, however with the low vibration it is well-balanced. For jobs that do not require you to move too far from a source of electricity, a corded, electric saw may be an ideal choice to handle those medium-sized tasks.
Pro
High-power Motor

The powerful saw has an instant trigger pull start. Which makes it an easier saw to operate than the gas-powered saws. The 15 amp chainsaw is fast cutting with its 18" guide bar and chain. The guide bar gives a reduced kickback so you won't have to worry about that being a safety hazard. Even though the motor is high-powered, an electric chainsaw is quieter than if you were to use a gas-powered saw.
To add to more safety benefits with this electric saw, it also has a low vibration. If a saw tends to vibrate too excessively, it will eventually cause some discomfort in your hands and elbows. With all these safety features plus being one of the top electric chainsaws on the market, the Oregon CS1500 Self-Sharpening Chainsaw is a top pick for first-time users as well as seasoned professionals.

Power Sharp Self-Sharpening Tool

Oregon has created the market's only self-sharpening electrical chainsaw. This built-in sharpening tool is activated whenever your blade starts to seem slightly dull. To use this tool, simply pull the saw's lever.
And, the blade will sharpen itself on the stone located inside the saw's body. After a few seconds of sharpening your blade, the chainsaw is like new. While this is a durable saw, the sharpening stone will not last forever. The longevity of the sharpening tool is completely based off how frequently it is used. Regardless, the convenience of being able to sharpen while cutting a tree like the white oak will allow you to get more work done.

Smart System

The Oregon CS1500 saw has other features that make it easy to operate. The tensioning system, as well as the self-oiling system, makes this a low maintenance chain saw. The tool-less chain tensioning system is simple to operate, with just turning the knob to tension the chain. On any type of saw, the chain cannot be too loose or too because it will damage the bar and become a safety hazard.
Without a tensioning system, you would need to use a screwdriver and wrench. In addition to the tool-less system, Oregon CS1500 has an automatic oiler. While many chainsaws have this feature, adding this to other self-operating features makes the Oregon an easier saw to use, whether the job is big or small.
Check The Latest Price on Amazon!
Con
Chain Issues

There may be some difficulty with the chain falling off. The Oregon CS1500 is a durable chainsaw however when not handled properly you may experience some problems with the chain. Several things can cause the chain to fall off. If limbing twigs and smaller debris, these may cause the chain to jump.
An easy way to remedy this would be when you first start using the saw, routinely check the tension before breaking the chain in. Another way to help with this issue would be to order a removable side cover. This would help to keep out that small debris, so it won't cause the chain to come off. Another part of the saw to watch for is the guide bar.
While this saw may not be the best for limbing small debris, the chain has come off even when not handling small wood pieces. A way to help not have this issue is to watch the chain tension. The chain seems to come loose rather quicker than some other types of saws so keep that in mind to use the tool-less tensioning system frequently.
Check The Latest Price on Amazon!
Wrap Up
The Oregon CS1500 Self-Sharpening Chainsaw is truly one of a kind. Just like many of Oregon products, this chain saw will get the job at hand done right, whether its felling, bucking or cutting firewood. The lightweight build with over the mold comfort handles and all metal drive gear, this saw was built to last. Being able to saw its way through a vast majority of different types of wood such as Eucalyptus Hardwood, Mulberry, Poplar, Elm, Cherry and Maple to name a few.
A major perk of this Oregon, specifically, would have to be the Power Sharp self-sharpening tool. Imagine having a long job ahead of you of cutting up juniper trees with the Oregon CS1500 Self-Sharpening Electric Chainsaw you are finally able to tackle those hard jobs. An electric saw would be the ideal option for the first timers to cut down those smaller trees.