Overview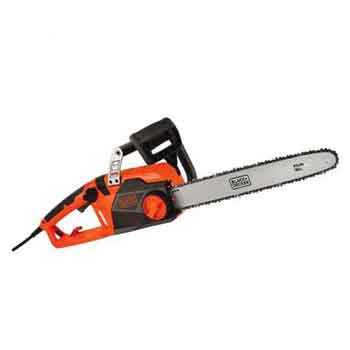 Having to constantly worry about gas to replenish your saw or dealing with recharging a battery after a short use of time is not a concern when using an electric chainsaw. There are many pros and cons to each type of chainsaw, so the decision-maker would be the work you are looking to handle. The Black and Decker 15-amp 18" bar corded chainsaw has a powerful performance level. The smart systems such as the automatic oiling system, tool-free chain tensioning and chain adjustments. With these features, the saw can operate at a high level.
Black and Decker have set the bar for innovation and design of outdoor yard care. Their 15-amp corded chainsaw is a prime example of the combination of innovation and design. The craftsmanship of this saw includes an Oregon blade that can handle the small acreage jobs around the home. Whether you are looking to cut down trees as large as Redwoods or more fibrous trees, the Black and Decker corded chainsaw can handle the task.
For those jobs near the home such as sawing tree limbs and branches or trimming large shrubs, the Black and Decker 15-amp 18" bar corded chainsaw can handle the task.
Pro
There are some nice benefits to the Black and Decker corded chainsaw that works well with those easier jobs around the yard. This saw comes with features that provide safety as well as gives the power to tackle the larger trees in diameter. The 18-inch Oregon bar comes with an automatic oiling system. With the auto oiling system, the chain and bar will continue to operate at an optimal level. Other innovative features on the Black and Decker saw is how you can easily adjust the chain and bar. Also, the tool-free chain tensioning on this saw is a large reason for its powerful performance.
The key features on this saw are:
Automatic Oiling System

Having an automatic oiling system means that your chain and bar will continuously be lubricated. It is critical to ensure your chain and bar are well maintained to it provides optimal performance when tackling your trees and shrubs. The self-lubricating chain can use sensible oil and it does not have to be a distinctive brand.

Chain Adjustments

Over time the chain can become loose. To easily be able to adjust your chain is a bonus feature that has become an essential feature for all types of chainsaws. The electrical saw is not only an affordable purchase but for it to also have easy chain adjustments, the Black and Decker corded chainsaw is great. If the chain on this Black and Decker model needs tension adjustment, being able to adjust without needed tools and taking many extra steps makes for an effortless adjustment. Simply use the sprocket and guide bar to determine how tight your chain must be to render the best performance. Black and Decker were innovative to include a tool-free chain tensioning feature.
Check The Latest Price on Amazon!
Con
The Black and Decker 15-amp 18" bar corded chainsaw has a few drawbacks that should be considered before purchasing such as:
Thinner bar than other electric saws

With a thinner bar, it makes it difficult to cut through larger diameter trees. Even though this powerful saw is 15-amp corded, it has its limits on how much power will be delivered with each use. The thinner bar makes this saw better for smaller jobs such as cutting down shrubs near the home.

No variable speed on the trigger

Being able to control the speed on you saw is a feature with other brands. The Black and Decker corded chainsaw does not have the option for a variable speed trigger switch. When taking this saw out for use, keeping in mind you have only one-speed set, the heavier jobs may not work with this Black and Decker model.

Portability

Like all corded chainsaws, the limitations on portability is apparent. The corded chainsaw has about a 100 ft. capacity. Corded chainsaws require much less maintenance than gas-powered and longer usage than battery-powered. With this convenience, the main drawback is not having the option to take the saw far away from an electrical outlet. This can be an easy fix by utilizing extension cords to gain more footage. Another option would be to purchase a generator to then bring the saw further out to handle different type of jobs. Ideally, the electrical saw is bought for lighter work near the home. Electric chainsaws are known to give less power than the other types but if purchased for smaller work, this type of chainsaw serves its purpose.
Check The Latest Price on Amazon!
Wrap Up
This powerful 15-amp 18" bar Black and Decker corded chainsaw is ideal for the small acreage home. With its tool-free chain tensioning, you can handle a longer cutting time without the chain slipping off. The motor gives off enough power yet there is a low kickback from the bar and chain. This improves cutting performance and allows you to handle larger jobs a little quicker. The chain adjustments have a lightweight design that is easy and quick to operate. Safety is not overlooked by Black and Decker either, the chain break provides optimal safety for the user.
The automatic oiling system provides constant bar and chain lubrication with no priming necessary. This allows the Oregon blade to operate at its highest capability. The window included on this saw gives you oil visibility. With additions such as the window, you can ensure your saw is always properly oiled.
In addition to the automatic oiling, the Black and Decker corded chainsaw is a lightweight option ideal for jobs close to the home. For the typical homeowner with small acreage, a corded chainsaw may work best due to its price point and how easy it is to maneuver. It does have its downfalls such as the bar being thinner than other electrical saws. There is no variable speed trigger on this chainsaw. For a smaller, lightweight saw such as this Black and Decker, having to adjust the speed may not be necessary for those jobs around the home.
Last, the portability is always considered when purchasing an electrical saw. There are ways to accommodate this however if purchasing an electric saw, the powerful but controllability of the saw is what makes this an optimal choice for first-time electric chainsaw users.