Overview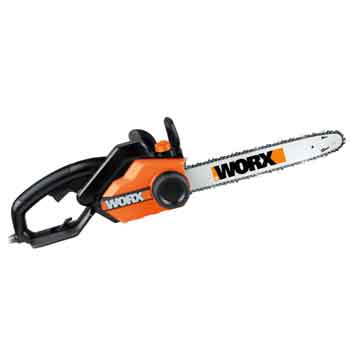 Choosing the right type of chainsaw you will need is largely depending upon the type of job you have to tackle. While the larger more professional jobs would require a gas-powered saw, an electronic saw may be perfect for the light yard work around your home. For smaller jobs, it is nice to not have to deal with the fumes of the gas-powered saw or the oil mess that may come with the battery-powered saws. The Worx WG304.1 Chainsaw with an 18-inch bar and a 15.0 Amp can handle large shrubs and small trees. This 11 lb. lightweight saw gives a powerful cutting performance and at a reasonable price.
The Worx saw has a dependable 15.0-amp motor, smart and efficient operating systems and has safety precautions in place. Coming fully assembled, this saw has low kickback and is extremely quieter than the gas-powered chain. The overall lower maintenance and less mess that comes with an electric saw are more reasons this Worx serves as a good purchasing decision for light work around your residential property.
Pro
Smart and Efficient Operation

The 15-amp motor Worx chainsaw's motor operates like a gas-powered saw delivering consistent reliable power for every use.
The Worx chainsaw has a patented auto-tension chain system that sets it above many other electrical saws. The auto-tension system prevents the over-tightening of the chain but stays at the right tension for extended uses. This delivers optimal tension when used making the saw more efficient in cutting. In addition to the patented chain system, the Worx chainsaw also comes with automatic oil lubrication for its bar and chain. The built-in reservoir has a window level indicator, so you can always be aware of your oil levels. The Worx saw has a tank capacity of 200 ml and with it being self-lubricating this always helps to maintain the right oil levels. On average, the chain and bar oil may run low after each medium to large job is complete.

Safety is a Priority

Safety should always be the number one concern when selecting a new chainsaw. The Worx saw has added some positive features to ensure the safety of its users. The most apparent feature is the built-in chain brake. This safety feature protects the user in case of any type of kickback. The lightweight and overall ergonomic design were built for safe and efficient operations. The comfortable rear rubber handles allow the user to work in comfort and control. The ergonomically fully wrap front handle also makes it easy to maneuver and get to those tight spaces.
Check The Latest Price on Amazon!
Con
There are a few drawbacks to the Worx 18-inch 15.0 amp chainsaw such as:
Plastic drive gear wears out quickly.
Oil does not last long.
Chain tends to jump frequently.
Limit on the distance of the saw due to the cord.
Worx has created an electric saw that has more plastic components, so it does not get easily scratched or damaged. With this, the drive gear was also made from plastic. This piece is highly susceptible to wearing out fast. The solution would be to use gentler cuts parallel to the wood fibers. This chainsaw was not meant for heavy duty jobs so keeping that in mind when cutting is important. For example, this saw is not recommended for fibrous trees such as palm trees for example.
While this saw does not require any gas to stay powered since it is electrical, the Worx still requires bar and chain oil. It does tend to go through bar and chain oil quickly. In addition, to quickly going through oil, the oil pump cannot handle the eco-friendlier green oil which leaves you to only use regular chain oil. This may not be a huge deal however when trying to be more environmentally concerned to not use a more toxic, carcinogenic oil; it should work with the Worx chainsaw. The last issue with oil in this saw is that the oil reservoir may leak. To counter this, it would be recommended to drain the oil after each use.
There are a few maintenance steps that should be carried out when using the Worx chainsaw. It is not recommended to cut through too large of tree stumps and bushes. When pushing the diameter measure this may cause the chain to jump. The chain may get loose and the tightening mechanism does not tighten sufficiently. The Worx chainsaw is ideal for smaller jobs and you must be careful with what you are cutting and carefully monitor the chains. A tip for keeping the chain sharp would be to avoid hitting dirt because it does dull the chain quicker.
Check The Latest Price on Amazon!
Wrap Up
The Worx comes with an 18-inch bar that works on sawing up limbs around your yard or cutting down branches that may have fallen from a storm. With it being corded you must remember the limitation on how far you can take this saw. A lot of users have easily found extension cords to allow for a further reach. If your jobs are near the home and/or electrical outlet, there are great benefits to using an electric saw. With it being quieter than a gas-powered saw, you don't have to be restricted to sawing at certain times in hopes of not bothering your neighbors.
With the Worx being an affordable corded electric chainsaw option over gas-powered, it not only is less messy than the gas option it doesn't emit fumes, which is problematic for the user. The smart and safe operating system along with its powerful motor makes for an ideal selection for those in need of lightweight yard work. The safety also provided by this saw makes it ideal for the first-time chainsaw buyer as well. Being only 11 lbs., this saw is easy to handle and get into tight spaces. While being corded may be a restriction for larger jobs, if you are trimming bushes or cutting down trees, if it is in reach with the cord the power of this saw works very well.