Overview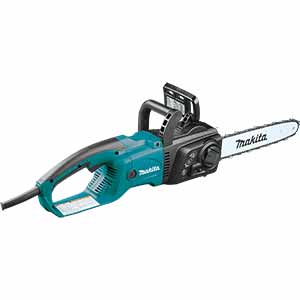 Makita has been known for introducing impressive products in the market, and this 16-inch electric chainsaw is no exception too. This is all because it is designed keeping the convenience and ease of use in mind. The chainsaw has been engineered to enable efficient and fast cutting so that it gets more work done in a shorter period of time.
Moreover, the chainsaw is easy to maintain which ensures that you do not have to unnecessarily spend your precious time getting it cleaned, repaired or replaced. No matter, if you want to cut trees or limbs of up to about 12 inches in diameter, this versatile tool has got you covered!
Features
For starters, Makita UC4051A is the updated version of Makita UC4030A. So, naturally, it is much better than its predecessor. The Makita 16-inch chainsaw is a perfect fit for both professionals and novices alike. The electric chainsaw consists of a range of features which contribute to its overall efficiency. Here are some of its attractive features:
The chainsaw runs on electricity which automatically eliminates the need of fuelling as was the case with older models.
This model has an extremely high chain speed of 2,900 FPM. This enables the chainsaw to cut and trim really fast and efficiently
The chainsaw has an inbuilt current limiter. It automatically turns the motor off in case of overload. Thus, you no more need to worry about heating issues.
It comes equipped with an inbuilt electric chain brake which ensures maximum productivity.
During heavy cutting activities, the automatic chain oiler will kick in on its own so that you do not have to take breaks to oil the chain. Thus, you can finish the job in one single go.
The chainsaw contains an oil reservoir with a view window for storing oil. This way, you can check the level of oil and refill it as and when necessary.
To enhance the comfort of the user, even more, the handles come along a rubber cover that provides you with an ergonomic grip. This makes the tool quite comfortable to use.
A large trigger switch provided in the chainsaw enables smooth start-up of the electric motor.
To ensure easy maintenance, the chainsaw comes along with "tool-less" blade and chain adjustments. These not only contribute to easy maintenance but also make it easy and convenient to operate the tool.
Makita offers a comprehensive one year warranty for their product along with a 30 days satisfaction guarantee. This means that you can have your money back by returning the product within 30 days if you are not happy with it. On the other hand, if your product develops some operational problem within one year of its purchase, you can have it shipped back to the Makita who will repair or replace it, subject to some conditions, of course.
Check The Latest Price on Amazon!
Pros and Cons
Pros:
Durable and versatile

Most chainsaws are not able to deliver as efficient performance as the Makita 16 inch electric chainsaw since the chain tends to lose its sharpness after a few hours of continuous use. However, this chainsaw from Makita is much more efficient as the chain does not go dull easily and can last a long time without the need for sharpening.
What's more, the chainsaw is quite durable and long lasting, all thanks to its easy-to-maintain design.

Power-packed performance

The Makita chainsaw is fast on performance delivery. All thanks to its electric motor and the high chain speed. It will take hardly a minute or two to cut through a pine for example. This really saves your time, especially when you are struggling to manage a lot of errands around the holiday season.

See-through oil container

The oil container with the window is a big plus point. It helps you refill the oil as per the needs. Thus, you will not have to deal with a dull chain suddenly in the middle of a job.

Warranty

The warranty coverage provided by Makita is another favorable point. If the damage is not due to wear and tear or your own fault, it is sure to get replaced and repaired by the company itself.
Cons:
Messy refilling system

The oil tanker system for automatic oiling of the chain can be a bit of an inconvenience. This is because it makes refilling the oil a messy affair. However, you can get around this by simply using a funnel to fill the tanker with oil.

Design issues

There may be a few minor design issues such as the way the chain tensioner assembles at the bar or the design of the grab guard. However, not all users would have a problem with the design which is anyway quite minor and can be adjusted for use over time.
You might need to adjust the chain during the first few initial uses as it does tend to come loose. However, this problem does not persist in continued usage.
Check The Latest Price on Amazon!
Conclusion
The Makita chainsaw is a unique product. It is far ahead of its competitors due to the quality of its construction. Additionally, it has a range of features which make it easier to use and maintain.
If you are looking for a powerful electric chainsaw which works quickly and efficiently, then the Makita chainsaw is definitely one of the professional chainsaws in the market which will not disappoint you. The tool is recommended for both professional and home use. It is an amazing product that aims for user satisfaction and does deliver great power and performance.