Overview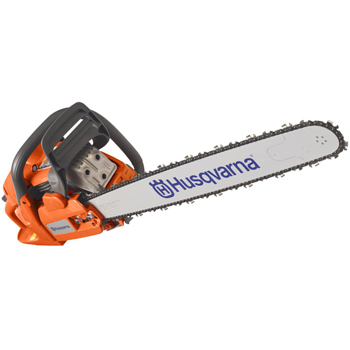 Before buying a chainsaw, first, determine the size of the job and the location. Along with the basics, you need a chainsaw that can handle different types of cuts such as a straight line or curve and how precise is the cut. Once you know the basic details, you can better determine the type of chainsaw that would work best for you. Whether you are a professional logger or homeowner, if you are looking to tackle a large cutting job, the Husqvarna 450 Rancher can complete the task. There are three different types of chainsaws you should consider such as gas, corded electric and battery operated cordless.
The Husqvarna 460 Rancher is a two-cycle gas powered chainsaw with:
Exclusive X Torq system
Smart Start
Efficient Air Filter with advanced oil pump
The Husqvarna is considered an all-around chainsaw that is perfect for those demanding cutting jobs. For the jobs that require a longer guide bar to handle cutting through larger trees such as the black oak or maple trees. The longer guide bar will also assist in tackling the larger diameter wood in a single pass. This chainsaw has a body that is ergonomically designed to handle its power easily. For the farmers to loggers, if you are looking to handle a ton of hardwood, the Husqvarna is a reliable option that is an indispensable save on labor.
Pros
X-Torq

Husqvarna has created a unique engine specifically designed for increased power and durability. The more experienced landowner or professional loggers will appreciate how this gas-powered chainsaw works quicker and smoother than other types of rancher saws. With a mix of oil and gasoline, the Husqvarna 460 has a 3.62 HP engine making it have more than enough power as a non-commercial saw. The Husqvarna 460 Rancher has a high torque over wide pm range. With the low fuel consumption, exhaust emission lead is drastically reduced. This ends up saving up to twenty percent less fuel consumption and sixty percent less exhaust emission. The X-torq allows the two-stroke engine to give off more power for the harder chop jobs.

Smart Start

For gas-powered chainsaws, two pulls on a full choke will start your power tool. This Husqvarna takes a minimal effort to start. A rare benefit to this chainsaw with its well-installed engine and a good starter, the Husqvarna provides powerful performance. Called the Low Vib anti-vibration dampeners, Husqvarna has created a chainsaw with less vibration. Finding a professional chainsaw that has less vibration means that you won't experience much discomfort or exert as much energy as you would with most gas-powered chainsaws. With the Husqvarna 460 Rancher, you can cut for hours and not feel rattled to pieces. The engine also has low kickback. The risk of the chainsaw being unexpectedly forced around is reduced because of this. Overall, the engines fires on the first start with no problem with the pressure release valve.

Efficient Air Filter with advanced oil pump

Being conscious of maintenance, the Husqvarna is built with a centrifugal air cleaning system. This extends its life. In addition, it has a quick-release air filter which makes for easy cleaning and replacing. Safety and functionality are highly valued in the making of this Husqvarna 460 Rancher. The oil pump is not only automatic but also has an adjustable oiler. The chain can automatically lubricate itself while you cut. This makes for a smoother cut without having the burden of remembering to activate the oil. Controlling the oil is another bonus feature on this saw where you can control the oil flow based off application. With these added features, the saw is essentially safer and provides efficient cutting.
Check The Latest Price on Amazon!
Cons
With the 24 in saw, the Husqvarna 460 Rancher is not quite considered a professional chainsaw. Landowners that may have a large tree cutting task to tackle may find that this powerful chain can easily get the job done. With that, there may still be some parts of the saw that don't work as well as other parts.
According to many reviews, this model requires slightly more fueling and regular service than a different type of chainsaw. The one thing to watch on here is the clutch possibly burning out quickly. The clutch plate is made of plastic, which may easily strip out with overuse. The clutch plate seems to barely grip the handle gear. This may be a fixable problem if a metal brake gear handle was replaced for resetting the clutch plate.
The Husqvarna 460 is a smartly built chainsaw that requires someone with experience to operate. Due to it being heavier than other rancher saws, it is not recommended for small jobs or beginners. With any new power tool, reading the assembly instructions carefully would guarantee the best use of the equipment. This is critical due to ensuring your chainsaw is functioning safely. The Husqvarna is technically not a commercial chainsaw. However, it is considered the best within the Rancher category. For the beginner, the chain comes with low profile teeth, which is what contributes to the reduced kickback. It is recommended that these stay on, however, if you are a more experienced sawyer switching to a semi or full chisel chain would yield the ultimate use.
Check The Latest Price on Amazon!
Also, don't forget to check out some great features to look for when considering buying a gas chainsaw.
Wrap-Up
For those ideal cutting jobs such as chopping down for firewood or clearing acres of trees, the right saw for the task is necessary. This 15 lb. machine is what you would choose whether the job is to cut down Tamarack, pine or oak; the types of trees are endless. The quality of your cut with using a rancher gives you results like the commercial saws.
The Husqvarna 460 Rancher offers tips on its maintenance and also what is the best mix of oil and gasoline. With the X-torq engine and the automatic oil pump, Husqvarna recommends using 89 octanes or higher. Following the assembly instructions along with going with the factory recommended oils and maintenance only increase the many uses of this chainsaw.
In addition to the X-torq, this chainsaw is superior due to other advances within its system such as the smart start. Having a good engine and starter makes this chainsaw a great fit for the beginner as well as the more experienced logger. The less vibration felt, and reduced kickback not only makes it safer but allows you to use for larger, longer jobs without being too strenuous. The automatic, adjustable oil pump makes for a more efficient cut. The adjustable oil flow along with a self-lubricating chain means you don't have to always remember these routine maintenance tasks. The Husqvarna 460 Rancher may not be considered a commercial saw, for a rancher it works as the perfect saw to handle those larger cut jobs.