Overview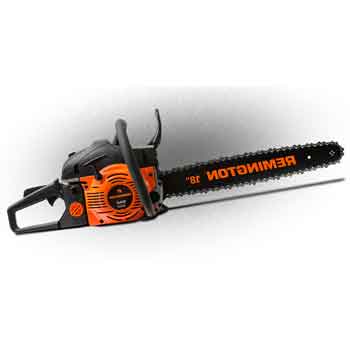 Consumer preferences are judged by numerous factors such as quality and performance. In the power tools industry, investing in quality tools is essential considering that they are expensive. For the chainsaw industry, manufacturers have been keen to develop various products that fit the consumers' needs creating utility.
However, most gas-powered saws have been stereotyped with having starting issues as well as high costs. However, the Remington RM4218 seeks to change this narrative. Innovation by Remington has led to this 19 x 12.2 x 12.2 inches' device. It is easy to operate this device, and it has numerous features that make it stand from the competition. This article focuses on the features, pros, and cons of this device. Read on to find the list of the most viewed gas-powered chainsaws ever.
Features and Pros:
Good Performance-

While many gas-powered chainsaws will have issues during startup, the Rebel 42cc is different. This is because Remington has been able to employ the quick start technology. This is specifically designed to enable the device to start up quickly. To facilitate this, it has an on/off button, a primer bulb which gets fuel to the engine, the choke, the starter cord as well as the throttle trigger. Besides, the 42 cc 2 cycle gas engine delivers stable power to the device which in turn ensures that your tasks are completed on time.

As this tool is adapted to the wielding of small to medium-sized logs and trees in your yard, you are sure that it will get it done on time. The manufacturer recommends this tool for logs that are below 12 inches in diameter.
Users, on the other hand, have stated that above 10 inches, the device tends to labor slightly which shows that the manufacturer is quite right about this.

Mixing Fuel

In order to run the device, a mixture of gas and oil in the ratio of 40:1 is recommended. This means that in each gallon of gas (3.8 liters), you have to mix with approximately 95 ml (3.2fl. Oz) of oil.

Alternatively, you could add 25 ml of oil for every liter of gas. There are precautions with regards to fuel.
Remington states that you should never use the E85 fuel as it has high ethanol levels. This leads to the damage of the engine which is considered to be the 'heart' of this device. It also invalidates this device's warranty, leaving you in a rather compromising situation.

The manufacturer recommends premium gas which is ethanol free or a pre-mixed fuel that is specifically made for chainsaws. It might be a little bit expensive, but it is worth it. Your device will remain in good shape for the longest time.

Ergonomic Design-

The Rebel has an overall clean-cut design. Its rear is able to house the throttle lockout and trigger switches. To add to this, Remington included a cushioned grip which facilitates better handling.
At the powerhead unit, there is the oil reservoir as well as the fuel tank caps. There is also the pull starter cord. An oil filter is held in place by a large plastic knob, and it can simply be removed by the cover.

It is also easy to access the air filter in this device as well as a spark plug that makes its maintenance easier. On the front of the saw sits the bumper spikes which provide balance to the saw as well as steadiness during wielding.
Remington also has a full wrap front handle whose role is to facilitate precise wielding at different angles. A hand guard that also serves as a chain brake lever is inclusive. For the purposes of redirecting fumes away from the user, the manufacturer included a muffler at the front.

Automatic Chain Oil System-

Remington ensures that the chain remains lubricated throughout on the Rebel RM 4218. This manufacturer makes use of an automatic and adjustable oiler. This has numerous advantages to the user as they do not have to manually push a button to steer the chain oil to the engine. Besides, the rate of flow is adjustable, and it well matches the welding conditions.

Safety-

The RM4218 is fitted with a chain catcher. This is a hook that is located at the bottom of the saw, and its purpose is to reduce the probability of injury in the event that the chain gets off the bar.

The front hand guards protect your hand while depth gauges, as well as guard links, reduce chances of kickback. The manufacturer also included a 5-point anti-vibration system which helps keep at bay conditions such as the vibration white finger.

It is evident that this chainsaw has numerous features which make it stand out from others in this range. Remington also included a 2-year limited warranty which is ideal.
Cons:
Slightly heavy-

This device weighs 22 pounds. This is quite high as and will be heavy for the inexperienced users. However, Remington states that the weight is evenly distributed and users will find it easy to handle.
Since it has numerous pros that root for its unique features, it is an ideal choice that will ensure good performance always. It comes with a well-designed casing which ensures that your tool is ever in good condition.