Overview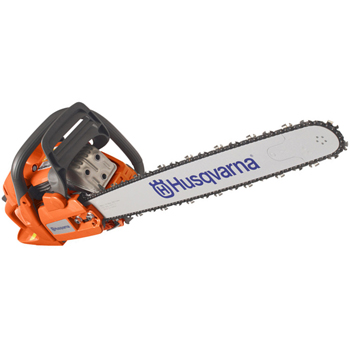 Consumers want products that are diverse and powerful in order to tackle the wide array of projects that come their way. As such, it is demoralizing to get an expensive tool only to find that it has a limited application or even utility.
However, with the mention of Husqvarna, quality and efficiency come to mind. This company has been around for numerous years and has been associated with the production of quality products that include gas chainsaws. They have been able to come up with the Husqvarna 460 Rancher chainsaw which is full of power and helps consumers complete their tasks on time.
This 31.6 x 12.9 x 10.7 inches' device weighs 12.79 pounds which is ideal for optimum performance and carriage. This article dwells more on the feature, pros, and cons of this unique product.
Features and Pros
In the purchase of chainsaws, some factors should be considered. These include the power, safety, speed as well as the radius of the saw. The following are the key features of this product.
Maximum Safety

Safety should be a priority when purchasing a chainsaw. A high-quality chainsaw should, therefore, have adequate safety features. The Husqvarna 460 Rancher is uniquely safe going by the fact that this manufacturer was among the first to introduce the anti-vibration feature which ensures maximum safety. The low vibration technology adopted by this manufacturer minimizes vibration which makes it ideal for you to wield without any fatigue or error.

Gas-powered chainsaws are associated with high vibrations which may lead to the hand-arm vibration syndrome. However, you are assured that with the 460 Rancher, such conditions are kept at bay.
Husqvarna has engaged in high-end innovation which has seen them produce anti-vibration gloves which are to accompany this device. Inertia activated chain brake which is able to reduce the probability of kick-back related injuries.

Good Performance

Husqvarna makes use of numerous classes of chainsaws in their production. These are the homeowner, farm and ranch, semi-professional and the professional. The 460 Rancher chainsaw lies in the farm and ranch class, and it has been deemed the most powerful here.

Husqvarna has been making their own engines since 1959 when they made their first chainsaw. In this, they are able to make use of their unique X-Torq Technology which adequately separates clean air from the fuel and air mixture. This leads to lower emissions, increased power as well as a better fuel economy.

The 460 Rancher reduces emissions by up to 60% while the fuel consumption is reduced by up to 20%. The 60.3 cc 2-cycle engine is powerful and hence will ensure that you do not lag behind in your activities. This engine is able to reach a maximum speed of 9000 RPM.

Ergonomic Design and Flexibility

A quick look at the 460 Rancher 20' shows a conventional chainsaw. However, Husqvarna has been able to include numerous features that boost its design and consequently its performance.
In this, its chassis consists of durable materials. Besides, these sturdy materials are lightweight. While the device weighs 12.79 pounds, the weight is evenly distributed which facilitates its easy handling. This device also has an air purge smart start that facilitates more accessible and comfortable startup process.

An air injection feature which is well represented by the centrifugal cleaning framework also facilitates the removal of huge dust particles before they reach the filter. This alone contributes to the durability of the engine.
Besides, Husqvarna also included an adjustable oil pump that gives you full control of the oil flow. This is with respect to the weather conditions or the application. The gas tank is also huge which ensures that you perform your tasks for longer periods without refilling.
What are the key advantages of using a gas chainsaw? Read on to find out!
From the above, it is evident that the Rancher 460 20' is a powered tool that will suit all your wielding obligations. Husqvarna also included a detailed manual which facilitates easier use of the product. It, therefore, has numerous features which contribute to its pros. However, it has a few cons that include:
Noise

This device has a sound level of 104dBA. This is considerable high as the standard level is 60dBA. As such, the Rancher 460 20' is quite loud and will not be ideal for use in noise restricted areas. However, this device is better than other devices in this range when it comes to noise.

Maintenance

For inexperienced users, maintenance can be quite an issue. This particularly because the device constitutes numerous sensitive parts which should be handled with care.
However, since the manufacturer included a detailed manual, it should be easy for all users to maintain the Rancher 460 20'. It is then able to serve you for the longest time.
It is clear that this device has numerous features which contribute to its power, ergonomic design and maximum safety to the user. While it has a few cons that include high noise as well as complex maintenance practices for the inexperienced users. However, these are minor as chainsaws have to be maintained and most are even noisier than this specific product. Make sure you grab it so as to enjoy the above benefits.